Greek, Music Theatre Wales, Brecon |

reviews, news & interviews
Greek, Music Theatre Wales, Brecon
Greek, Music Theatre Wales, Brecon
It suits Oedipus opera to stage it like pop-up travelling theatre
The funny thing about updating is how old-fashioned it can seem. Perhaps that's why opera directors "update" to the Fifties, building in their own obsolescence. Steven Berkoff didn't deliberately do this (I suppose) in his Oedipus play Greek; yet behind the interminable shits and fucks, the inyerface monkey farts, the snot and the vomit, there does lurk a rather touching aproned and flat-capped mum-and-dad Family Favourites world that was certainly long dead by 1980, when the play was first done. And it's one of the strong points of Mark-Anthony Turnage's 1988 opera that it preserves all the essentials of the play but seems less of a period piece.
This is doubly striking because the adaptation, by Berkoff himself, sticks closely to the play text. It pulls none of the play's punches, neither the hits nor the (more numerous) misses; it shares its confusions and absurdities, its charming épater le bourgeois reliance on obscenity when all else fails, and what one can only call its watered-down Artaudism – its relentless but shallow verbal and visual violence against the audience. It has, though, one thing Berkoff lacks, and that, of course, is music.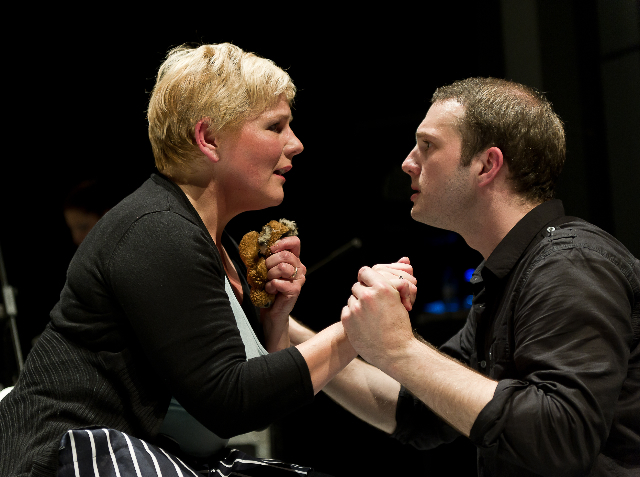 Turnage's Greek is a musical work par excellence: not exactly music drama – too much speech for that – but a work whose musicality suggests a stylisation which defuses the violence and reignites it as feeling (which could hardly be said of the recent Anna Nicole). It's one of the best things about Michael McCarthy's new production for Music Theatre Wales at Brecon's Theatr Brycheiniog that it draws on this quality specifically and places it centre stage.
Berkoff's Oedipus figure, Eddy (of course), is an East End brat tired of the squalor and the grot – or so he assures us at the start, though subsequent evidence is lacking. His supposed parents having been warned by a fortune teller that he'll kill his father and "bunk up" with his mother, he leaves home, kills a café owner in a fight, marries his victim's waitress wife, solves the riddle of the Sphinx (mysteriously transplanted from Thebes), then learns that his "parents" found him after a pleasure-boat accident in the Thames estuary and that he is actually the son of the waitress.
Inexplicably (unless you know your Oedipus Tyrannus, in which seeing and truth are paired motives) he puts out his own eyes, then pops back up in a closing speech about love excusing everything – a sort of 1980 deus ex machina, if not quite a happy ending, and certainly a lie as far as Eddy is concerned.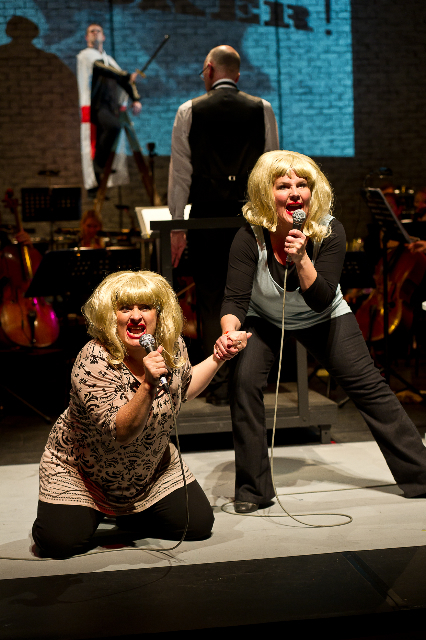 McCarthy treats all this, reasonably, as a kind of charade, played largely downstage, with the 19-piece band behind, and a grey-brick backdrop with projections (or occasionally surtitles). The four singers switch costume and character in full view and the whole thing is done as travelling theatre, or like a strip cartoon, with plenty of pow and zap but nothing much to frighten the kids. It's resourceful, entertaining in a rough kind of way, but not too deep for its river boots.
Turnage's score needs some such treatment. It owes something to the ritualistic Birtwistle of Punch and Judy, but goes beyond music theatre in its projection of true feeling. However little we believe dramatically in Eddy's love for the waitress (or, even less, hers for him – since she's seen him kill her husband, which Sophocles's Jocasta hadn't), Turnage makes it musically real in a genuinely beautiful and extended lyrical duet. And there are other moments when the composer tells us things about the characters or events, refinements perhaps, in music of real subtlety, scored with amazing delicacy for the 26-year-old that he was when he started writing the piece.
This may not be music in control: not, as I said, music drama. But it is music that finds flecks of beauty in these filthy, rat-infested lives. The Sphinx duet – bizarre enough in this context, but cleverly done here with Eddy for once far upstage dressed as St George – is a gripping piece of writing. Even Turnage's violence – and there's some of that too – is stylised beyond the merely brutal, and is not even terribly violent. In fact, economy, a refusal of excess, is a feature of the score, one which counterpoints, and in the end corrects, the words.
As nearly always with this company, the performance is exemplary. Michael Rafferty conducts with discreet precision and an instinctive grasp of line and texture, the playing by the MTW Ensemble is generally immaculate; and the cast is spirited: Marcus Farnsworth, foul of mouth but fair of voice as Eddy, and Sally Silver, Louise Winter and Gwion Thomas all brilliantly adaptable with caps and wigs and paraphernalia of various kinds. This may not be Greek theatre, but it's a nicely theatrical Greek.
Greek is at Cheltenham and Buxton in July, then on tour in the autumn