Blomfield, Philharmonia, Salonen, RFH review - sounds of a troubled truce |

reviews, news & interviews
Blomfield, Philharmonia, Salonen, RFH review - sounds of a troubled truce
Blomfield, Philharmonia, Salonen, RFH review - sounds of a troubled truce
Three idiosyncratic works tell one story of the world in 1945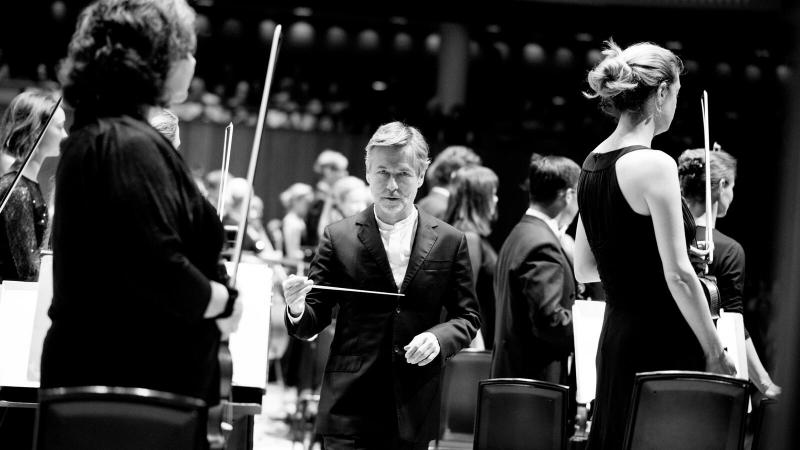 The music of time: Esa-Pekka Salonen
Concert programmes that set out to tell us a story can prove a mixed blessing. Yes, it's valuable and stimulating to find ideas, and narratives, embodied in the musical flow. But great pieces, well-performed, have a habit of cutting loose from the frame of concepts someone has devised for them.
At the
Royal Festival Hall
, Esa-Pekka Salonen and the
Philharmonia
gathered three singular, idiosyncratic works under the rubric of "Voices of 1945". No ordinary year, of course: immediately, the title primed us to listen for after-echoes – direct or oblique – of the conflict that had lately shattered much of the planet. Intriguingly, though, Salonen's bill of fare mingled two grand statements that plausibly capture an end-of-war
Zeitgeist
with one that delightfully, outrageously, defies history.
The Philharmonia began with Vaughan Williams's Sixth Symphony – not premiered until 1948, in fact, but part-written in the chosen year. Salonen's transit through its rugged, craggy, conflict-strewn landscape showed why early critics seized on this mighty but sometimes unrelenting piece as a coded act of mourning, not just for blasted Europe but the flattened cities of Japan. Even if RVW would never quite deliver an equivalent to (say) Penderecki's Threnody for the Victims of Hiroshima, the stabbing, swirling strings and fiercely punching brass of the Allegro planted us deep into an age of anxiety. Indeed, Bernstein's near-contemporaneous symphony of that name did come to mind as VW's syncopations (surprising to some, perhaps) impart a jazzy aura to the anguish.
Led by Zsolt-Tihamér Visontay, the Philharmonia's lustrous and muscular strings lent a yearning sorrow to the lush modal tune that briefly harks back to the composer's earlier career – and to a lost pastoral paradise. Bold in its dissonance elsewhere, the symphony calls for the rapid, lurching gear-changes suited to a period that has stopped making sense. Its agitated rhythmic crackle can also suggest 1940s Shostakovich. And Salonen shifted smartly into the militaristic, machine-gun chatter of the Moderato, crowned with its aching cor anglais solo (from Maxwell Spiers). Played with assurance by Bradley Grant, the equally plangent tenor saxophone solo in the Scherzo might have spooked those who know Vaughan Williams only from the standard Classic FM repertoire. (Those rich-hued strings in front, however, left the sax slightly in the shade.)
Keening sax aside, it's the drawn-out pianissimo of the Epilogue that perplexes and disturbs most in the Sixth. VW forbade any hint of a healing crescendo in this almost motionless finale. Salonen maintained the eerie hush, the tremelando strings seemed to suspend time, while Timothy Walden's lonely cello sang its song of gorgeous desolation. As this music hovers between chords, it transmits a bleak but oddly lovely sense of exhausted repetition. Thinking of the mood of 1945, I recalled that Samuel Beckett came to his artistic maturity at just this post-war moment. "I can't go on. I'll go on." Exactly.
After the interval, two contrasted works demonstrated how the "neo-classical" umbrella can shelter mid-century works of utterly different types. Strauss's Oboe Concerto blows its beautiful raspberry in the face of relevance, modernity, progress and everything else that the victors hoped for in 1945. Yet this shamelessly retro slice of top-notch Mozartian pastiche bears the imprint of wartime history like no other. After all, it was an oboe-playing American soldier, John de Lancie from the Pittsburgh Orchestra, who planted the idea of a concerto in Strauss's mind when US forces liberated Garmisch – where his villa stood – in April 1945. At the RFH, Tom Blomfield (pictured above) – the Philharmonia's abundantly gifted young principal oboe – played the piece not just with the dazzling technical prowess it demands, circular breathing and all.
The expressive richness of his tone charmed throughout. Especially in the ravishing Andante, he moulded the impossibly long melodic lines into sinuous shapes of impeccable tenderness and grace. Salonen, meanwhile, made the slimmed-down Philharmonia dance and skip around him with well-focused elegance. This music may want to leap clear of its tumultuous times (and, perhaps, to sidestep Strauss's former complicity with the Nazi regime). Still, for all its ear-tickling pleasures, it needs a wholly committed interpreter to avoid any taint of escapist kitsch. Blomfield made a thoroughly convincing case for it – and for his own future career as a soloist.
To finish, Stravinsky's Symphony in Three Movements unleashed the sort of nervous pyrotechnic display that feels shadowed and sinister even in its moments of apparent exultation. This is something of a portmanteau piece, assembled from elements that had their origin in projects for film scores. As in the Vaughan Williams, unexpected forces bend the ear: in this case, the centrally placed piano and harp (Catherine Edwards and Heidi Krutzen). Salonen built a sinister excitement from the strings' staccato pulse and the jabbing piano chords, with telling interjections from the woods. Stravinsky at first conceived this work as a "Victory Symphony", though in truth it can be difficult to hear any real promise of resolution in its urgently motoric figures and bittersweet bluesy riffs.
Salonen conducted with an energy and brio that often seemed to pulse towards some nightmarish breakdown, above all in the third-movement march (inspired, the composed said, by goose-stepping regiments). Although the sensual harp-piano dialogue amid the closing fugal passages offers relief, the raucous brass tends to complicate the mood – plaudits to Byron Fulcher and the menacing trombones, along with Antoine Siguré's peerless timpani. If the starburst of the farewell tutti does represent some last-gasp conquest of dark forces, it comes too late and too ambiguously to leave us wholly at rest. Peace, in this arrangement of the sounds of 1945, turned out to mean frenzy, angst or inertia for those who had fought the good fight, with Olympian serenity the reward of a genius who bargained with evil (Strauss). Salonen's exercise in time-travel left me with gratified ears, but an unsettled mind.
Strauss's Oboe Concerto blows its beautiful raspberry in the face of relevance, modernity and progress
rating
Share this article