theartsdesk Q&A: Musician Susanne Sundfør
theartsdesk Q&A: Musician Susanne Sundfør
Concerns about climate change and nods to country colour the Norwegian's sixth album 'Music for People in Trouble'
Susanne Sundfør ponders how close the wind came to throwing her off a cliff
Nine hours after meeting up in a Shoreditch courtyard to discuss her new album Music for People in Trouble, Norway's Susanne Sundfør is on stage elsewhere in the district at a theatre called The Courtyard. It's a sell-out and the room she's playing is over-full and over-hot. A few days before the album's release, most of the new songs are unfamiliar to the audience.
Yet connections are made instantly. Although her songs twist and turn unpredictably, the lyrics and grand melodies are immediately impactful.
It helps that Sundfør is an extraordinary singer and the solo setting – she switches between acoustic guitar, Fender Rhodes and a just-about in tune upright piano – would reveal shortcomings were there any. She also transmits what appears to be unmediated emotion. Last month, she was on stage before a full orchestra at the Royal Albert Hall contributing to a BBC Proms evening celebrating the songs of Scott Walker. Jarvis Cocker and Richard Hawley were there too, but the only singer close to her in terms of tuning-in to the raw core of the material was John Grant. As we begin chatting, she says, "I have way too much confidence when it comes to my vocals." There is no sense that this is a boast. She knows her capabilities.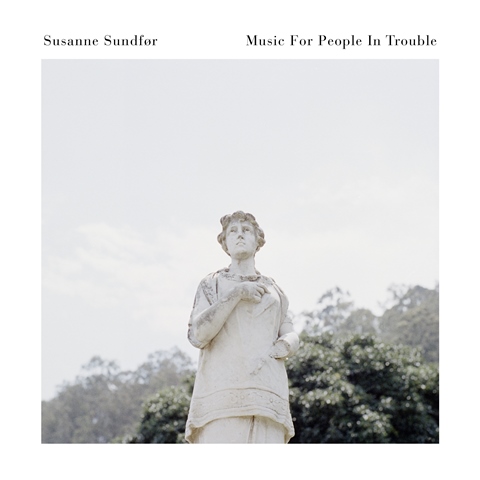 Fittingly, Music for People in Trouble is Sundfør's first album for former Cocteau Twin Simon Raymonde's Bella Union imprint. Her new label is also the home of John Grant, who sings on the album's final track "Mountaineers". The song is titled in reference to the Robinson Jeffers poem "Rearmament", an inspiration for the humanist/ecological group The Dark Mountain Project to which she has ties.
Music for People in Trouble is the singer-songwriter/producer's sixth album and follows 2015's Ten Love Songs. That mostly framed its songs in beats, was partly underpinned by a dance sensibility, and could just about be shoe-horned into the Scandi-pop cliché. Nonetheless, the song "Memorial" was a suite, its second part a dense, orchestrated, semi-classical vortex. In 2011, her third album, A Night at Salle Pleyel, collected six interconnected instrumental compositions inspired by Rachmaninoff and Stravinsky. They were played on Seventies' analogue synthesisers. Sundfør is a classically trained keyboard player.
In contrast, her new album is instrumentally sparse, mostly acoustic and features much more guitar than previously. Texturally, though obliquely, it nods back to her 2007 eponymous debut album with its recognisable early Seventies singer-songwriter style. At The Courtyard she played "Walls" which, when drawn from Susanne Sundfør, was her first single and an instant hit in Norway. She has frequently been in the local charts. In 2014, the best-selling collaborative single "Running to the Sea", was credited to "Röyksopp featuring Susanne Sundfør". In Norway, although her music is not mainstream, she is a mainstream name. Likewise, Music for People in Trouble stands on its own but is also integral to a self-defined musical continuum.
Before completing Music for People in Trouble, Sundfør travelled widely and has exclusively allowed her pictures to be published to accompany this interview (she took the album's cover photo in Guatemala). While pointing out that the new album is not a travelogue, she acknowledges that her encounters and experiences inform its ten tracks. In person, she is direct, very funny and frequently, quite suddenly, laughs at herself.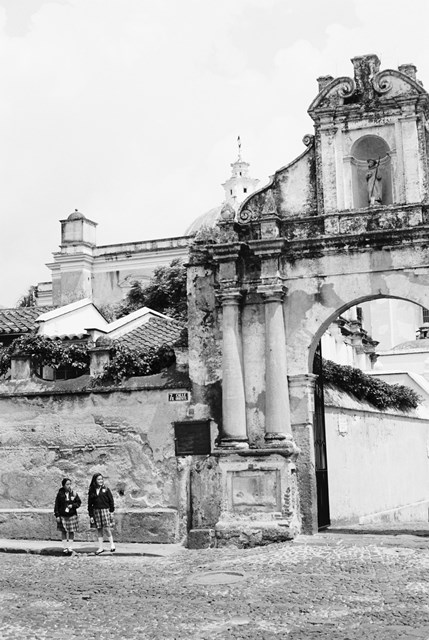 KIERON TYLER: Why Bella Union?
SUSANNE SUNDFØR: Simon wanted to, I wanted to, it happened. They're a label for musicians.
You travelled widely in the run-up to completing Music for People in Trouble? Why? What was the trigger?
I wanted to take pictures (pictured left: a shot taken by Susanne Sundfør in Guatemala). I went to this treatment thing that I had never tried before, called Rosentherapy – rose therapy. It's like a different way of getting a massage – that sounds… um, ha ha. It's like touching – it all sounds… [laughs]. The masseuse touches you in different places and ways: "I can feel like this an area you've not been touched for a long time" – oh man, I can't get this right [laughs exuberantly]. Touching therapy, that's what it is. She was touching my shoulders and saying "I feel like there's a little girl in here and she likes to climb the trees, she likes to make stories." That's right, that was me when I was a kid. I've always really liked adventures and I've always liked stories, to go into a story. That's why I love movies, reading a book, so I get to transcend. That's why I wanted to go, take a break from myself, get to know some other people, other cultures, to experience things. It was about a year. I really like travelling alone.
Where did you go?
I started on a trip to Iceland (pictured below right). I was there for about a week. I stayed on a horse farm and rented a car. I should have rented a jeep. I saw the plane, the plane crash. It's a plane which crashed in the Seventies [in 1973 at the Sólheimasandur beach on the south coast: an American Navy DC3 which had ran out of fuel]. You have to drive ten minutes from the main road. It's just on the beach, all the way down to the shore and it's there. The whole plane is there. It's all intact, nobody died. I felt, oh man, this is probably really touristy [going there] but I was just thinking with my camera.
Where else did you go?
I think the coolest place was a festival in Nepal. I went on the Annapurna trek which is just fantastic. The day after I got back I asked the guide if he could take me to a place where tourists don't go. I had read that there was a yearly festival where goats were sacrificed. I wanted to take pictures of the sacrifice. He knew about the place, a temple. It was all local people with their families, [the air] filled with incense. There were songs that I can remember, a chant, played over and over again. You had this weird, almost hallucinatory, meditative music, kids running around, at some of the booths there were monks praying. Very peaceful. Then, on the other side, with the ritual, goats screaming, chopping their heads off. There was a stream, red with blood from the goats. So you have this really beautiful atmosphere of incense, children and chanting. Then this killing. Very strange.
You went to North Korea...
The only thing that was surprising was that people were quite funny, they had a lot of sense of humour. They were mocking a lot, in a friendly way. My friend has red hair and a red beard so they called him Santa Claus. That was quite surprising. Everything is for the President, he's like a God figure. With some people we would talk. The guide, me and her would talk about being single and then suddenly she would switch when we came to a tourist attraction: "This is the largest stone building in the world." She wants to bond but she also has to do her job, which is propaganda. The tourists coming there, what they see is propaganda. This is my opinion. They have a museum dedicated to smothering the American reputation, their own version of the Korean war and who started it. The museum is h-u-g-e, and dedicated to how North Korea humiliated the Americans. It makes sense but at the same time it's quite absurd. A huge museum dedicated to humiliating the Americans.
How did all this feed into the new album?
The visual part is an extension of the album (pictured left: Nepal). It's not like "this song is about this tower in North Korea." It's not a travelogue album. There isn't a direct link between the photos and the songs, but there is a connection which makes it interesting.
Were the church bells heard at the end of "Mantra" recorded while you were away?
That's in Bristol. I was there, I went on a road trip with a friend, got up early one morning, went for a walk and heard the church bells. [Recorded] on an iPhone.
Who is the male voice saying "sometimes we have to grab it and do something with it" on "Music for People in Trouble"?
His name is Andres Roberts. He runs an organisation called Way of Nature, he's a friend. It was [recorded] in the Pyrenees on a retreat with The Dark Mountain project. He's a hiker and he brings people out into nature and prepares them for a solo retreat. You have to be completely alone in the wilderness. Very intense. It was about 24 hours and I got really scared in the night. I had been walking for a couple of hours, I camped three times but it was always too steep, the angle, and I ended up ten metres from a cliff. I put up my tent, it stopped raining, the sun came out and it was this intense experience looking out on all the mountains. In the evening I saw fog coming in, snaking in. Then, thunder started and it was so loud. All the types of weather you could have in one day. In the night it got really scary, it got really windy, and I thought I would be thrown off the cliff. In the morning, it was sunny and all you saw was the mountains and in the air, balloons. These beautiful air balloons on the horizon.
When did you draw a line, saying enough adventures for now, the little girl has climbed the tree, and I'm going to sit down and create a new album?
I wrote the songs coming back from the travelling each time. You miss your coffee, everyday things. So I was doing both. (Pictured right: Brazil's Belo Monte dam)
You've never played so much guitar before. Why?
Because I couldn't fit a piano into the flat I was living in, here in London. But I'm not a great instrumentalist, I don't practice enough, my fingers are too long and they're slow.
Your finger-picking style seems very South American, Brazilian?
I've never thought of that. My teacher when I was kid, he liked Bossa Nova. Maybe that's there? It's based on folk music that I've listened to. It's nylon strings, maybe that's why you think sounds a bit South American. When I was recording – I don't feel strongly about it any more – I didn't want the sound of steel strings, the echo sound. Eaurgh.
"Good Luck Bad Luck" is in two parts. First, with what is a traditional-type song. Then it suddenly shifts to a jazz combo, a totally different theme and style. Why is that?
I was picturing this lady, a room. You're in a bar and a band is playing and you feel emptiness and you sit there, and you get drunk and you listen to the jazz. It does happen in life, it's actually kind of sad. I was reading Elizabeth Strout writing about a piano player at a local bar and that story is a good comparison for what I was going for. It's the same with a couple of other parts of the album. I often think of music visually. With "The Sound of War" [which also has a radical shift into a different approach], I wanted it to be Ragnarock, the clash of civilisation, but the machines against humanity. The machines are drones, it explodes and you're in a parallel universe.
Which comes first, words or music?
With this album, a lot of it came simultaneously. For me, that always creates the best songs because the words fit the music. I've never enjoyed myself as much as a songwriter as when I wrote "Bedtime Story". I was in cabin upstate in New York and I was going to record with Jesse Chandler [of Midlake] the next day, he plays flute, and I was going to write another song. I had this melodic theme. I took breaks, go for a walk and was thinking how could that word fit with that word, how could that line fit with that line, how could they be connected, adding dimensions. You have one verse and it's about one thing, and the next verse is about another thing but they're connected and about something bigger. It's always about finding a way to link things, but where every word and sentence has to be independent. I feel I did that on "Bedtime Story". Pictured above left: Svalbard, north of Norway)
Where does your melodic sensibility come from, when it's never clear where your songs are going?
I like a mixture of predictability and unpredictably. I'm re-watching Mad Men, I've seen everything on the internet [laughs]. I've seen it all so now I'm re-watching Mad Men. There's an episode where Don says to Peggy something like "stupid and brilliant is very close" and I thought that was so true, that's what pop music is about as well. Writing a stupid pop song and writing a really good pop song is really close. It's about just a few elements and some originality which makes it really good. If you are able to dare to be stupid, that's when you get a good song.
Is writing in English difficult?
It's natural for me. My mum is an English teacher. English was at home, I started reading English books at an early age. Sometimes I talk to myself at home. "Oh, I need to do that," in English. The only thing that's difficult in English is idioms.
You just used the words "pop music": do you think of yourself as pop music?
I don't know if this album is pop music, but the previous one [Ten Love Songs] is, for sure. (Pictured right: London)
"Undercover" is pop music.
I'd say it's country music. It's a country ballad.
Tell me about "Reincarnation".
I'm really happy with the lyrics. I like this idea of a different kind of glass that's in it. Light. I really like the pedal steel. I wanted it to be like country, which people don't want any more. It's such a shame as it's so beautiful, one of the most beautiful things I know. Like on Gram Parsons' "She".
Can the lyrics be taken literally? The last album was called Ten Love Songs. Here, we have a new song called "No One Believes in Love Any More".
That's based on a conversation with a friend in Los Angeles who doesn't believe in love any more, and I do. There's been this trend, maybe in the last decade, where everything has to be answered with science, people are saying it's scientifically proven we are selfish people. The idea love is just this fantasy we had, there's not really love. I think love is crucial for humanity to survive. It makes sense there's love, we're social animals. It's also [in the song] the age I am and a lot of people my age, coming out of a long relationship. A lot of the things I sing about are things I pick up on and think 'that'll be interesting to write about.
Do you have any idea what people might take from the album?
It might be a bit more personal than what people are used to these days. In Norway, people are going bat-shit crazy when it comes to being personal. [Author Karl Ove] Knausgård is incredible. People take it even further. Vigdis Hjorth wrote a book about her family which she calls a novel, and how she was sexually abused when she a child. Now, her sister has written a book about her, and her take on the family. Also, some of the album's lyrics are about climate change and it is an important topic. It's important that we manage to face it and try to do something about it. In Norway, we should vote for parties who want to stop drilling in new areas. Even one of the left-wing parties are open to drilling, which I think is really bad. The most important thing people can do these days is to vote for parties that fight climate change.
If you are able to dare to be stupid, that's when you get a good song
Share this article