Aquarius review - 'the unease of contemporary Brazil' |

reviews, news & interviews
Aquarius review - 'the unease of contemporary Brazil'
Aquarius review - 'the unease of contemporary Brazil'
Brazilian star Sonia Braga shines in unsettling portrayal of her country today
Politics certainly caught up with Kleber Mendonça Filho's Aquarius. The Brazilian director and his cast appeared at their Cannes competition premiere last year with placards protesting that democracy in their native land was in peril: it was the day after Brazilian president Dilma Rousseff had been suspended. Cut forward a few months, and the film's autumn release coincided with the announcement that Rousseff would be thrown out of office and impeached.
Given that Aquarius tells the story of Clara, a spirited matriarch in the coastal city of Recife – Filho's hometown is the capital of Brazil's northeastern state of Pernambuco – who refuses to be evicted from the apartment in which she has spent her life, the parallels with the presidency were striking. While it brought the film extra attention the situation didn't play exclusively to its advantage. First it received an unjustified 18 certificate (later adjusted), then it was controversially overlooked for Brazil's Best Foreign Film Oscar entry.
'Aquarius' certainly celebrates female independence, not least sexual freedom
Filho is certainly a director alert to politics, at least with a small "p". His debut feature Neighbouring Sounds from 2012 was an elliptical picture of his homeland through the microcosm of a small urban environment. It depicted contemporary Brazil as carrying considerable historical baggage, caught between tradition and modernity: one dividing line was drawn around real estate – low-rise, old style versus high-rise, new style.
That distinction is at the heart of Aquarius, but there's nothing abstract in the way it's portrayed. Its heroine, played with wonderful aplomb by Brazilian star Sonia Braga, has spent her life, at least as far back as the 1980 flashback with which the film begins, in a spacious apartment in a three-storey building – its name gives the film its title – overlooking the beach. Its interior is packed with the accumulations of a life richly lived – now 65, Clara was a music critic, whose broad tastes range from Brazil's great native composer Heiror Villa-Lobos to Queen (her vinyl collection is enormous).
That opening episode shows the younger Clara (played by Barbara Colen) as a free spirit, driving her car on the beach, music playing loud; she is gamine, her hair cropped close, as opposed to the flowing tresses that are so much part of her later personality (the film is divided into three loose parts, this opener titled "Clara's hair"). The main business of the episode, though, is a celebration party for her much-loved Aunt Lucia, another independent soul whose life spans back into earlier eras of Brazil's history, who never married, and spent time in prison (a clear political allusion).
Aquarius certainly celebrates female independence, not least sexual freedom, and the camera relishes a chest of drawers, as Filho fills in its particular history with flashbacks to Lucia's own youthful sexual passion. It highlights the sense that life is an accretion of such memories, such precious objects. Thus, the associations of Clara's building are incomparably richer than the skyscraper that would be put up in its place.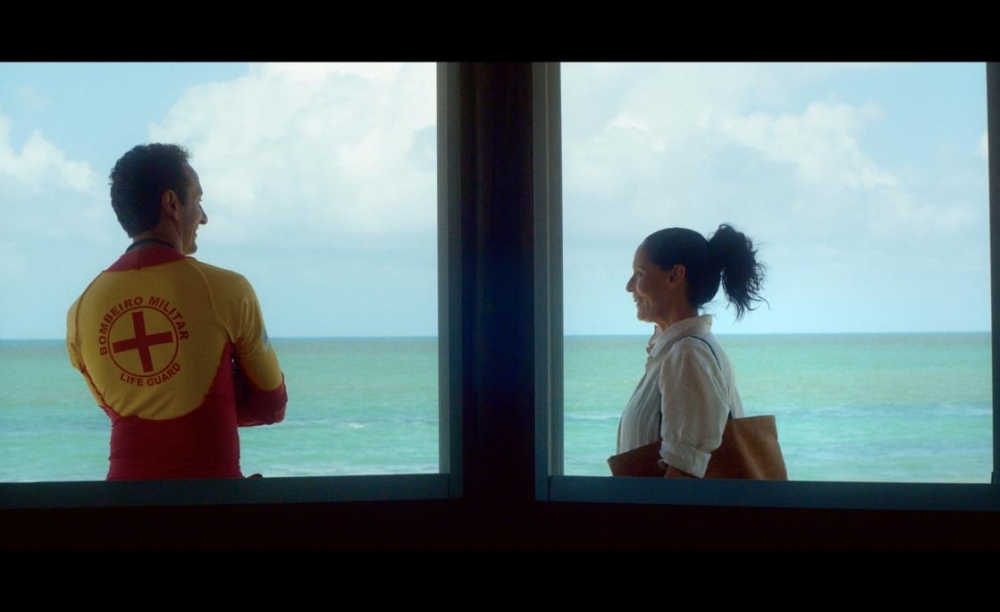 Clara's husband and three children are at the centre of that celebration, and through them we learn that she has successfully battled cancer (her mastectomy features later). By the next part, she is widowed, her children grown up and living their own lives, with attitudes that do not always accord with those of their mother. .
Filho weaves a rich tapestry with his feisty, forthright heroine in centre place, surrounded by a host of other characters. There's her long-serving housekeeper Ladjane (Zoraide Coleto, prompting reflection on the divides, class-based and racial, that characterise Brazilian society); her wider family (pictured top), including a favourite nephew; the newspaper connections from her earlier career that will assist at a crucial moment; even the lifeguard on the beach who supervises her morning swim, with whom Clara has a long and affectionate friendship, and whose help will also prove useful (beach scene, pictured above). Above all there is the company of a wider group of women friends, with whom she congregates at a dance evening early on in the film; it's a lovely, laughing, gossipy atmosphere which reveals, among other things, that this is a generation for whom sexuality remains very much a thing of the present.
At close on two and a half hours, 'Aquarius' is a languid film
Filho portrays it as an organic world whose natural habits and routines are threatened by the prospect of its physical locus, the Aquarius building, being destroyed. The director makes the lead player in the company trying to redevelop it the grandson of its original proprietor, adding another generational element to the story; we sense that if the older man somehow fitted into the accepted order, the younger one, slick with the new confidence of a US Business Studies degree, plays by new rules. The variety of methods to which he resorts is inventive, their impact most unsettling for the way that they reverberate uneasily in Clara's dreams. The ending is left open, with Clara's cancer – those two words are the title of the film's closing episode – assuming a somehow symbolic quality. If cancer destroys the body from within, Filho makes explicit parallels to the destruction of Clara's building, but also refers to her wider society (in Brazilian terms, by the almost insuperable entity that is capitalism and politics combined).
At close on two and a half hours, Aquarius is a languid film, lovingly enjoying its length, and blessed with a simply glorious performance from Braga. Physically she stands out, high cheekbones, a balletically slim form, and the hair, either falling loose or tied tightly over her head. It's combined with such keenness of intelligence, such a sense of strength intermingled with vulnerability, such depth of character. Estupenda!
Overleaf: watch the trailer for Aquarius