Manchester by the Sea |

reviews, news & interviews
Manchester by the Sea
Manchester by the Sea
Casey Affleck is quietly immense in Kenneth Lonergan's powerful study of loss
There is an event at the heart of Manchester by the Sea that cannot be spoken about, either here or by any character who is a witness to it. But it explains why Lee Chandler (Casey Affleck) has withdrawn into a state of catatonic frigidity. He is so cut off from the world around him he can barely persuade a muscle on his face to twitch. Only if he sinks enough beers is he roused to start thumping people in bars before returning to his dingy one-room apartment. We're a long way from La La Land, this week's other five-star movie out in time for the Oscars.
Lee is not entirely incapable of action. When he hears his brother Joe (Kyle Chandler) is back in hospital with a chronic heart condition, he returns from his job as a janitor in Boston to the maritime community where he grew up. He arrives an hour too late. After tenderly kissing his brother's corpse, he is soon angry at his memory when he learns that Joe has appointed Lee guardian to his 16-year-old son Patrick (Lucas Hedges). He flatly refuses to accept the role even though there's no one else: the boy's mother is an estranged alcoholic, while other relatives are off somewhere unpronounceable in Minnesota.
It's not clear why but flashbacks to a sunnier past reveal that Lee was once a family man himself. There's a beautifully crafted scene in which, cheerfully sozzled, he returns home from work to his wife Randi (Michelle Williams, pictured below) and it is slowly revealed how many children he has fathered. One's making stuff on the floor, another's on the sofa watching TV and, look, here's another new-born hiding in its cot. But for some reason Lee doesn't live with them any more, and on his return to the community he is the focus of intense, hushed gossip.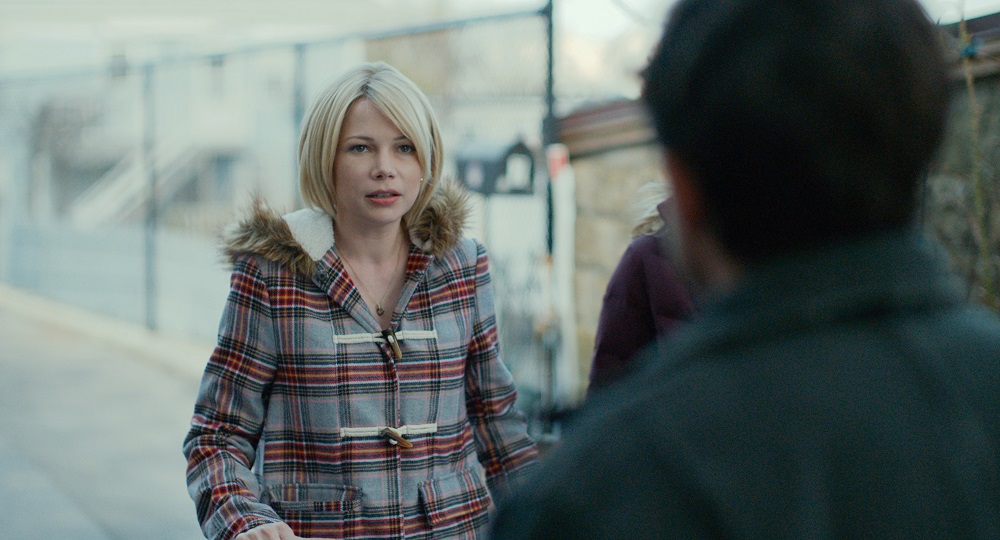 Manchester by the Sea, written and directed by Kenneth Lonergan, maps out its emotional terrain in a sparse opening sequence. On the rear platform of a family fishing boat carving through a coastal sound, Lee joshes with the young Patrick (Ben O'Brien) that he'd be a better bet in a survival crisis than his father. Cut to deep midwinter where Lee shovels snow, dumps trash and, as a plumbing handyman, deals with other people's literal shit. This is a film about man who is so frozen solid he has no means of dealing with his own.
It becomes clear that Lee has barely seen Patrick in the intervening years, and their relationship is soon on a testy footing. Patrick is a confident boy juggling two girlfriends. "Am I supposed to tell you to use a condom?" Lee says when one of them stays over. Embedded in his community, Patrick is horrified by Lee's edict that they will be moving to Boston. The fact that his father can't be buried in the rock-solid ground till the spring buys some time. So Lee enters a holding pattern, ferrying his nephew around, hunting for work, and not confronting the profound trauma that is mirrored in the face of everyone he encounters.
If this all sounds like a long hard stretch in miseryland, that's not quite how it pans out. The mutual incomprehension of uncle and nephew is the source of much awkward comedy. Patrick is feistily incapable of grief apart from one bad encounter with the fridge-freezer. He disastrously enlists Lee to help in his efforts to get laid in the house of one of his girlfriends. And throughout, a jagged seam of tenderness between the two goes mostly unexpressed.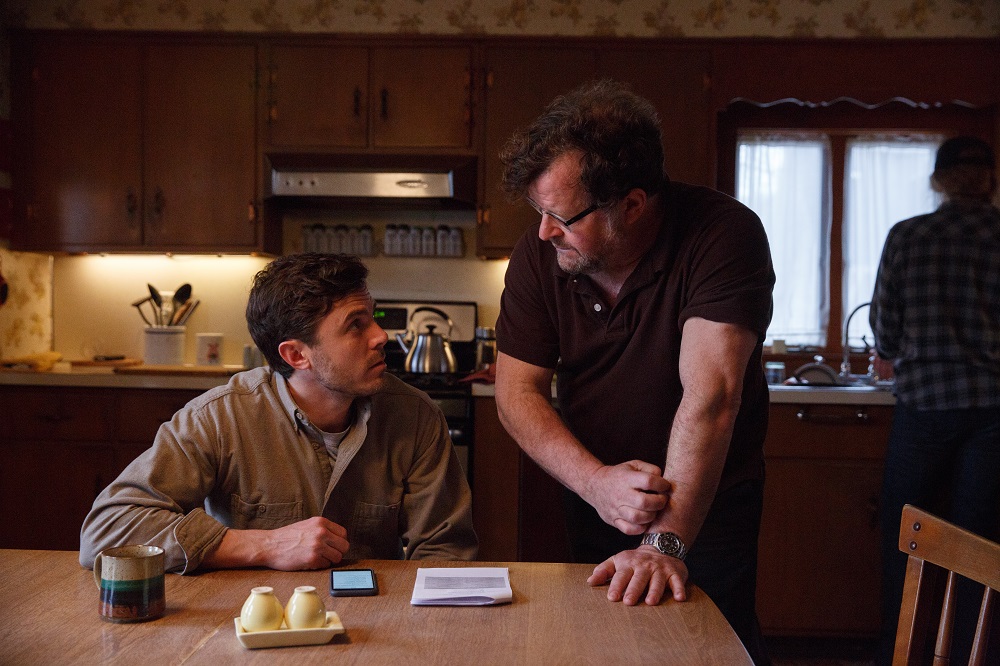 The reckoning when it comes is not what would happen in other films. Lee has an encounter with Randi in which Michelle Williams, very impressively, does all of the emoting. "You can't just die," she pleads, and it's quite heartrending. If the film has a flaw it is that Lonergan (pictured above on set with Affleck) places just a little too much faith in the tactic of withholding. He puts most of the overt feeling into the soundtrack instead, which at heightened moments features Handel, Albinoni and Massenet. And he lets elemental symbolism do a lot of the heavy lifting: this is a story about ice and fire. And water: the family boat is not just a boat, it's a means of staying emotionally afloat.
For all Lonergan's storytelling skills, Manchester by the Sea stands or falls on its central performance. Casey Affleck, outstandingly skilful at keeping his cards close to his chest, packs immense power into a study of incurable grief and guilt. Hedges is a screen natural too, and makes for a lively foil. Chandler and Williams offer strong back-up while Gretchen Moll is touching in a cameo as Patrick's brittle mother. For the bromide of superficial redemption, best look elsewhere. This is a collectors' item: a mature, slow-burning, unshowy film for adults.
rating
Explore topics
Share this article