The Seagull, Regent's Park Open Air Theatre |

reviews, news & interviews
The Seagull, Regent's Park Open Air Theatre
The Seagull, Regent's Park Open Air Theatre
Strikingly staged Chekhov continues a strong season in the park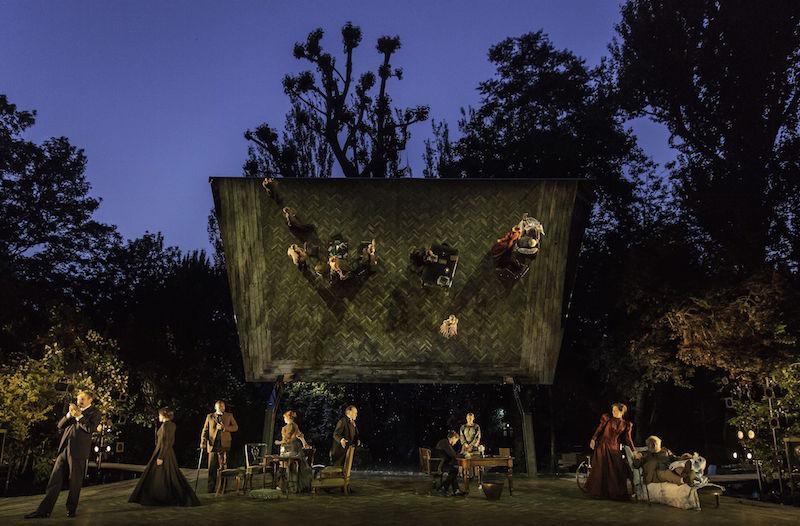 Through a glass, darkly: the cast of 'The Seagull'
Hamlet instructs his players to "hold...the mirror up to nature", advice taken literally in this arresting 120-year anniversary staging of Chekhov's homage to the Bard. Jon Bausor's set is dominated by a vast angled mirror, offering an appropriately bird's-eye view and lending cinematic scope to this familial tale. It's also the perfect encapsulation of a group who need their image reflected back at them through the admiration of others in order to satisfy their egos.
The lakeside country house might be teeming with passions, but this love, notes Torben Betts's pithy free adaptation, "is all about vanity".
The prime example is fading diva Arkadina (Janie Dee). Any encroachments on her star position are swiftly struck down, including that of her fragile writer son Konstantin (Matthew Tennyson), who threatens extinction with "a whole new way of making theatre". His play-within-a-play is a feast of symbolist pretention, from mist rising off the water and avant-garde destruction of scenery to the dystopian monologue intoned by the object of his doomed affection, aspiring actress Nina (Sabrina Bartlett, pictured below). It's one strand in Chekhov's Shakespearean web of unrequited ardour, but there's no Puck offering a magical solution.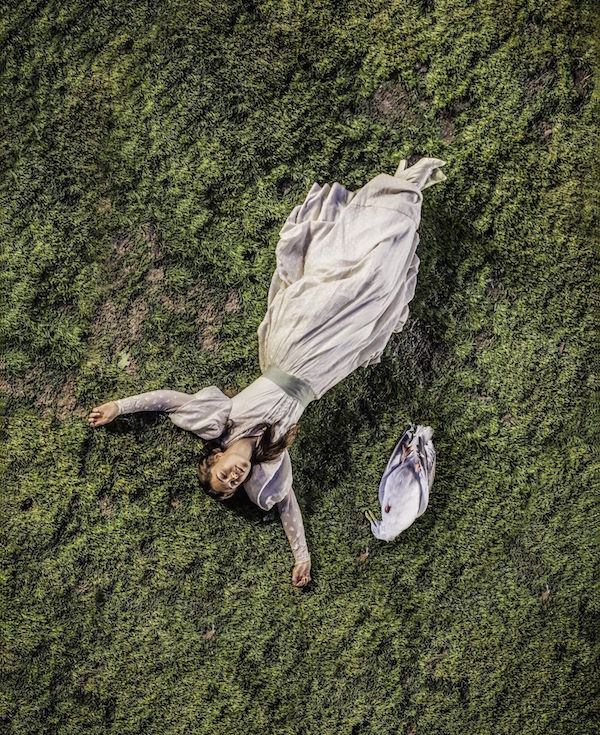 Nor is happiness earned by these blinkered toffs, supremely lacking in empathy, a point made wryly by the cycle of emotional abuse, rather more bluntly by the social commentary: there's one too many servant eye roll or snort of disbelieving laughter in response to a complaint about life's hardships. Ian Redford's wonderfully florid Peter Sorin articulates the agony of an unlived life, but Matthew Dunster's slick production, featuring innovations like recorded inner monologues, favours comic extremes rather than pensively reflecting on the terrible trap of inertia.
Yet Betts's colourfully contemporary interpretation astutely observes the vampiric nature of art and hollowness of celebrity: acclaimed writer Trigorin (Alex Robertston) experiences fame as neverending persecution. Nina is thrilled by his seemingly seductive declaration – "I wish I could be completely inside you!" – but Trigorin is just feeding on her youth to reinvigorate his work. Impending doom is signalled by the rain pouring down Bausor's mirror in Gothic fashion, as the park – where, like Konstantin's play, the action began at sunset – slips into darkness.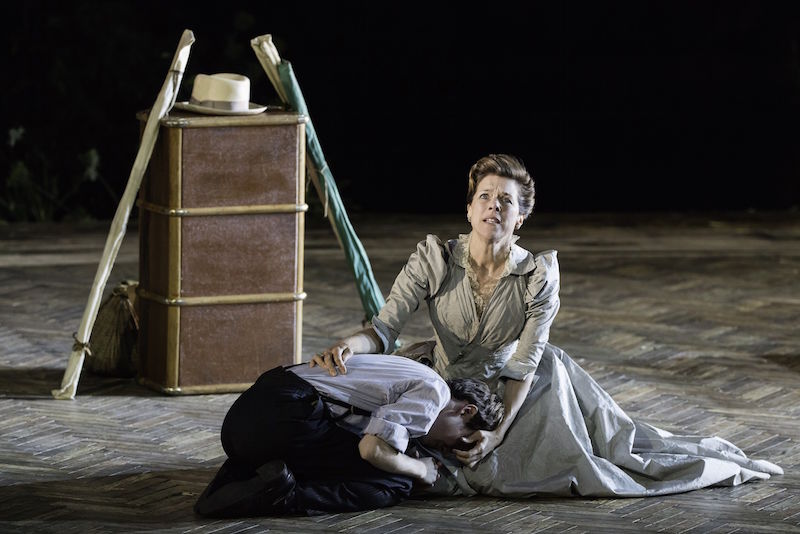 Tennyson (pictured left with Dee) presents Konstantin effectively as an fractious adolescent desperately seeking purpose, while, in contrast, Robertson provides a callous parasite and Dee a skilled manipulator. Whether proclaiming her youthfulness (and remarkable flexibility), winning back her lover with animalistic sensuality and calculated flattery, or spitting insults at her son before striking a maternal pose to comfort him, she's a memorably toxic creature.
There's strong support from Lisa Diveney's emo, day-drinking Masha, Bartlett's impetuous Nina, Colin Hoult's spurned teacher, Fraser James's beleaguered manager, and Danny Webb's suave doctor, plus, on opening night, a surprise cameo from a resident waterfowl beside the prop seagull. The mirror can be two-way: sometimes life imitates art.
MORE CHEKHOV ON THEARTSDESK
The Cherry Orchard, National Theatre (2011). Zoë Wanamaker (pictured below) shines in Howard Davies's murky production of Chekhov
The Cherry Orchard, Sovremennik, Noël Coward Theatre (2011). Russians soar in third, and final, offering of their first-ever London season
Uncle Vanya, The Print Room (2012). Iain Glen stars in a version of Chekhov at his most tenderly intimate
A Provincial Life, National Theatre Wales (2012). Moments of visual beauty punctuate a Chekhov adaptation that struggles to find its focus
Three Sisters, Young Vic (2012) Benedict Andrews' energetic update is stronger on ensemble work than individual performances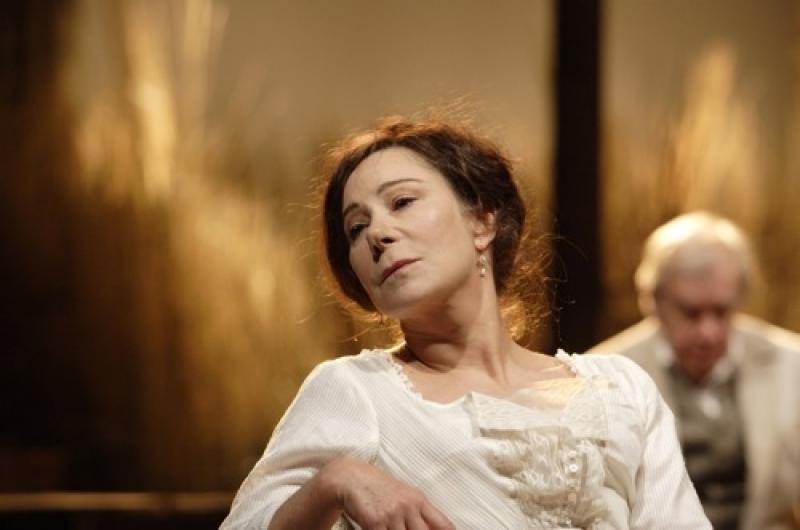 Uncle Vanya, Vakhtangov Theatre Company (2012). Anti-naturalistic Russian Chekhov buries humanity under burlesque and mannerism
Uncle Vanya, Vaudeville Theatre. Anna Friel, Laura Carmichael and Ken Stott shine bright in Lindsay Posner's production of Chekhov's drama
Longing, Hampstead Theatre (2013). William Boyd's dramatisation of two Chekhov stories with Iain Glen and Tamsin Greig is more pleasant than towering
The Cherry Orchard, Young Vic (2014). Katie Mitchell delivers Chekhov's masterpiece with devastating power

Uncle Vanya/Three Sisters, Wyndham's Theatre (2014). Quiet truth in finely observed ensemble Chekhov from the Mossovet State Academic Theatre
Winter Sleep. Turkish master Nuri Bilge Ceylan's Cannes Palme d'Or winner, based on Chekhov short stories, is huge in every sense
Uncle Vanya, Almeida Theatre (2016). Robert Icke's lengthy Chekhov revival/reappraisal is largely a knockout
Young Chekhov, National Theatre (2016). Jonathan Kent's three-play Chekhovathon builds to a shattering climax
Wild Honey, Hampstead Theatre (2016). Early Chekhov begins strongly then falls away