Mr Holmes |

reviews, news & interviews
Mr Holmes
Mr Holmes
Masterful McKellen captures the great detective in his twilight years
In 1998, Ian McKellen starred in Bill Condon's Gods and Monsters, an account of the final days of the ailing and tormented film director James Whale. Echoes of it are discernable here, where Condon has recruited an older McKellen for a carefully-crafted depiction of the imaginary dotage of Arthur Conan Doyle's great fictional detective. Aged 93, the doddering sleuth struggles to reassemble the jumbled jigsaw of his memories and hence solve his final case, which turns out to be himself.
Condon has based his film on Mitch Cullin's novel A Slight Trick of the Mind, and the narrative whisks us back to 1947 and a melancholy rural England still trying to drag itself from the wreckage of World War Two. We first meet Holmes in a railway carriage as its steam locomotive chugs through garden-of-England Sussex countryside, the view occasionally scarred by the rusting wing of a Luftwaffe aircraft sticking out of a field. There's no sense of an enemy triumphantly vanquished, more of regret for something lost forever. Holmes's gruff assertion to a schoolboy passenger that what he thinks is a bee is in fact a wasp not only establishes him as a bit of an old grouch, but also previews a recurring apiaristic theme.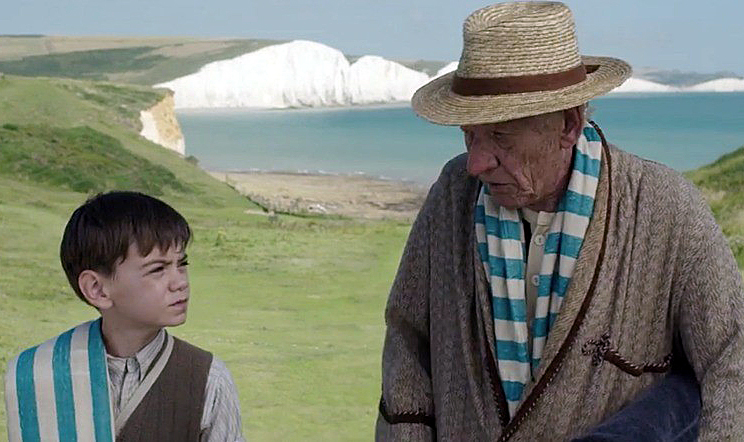 Having long ago called time on his career as a "consulting detective", Holmes has retreated to his rambling old house a stone's throw from the sea, where he tends his beehives and racks his brains for recollections of his glory days. His only companions are his tetchy, unhappy housekeeper Mrs Munro (Laura Linney) and her son Roger (Milo Parker, pictured above with McKellen), the latter a fan of the Holmes mythology who also bonds with the old man through a shared fascination with bees. His once scalpel-sharp mind is growing foggy, and Holmes's friendly local doctor (Roger Allam) asks him to make a dot in his diary every time he can't remember a name. As the story progresses, the dots gather like a black snowstorm. McKellen, equally persuasive as the dapper, pleased-with-himself Holmes in his prime and the fearful old man he has become, can expect some gongs heading his way.
Condon's dominant theme is memory, not just the way Holmes's faulty one chops up the past into fragments and non-sequiturs, but the way memories can be distorted or manufactured. On a trip to Japan, to track down the supposedly memory-enhancing prickly ash tree (prompting a disturbing visit to the ruins of Hiroshima), Holmes has to explain to a local fan that he never wore a deerstalker or smoked a pipe, but these were just inventions of a book illustrator. Holmes reflects sadly on his brother Mycroft, Mrs Hudson and Dr Watson, all long gone now, but he still hasn't quite forgiven the latter for his penny-dreadfulesque fictionalisations of Holmes's great cases.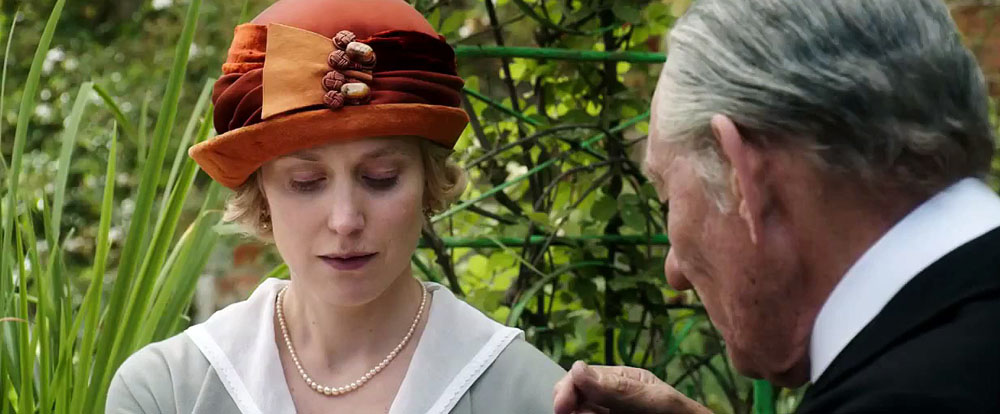 It's the final one, The Case of the Grey Glove, that has been preying on Holmes's mind. Condon has some fun with a scene where Holmes goes to the cinema to be appalled by a melodramatic film treatment, The Lady in Grey, with Frances Barber in the title role. Meanwhile, Holmes has been laboriously trying to write his own definitive version of events, in which he investigated the failing marriage of Thomas and Ann Kelmot (Patrick Kennedy and Hattie Morahan, pictured above with McKellen). Suffice to say that we learn why the case prompted Holmes to call time on his detective work, and its tragic overtones shine a piercing and poignant light into the soul of the erstwhile doyen of Baker Street. When Holmes comments that "I've been alone all my life, with the compensations of the intellect," it makes you ponder an interior Holmes that Dr Watson cheerfully ignored. And when that intellect begins to fail, what is left?
Though Condon is chiefly concerned with a crumbling, misfiring Holmes, the denouement permits a belated flash of the old deductive powers, and it helps Holmes to make the human connection that has eluded him for so long. Despite its stately pace and determination not to do anything rash – it's the antithesis of the hyperactive clever-dickery of the Cumberbatch Holmes – Mr Holmes is a quiet triumph whose ripples will keep washing over you long after you've left the cinema.
Overleaf: watch the trailer for Mr Holmes