Saving Mr Banks |

reviews, news & interviews
Saving Mr Banks
Saving Mr Banks
Emma Thompson and Tom Hanks star in Mary Poppins's journey from page to screen
Wednesday, 27 November 2013
Classic children's stories often have a darker side; a shadowy area that lends an eternal quality to an otherwise merely durable yarn. Such is Mary Poppins. How and why it came to the big screen is one of Hollywood's best tales, previously untold until now with Saving Mr Banks, a controlled yet poignant story hinging on the persistence and pain essential to bringing even the cheeriest film to fruition.
Blind Side director John Lee Hancock's high-profile effort focuses on the psychological backstory of one of the most famous children's stories of all. It is a big mission – even if few will know what PLTravers, the author of Mary Poppins, looked like. Nor will many younger viewers recognise Walt Disney, the moustached face so familiar to an older generation. Emma Thompson plays – with amazing focus – the picky, prickly, complicated and over-protective author resisting Disney's lucrative offer to transform her adored children's book into a feature film. Saying that it was the favourite book of his daughters, Disney (Tom Hanks, working his character's calculated charm) won't take no for an answer. Sending an emotionally sensitive chauffeur (Paul Giamatti) to pick Travers up from the airport is only one of Disney's nice little ploys to soften her up. For the audience, returning scenes with Disney's nimble team of incredible songwriters (Jason Schwartzman and BJ Novak) lifts the tension with the original film's trademark songs.
The clash between Disney, poised to succeed after 20 years of trying, and Travers, adamant to preserve her vision after 20 years of resistance, flashes back and forth from the 1960s to Travers's girlhood in 1907 Queensland, Australia. Her father (Colin Farrell, pictured right) is a drunken dreamer, as adorable as he is unrealistic but, like most fathers, a hero to his daughter. His attempt to be a responsible adult is the emotional core of Saving Mr Banks – with a heady reveal at the film's denouement. (But who is Mr Banks? If you don't know, it's worth watching the film to find out.)
Kelly Marcel's script came through the Black List, a project that tracks the best unproduced scripts each year and its strength benefits from compelling performances. Saving Mr Banks relies too on sensational visuals: hair, makeup, wardrobe and production design cannot be discounted in its evocation of a period where manners, thoughts and actions were very different from today. This is an exploration of love, between that of an author and her work, between a daughter and a father but also between a creative businessman and a money-making film opportunity. The conflict between art and money – ever-present in filmmaking – is palpably displayed by Thompson as Travers protects not only her art from Disney but also her past.

Saving Mr Banks achieves the rare feat of taking us behind the candy-coloured curtain of fun to show how serious the world of Disney business really was. You may come for the story but you'll leave with a revelation. Make sure you linger through the credits to hear recordings of the real Travers, made at her behest.
TO THE RESCUE: TOM HANKS SAVES THE WORLD (AND SOME IFFY MOVIES)
A Hologram for the King. Tom Hanks is the reason to see Dave Eggers's sentimental Saudi comedy
Bridge of Spies. Spielberg's warm-hearted Cold War thriller is lit up by Tom Hanks (pictured below) and Mark Rylance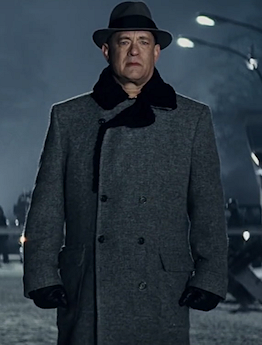 Captain Phillips. Piracy drama prompts bravura all-action display from director Paul Greengrass and captain Hanks
Cloud Atlas. Star company assumes various guises as David Mitchell's time-travelling masterpiece is lovingly told in under three hours
Extremely Loud and Incredibly Close. Oscar-nominated adaptation of Jonathan Safran Foer's novel is lacking in magic
Sully: Miracle On The Hudson. Eastwood and Hanks are the right men for an epic of understated heroism
Toy Story 3. To infinity and no further: Woody and the gang (sob) go on their final mission
PLUS ONE TURKEY
Inferno. In Dan Brown's dumbed-down Florence, Tom Hanks saves the world. But not the movie