The Kitchen, National Theatre |

reviews, news & interviews
The Kitchen, National Theatre
The Kitchen, National Theatre
Arnold Wesker's work drama is a tasty morsel in Bijan Sheibani's revival
Thursday, 08 September 2011
It may not serve up all that much to get your teeth into, but Bijan Sheibani's production of this 1959 play by Arnold Wesker looks fantastic on the plate. Giles Cadle's saucepan-shaped set is framed by a giant chalkboard, scrawled over and over with daily specials in faded lettering; beyond it, the globular lamps and plate-glass window of the Tivoli restaurant can be glimpsed.
But the action is all in the kitchen. Steel utensils clatter and gleam, and ovens roar into life, blue gas flames dancing. Here, as the staff toil in an atmosphere of sweaty industry, we are treated to a kind of culinary ballet – the daily grind given eloquence and grace.
Wesker was himself a one-time kitchen porter, and this drama has the undeniable savour of authenticity. Here are the rivalries, the petty squabbles and the clashes of character and temperament, in a workplace within an area of business often serviced, then as now, by immigrants. Here is the feared and tyrannical boss, who sees the restaurant as a money-making machine, and his employees merely as its constituent parts; here are the flirtations, the frustrations, the banter, the gossip and the resentments. No larger ideas really emerge, other than a heartfelt assertion that there must be more to human existence than work, eating and sleeping – and that drudgery in the name of capitalism corrodes the soul. But Sheibani's production, though it doesn't always marry its choreographed spectacle and quieter, contemplative scenes entirely successfully, is thrillingly vital, and brought to the boil by terrific ensemble acting.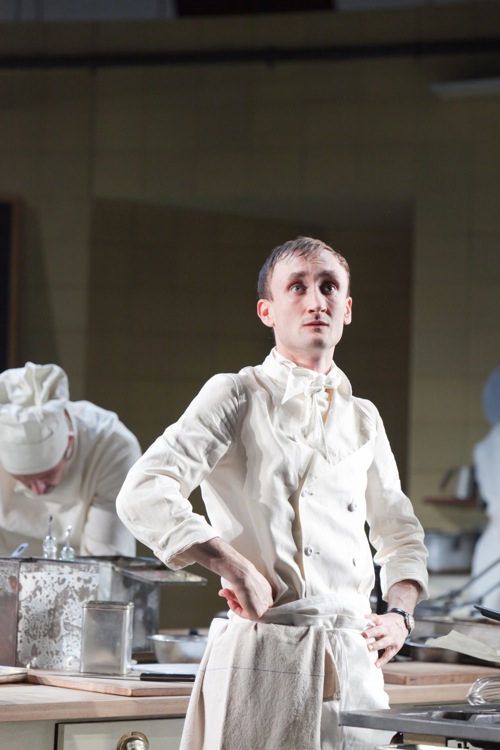 Tom Brooke (pictured right) is Peter, the pale, intense, anguished German fish cook, who is hopelessly in love with married waitress Monique, and fantasises about waking up to find the restaurant has vanished and he is miraculously free. Paul (Samuel Roukin) is the Jewish pastry chef, abandoned by his faithless wife, isolated and embittered in an unyielding London where, he says, office blocks seem to be perpetually springing up, concrete prisons for bureaucratic drones. Also among the staff are an Irish newcomer, pole-axed by the punishing lunchtime rush, a boozy xenophobic butcher, kitchen porter Dimitri, a Greek with a gift for electricals, and chirpy Michael on eggs, who longs to cook such exotica as chicken Kiev and "mouse-sacka". All are presided over by Marango (Bruce Myers), the sinister besuited owner who at one point conducts their labours with a knife to woozy waltz-time music, as if they were an orchestra. The cooks dip and twirl, frying, roasting, beating and chopping in mime, and in elegant yet frenzied movement by Aline David; waitresses pirouette and even fly ceilingwards on wires. The air is thick with steam, and smoke, and panic.
When, during the afternoon break, Peter demands that his fellow workers describe their dreams, their reluctance is as poignant as the smallness of their desires. More sex; more sleep; for Dimitri, a little shed where he could tinker with his creations. When his turn comes, Peter's dread that he is forever trapped, and that what he wants can never be, prevents him from speaking at all. It's touching – and the alienation that the characters feel in the midst of the teeming metropolis feels distinctly contemporary. But it's the hubbub that excites, the frenetic dynamism of so much intricate and focused activity. Not wholly substantial, perhaps – but it's a toothsome slice of working life.
Explore topics
Share this article