theartsdesk at the Latitude Festival: Smorgasbord in Suffolk |

reviews, news & interviews
theartsdesk at the Latitude Festival: Smorgasbord in Suffolk
theartsdesk at the Latitude Festival: Smorgasbord in Suffolk
The cultural pick and mix could do with fewer guitars and more water
Latitude: this four-day event in the attractive environs of Henham Park, near Southwold, is, as its slogan says, "more than just a music festival". Quite so. But how to review such a groaning cultural smorgasbord? This year, rather than delivering an indigestible wodge of words, I thought I'd take a slightly different approach; thus my account of my four days in Suffolk is divided into thematic sections which correspond only roughly to the festival's own creative categorisations. So here we go.
Latitude's organisers are still struggling with the water thing. Although work has been carried out to improve supplies, there were still times over the weekend when water in some sections of the campsite was very limited or non-existent. This was kind of annoying, and led to some tetchy exchanges – a man seen splashing precious water over his head was accused by some in the queue of wasting the stuff, while my friend carrying a large plastic container was chastised because it was deemed to be too big. It's amazing how quickly people are reduced to such churlish pettiness. And this, surely, would have been a golden opportunity for chuggers raising money for a charity such as Water Aid to seize the moment, the message being, of course, that – hey! - if you think this is bad, then just imagine what it's like to have to struggle for hours to find any kind of water, let alone stuff that's clean enough to drink, on a daily basis.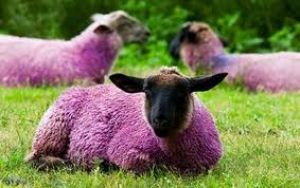 Otherwise, it was Latitude as usual: well run, efficient, polite, pleasant, helpful, and with the customary array of attractively coloured sheep (pictured right). Oh, and it rained quite a lot on Saturday and Sunday but this wasn't such a big deal if you just went with the flow. And anyway, there was always something interesting happening in a tent somewhere.
Golden geezers
The demographic at Latitude is split, I'd say, into two fairly distinct camps: on the one hand, there are the hordes of absurdly energetic and bright-eyed teenagers in their denim shorts and pork-pie hats and fancy-dress costumes; on the other, there are the people of a certain age (ie, folks like me) who want to tap into the youthful energy of the thing and find out what the youngsters are listening to, but who also relish the chance to relive the musical highlights of our own golden years. This year's "golden geezer" moments were provided by Edwyn Collins, the former Orange Juice frontman whose 2005 double brain haemorrhage has slowed his speech and put his right arm out of use, but seems not to have affected his singing. With a band that included former Sex Pistol Paul Cook on drums, he cut a passionate figure as he worked through his repertoire, including songs from last year's Losing Sleep album, and with the inevitable finale of "A Girl Like You" bringing out the ageing aeroplane-dancers in the crowd. Then, with a wave of his walking stick, he was gone.
And then there was OMD: what a blast. Hyperactive singer Andy McCluskey was endearingly self-effacing. "This looked preposterous enough when I was in my twenties," he said (or words to that effect) after a particularly energetic bout of cavorting and arm-windmilling. "Now I'm 52, God knows what it looks like." He and his bandmates provided 45 minutes of cheesy synth-pop pleasure, a succession of absurdly catchy hits from the 1980s. And there was OMD drama, too (OMG! as the kids might say): as their set reached its climax and everyone waited for the first notes of their biggest hit to ring out, McCluskey announced that they'd been told by the organisers that they'd run out of time. But what the hell! No one would dare to pull the plug on "Electricity". (Boom, boom.) So they went ahead and played it anyway, and audience pandemonium ensued.
Most frustrating moment
On Thursday night, as the festival warmed up, I managed to find a seat in the packed and fuggy Cinema and Music tent for something that promised to be a unique experience: Guillemots would be on stage playing a live, improvised soundtrack to the Korean cinema classic Old Boy. Duly, the wide-ranging and adventurous Brummie band played along as the film's harrowing plot unfolded, and to the band's credit, their contribution was noticeable but unobtrusive; noodly and jazzy, and with moments of sparkling, stunning brilliance that matched the movie's shocking sequences of violence. And then, just as the climactic moment approached, the bit when Oh Dae-Su cuts off his own tongue with a pair of scissors, the projector broke down. It had all been going so brilliantly! This was genuinely disastrous, and although the picture eventually reappeared, about 10 vital minutes had been lost, and the moment was gone, never to be recaptured.
Guitar fatigue
I have to say that the programmers this year had booked an awful lot of young white guitar bands. Now, don't get me wrong: I love guitars as much as I ever have. But when you've been listening to them for 12 hours, a certain weariness creeps in – a need to hear something brassy, or funky, or something with rhythms that are other than boom-bat four-four. Relief was provided momentarily by Bellowhead, whose glorious foot-stomping folk was a rabble-rousing delight (and who beat cabaret-karaoke-torch singer Camille O'Sullivan, just, in the battle of the "Amsterdam"s with their swaying, lurching version of the Jacques Brel classic); and by Kele (pictured above), the artist formerly known as Kele Okereke, singer and frontman with Bloc Party. He did pick up a guitar once, but mostly it was synths and drums and Kele's own apparently boundless optimism and huge smile that worked their magic on the early daytime crowd. He's not the most virtuosic of singers, but he's a man who knows the value of the drop, and he milked it for all it was worth in a set that had the kids jumping for joy. It wasn't quite Faithless, but it was certainly fun.
Bands I saw that I'd definitely like to see again
One of the big revelations to me (and I know I'm a bit slow on the uptake here, but I've never had the chance to see them live) was Isobel Campbell and Mark Lanegan, the former indie-pop songstress Campbell teamed in an initially unlikely but now enduringly successful partnership with the growly, gravelly former Screaming Trees frontman Lanegan. They were fantastic, their voices weaving around each other, Lanegan often taking the melody while Campbell provided the harmonic "drone". Sometimes a 45-minute festival set is just enough, but here I could have watched them all day, Campbell in her floaty white dress, Lanegan all stubbly and scrunchy. All this, plus sparse, exquisitely judged musicianship, helped to create a mood of seductive intrigue and mystery. Marvellous.
And then there was Anna Calvi, the English singer, songwriter and guitarist (just nominated for this year's Mercury Prize) who roused me from my Sunday lunchtime haze with her clangy, twangy guitar and big, epic, hollow-sounding voice, backed by stately, thunderous percussion. A brilliant deconstructed version of Elvis Presley's "Surrender" was one of the highlights of a set which, again, was terrific but tantalisingly brief.
Comedy moments
The comedy stage was constantly packed so I rarely ventured in; in fact, one of the finest comedy acts I saw was in the Literary Arena – Mark Steel, who was talking about the conformity, but also the precious moments of idiosyncrasy, to be found in Britain's towns and cities, based on his own experiences and those of various Twitterers and emailers. I presume he has a book coming out – hence the venue – but this was effectively a stand-up act with a slideshow attached. Not many belly laughs, but funny and engaging.
I did, however, shuffle and squeeze into the comedy tent a couple of times: first to see Robin Ince, who was fine, but simply not angry enough – the man with angst in his pants seems to have had his rage and his existential dread tempered by the arrival of his small son, which is good news for him, but less so for fans of his spluttering, foam-specked bewilderment at the stupidity and irrationality of the world. There are few better sights in comedy than Ince in full flow, raging against himself and the world, but here he was just slightly annoyed. Disappointing.
But here, too, I also witnessed what I've now decided was my festival highlight – judged simply by the fact that I've thought about it and relived it more than anything else I saw: Brendon Burns. The Australian comic is no mere gag machine (pace those wearying mechanical comedians, Messrs McIntyre and Carr), but a weaver of stories, a master wordsmith, a man who absolutely gets the crucial role of rhythm in language and comedy, a comic whose act combines some of the most outrageous observations I've ever heard from a comedy stage (I won't go into his reasons for deciding that Jesus is just sooo gay, as this is a family website) with moments of aching, touching beauty (his account of a bedside conversation with his cancer-stricken father). Some of it I'd heard before, but, like a great song or a play or a poem, it was pure pleasure to hear this material again.
The big headlining bands
On Friday night, The National made up for their disappointing show at the Brixton Academy last year with a terrific slow-burning set of doomy but thrilling angst-rock. Singer Matt Berninger seemed in good humour, and his banter with the band was friendly rather than tetchy. The National clearly had the necessary stature and experience needed to make the step up from headlining The Word stage last year to the main stage this year. Thunderous, epic, mournful but also uplifting: this was truly memorable.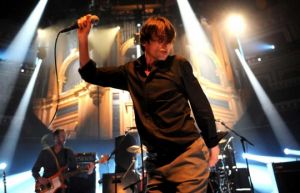 Ditto Suede (pictured right) on Sunday night, who barely paused for breath as frontman Brett Anderson and his black-clad cohorts pumped out song after song, Anderson crouching and prowling and spinning and cajoling the crowd; a brilliant burst of seedily glamorous music, packed wtih gloriously melodic pop-rock classics such as "Trash" and "The Beautiful Ones" - a perfect, valedictory, surging, singalong end to the festival.
As for Foals, well, they were almost certainly the most technically accomplished band I saw over the whole festival – so tight, so funky, such immaculate grooves; fast, virtuosic, taut, tense. But where were the tunes? A couple of times the packed young crowd sang along to a chorus, but mostly it was all about rhythm, the groove. I'm still not sure if this was entirely a bad thing, so I've reserved judgment until I've seen them again. But if you're looking for outrageously good ensemble musicianship, go see.
Mentioned in dispatches
Robin Ince reappeared in the Literature tent as the presenter of a "double science" lesson in maths and science. "Give me a cheer if you're ready to do some data analysis," said the nerdy but genial Matt Parker. Big cheers ensued. Parker is a "stand-up mathematician" (I do so relish living in an era when such a thing exists), and his lecture on probability was fascinating, engaging and funny. He was followed by a man who made a plastic bottle explode with dry ice. It wasn't rocket science, but it was certainly fun.
A girl came up to me when Foals were on stage and asked, "Have you seen a man dressed as a banana?" It wasn't a joke, but a genuine query, and it's to Latitude's credit that it was not one that surprised me in the least. In fact, I had seen a man dressed as a banana, but two days earlier. And it's perfectly possible that he was a different man dressed as a banana from the one the girl was looking for.
I heard a few brief minutes of The Naked and the Famous, an indie-rock band from New Zealand, and would like to hear more of them: a sweet, epic, plaintive sound with big tunes, all suffused with a rich warm glow.
On Friday night I caught a brief performance, curtailed from its full length because of the conditions (wet grass is not a great surface for acrobats), of the graduate show by degree students at the Circus Space in London: a narrative (of sorts) threaded together a series of inventive and expertly performed feats of strength and physical prowess - swinging, lifting, spinning, sliding and so on: traditional circus skills, but with a 21st-century flavour.
Oh, and I almost forgot…
Actually, how could I have almost forgotten about Electric Hotel? This brilliant outdoor theatre/dance spectacle was easily the most artistically inventive thing I witnessed. The hotel in question had been constructed on the site (it's already visited cities around the country such as Bristol and Norwich), rendered like grey concrete, with big windows at the front. Punters, seated on the grass in front of the structure, wore loaned headphones, into which a soundtrack was wirelessly broadcast. In perfect synchronisation with the soundtrack, actors/dancers performed a weird series of scenarios as we watched them through the full-length hotel windows: a pregnant woman diving repeatedly into a swimming pool on the roof, a man in a white Stetson singing into a Blue Velvet-style microphone in the penthouse bar, a man playing bass guitar in his underpants, a maid delivering bottles of water with clip-clop steps around the corridors, a gang of ghastly, ghoulish-looking thug-men, menacing and threatening. The sense of entrapment that emanated from the hotel itself, but also from the repeatedly looped scenarios being performed as if for eternity, created a hellish atmosphere; who knows who these people were, or what they were doing there – but it was like looking into someone else's nightmares.
Next year...
Please get the water sorted out. Please book a few more bands who are either not guitar bands, or not white, or both. And please avoid clashes such as the one that put Eels on stage at the same time as Suede – this was really frustrating. But, most of all, please keep it going: it's easy to diss Latitude as being smug and middle class, and its stand-up comics regularly do so (comedian to punter: "What's your name?" Punter: "Jocasta." Comedian: "What a terribly Latitude name. Are you here with your sister Houmous?"), but it's become a place of discovery, a glorious cultural pick and mix, a festival that is beginning to acquire the status of national treasure.