Morrissey, Iggy Pop, Lou Reed, Hop Farm Festival |

reviews, news & interviews
Morrissey, Iggy Pop, Lou Reed, Hop Farm Festival
Morrissey, Iggy Pop, Lou Reed, Hop Farm Festival
An all-star veteran line-up bathe in nostalgia and old glories in Kent
It cannot be easy being a veteran pop star on tour. All you want to do are your lovely new songs and all your fans want to hear are your golden oldies. Two weeks ago Ringo Starr showed that he has clearly got to an age where he has decided to give the fans what they want and last night in a sun-kissed field in Kent three more icons embraced their past and bathed in the golden glow of nostalgia.
The Hop Farm Festival, now in its fourth year, is a bit of a new kid on the festival block but it seemed to get everything right by concentrating largely on the music. Last night's show was not officially curated by Morrissey, but it certainly felt like it at times with acts early in the day including post-punk Mancunian muckers Magazine and Patti Smith delighting an unapologetically mature audience.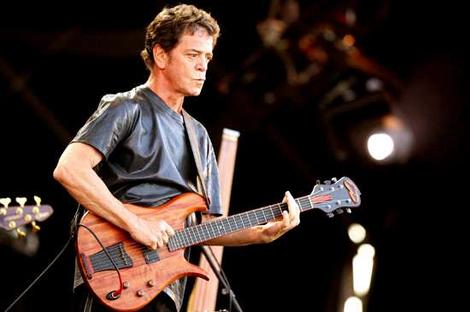 At 6pm, however, with not a lot of fanfare, Lou Reed appeared. The days when Lou was a right misery on stage seemed long gone. From a distance he looked pretty much the same as he has always done (apart from a dubious Kevin Keegan curly mullet period in the late Eighties). On closer inspection he was a little more leathery, but still in good nick for a 69-year-old.
And Reed's songs were in pretty good nick too. If his newer material was a little too boogie-ish and there were some lulls, it was marvellous to hear "Sunday Morning" and "Femme Fatale" lent a gravelly gravitas by their author. Finishing on "Sweet Jane" cannily left the audience wanting more.
Reed was followed by his contemporary partner in seedy glam, Iggy Pop. I don't know what they put in his tea, but Pop, 64, bounced around like a man half his age, pouting, jutting out his sinewy flat chest and generally making this critic think of the late rubber-legged simian clown Max Wall. He seems to be going through some kind of reverse ageing process. Around the time of Raw Power, which featured heavily, his hair was silver. Nearly 40 years on it is silky and blond. Perhaps he should add shampoo adverts to his commercial portfolio.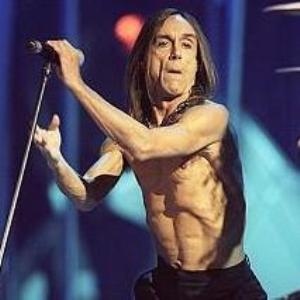 Pop gave the audience what they wanted, leaping into the crowd, getting fans up on stage to dance with him during "Shake Appeal" and generally behaving like the oldest teenager in town. Panto, but brilliant panto. As his equally senior band ripped through "1970" and "I Feel Alright" Pop grinned like a demented monkey and the crowd went suitably ape. Marvellous.
"How the hell do you follow Iggy Pop?" asked Morrissey as he sauntered on stage as the sun started to go down. He answered his own question with a pounding, emotional "I Want the One I Can't Have" and an inspirational set that was crowd-pleasingly heavy on classic old material. It is strange that as his body of solo work has grown, the more he has returned to his earlier work. Presumably he now finally realises how good his partnership in The Smiths with Johnny Marr was.
His current band lacks the finesse of his old team, but they were a tight, muscular combo, sporting Jailhouse Rock-style matching blue shirts, while the frontman started in a white Dolce & Gabbana number with a Harry Hill-sized collar and when that was drenched in sweat changed into a black version. Unlike last week at Glastonbury where he had to compete with Radiohead and U2, he was clearly the star attraction here. With no London gigs announced on this current tour, the capital's ageing lost, lovelorn and lonely contingent – albeit now with wife and two kids – had decamped to Kent for the night.
There was a real sense of coming to terms with his history as the greying, charismatic crooner rocked through a slower, swaying "There is a Light That Never Goes Out" and a hypnotic "Shoplifters of the World Unite". "Meat is Murder" was the centre piece, turned into a funereal, brooding, angry epic that was clearly heartfelt, but maybe did not work quite as well as the singer might have had hoped. One man's "Meat is Murder" is another's turgid indie-prog.
Newsreaders, carnivores, politicians; Morrissey has them all in his little black book
At 52 he still has plenty of sulky, youthful bolshiness. A new song, "The Kid's a Looker" was a rockabilly-fuelled tirade against dumb, manufactured chart fodder – "make no pretence, the kid is dense". During a cover of Lou Reed's "Satellite of Love", he indulged in a lyric adjustment to spit out the line, "I can't stand George Alagiah". Newsreaders, carnivores, politicians; Morrissey has them all in his little black book.
Another new song, "Action is My Middle Name", was a catchy carpe diem call to arms, with the morbid hook of, "Everybody has a date with an undertaker, a date that they cannot break". If the pace dipped during the middle, energy levels rose both on and offstage as he hurtled through a sequence of gems, from the more recent "Irish Blood, English Heart" and "First of the Gang to Die" to the lesser-spotted "Speedway". During "Alma Matters", a single from the underrated 1997 album Maladjusted, a slightly ill-advised decision to wander towards the crowd nearly resulted in a lost-shirt crisis.
But as with Lou Reed and Iggy Pop in particular, Morrissey knew what his audience craved. A epic evening ended where Morrissey almost started, with his second single, 1983's defining "This Charming Man". A brief towel-down backstage and he returned for "Panic". A day that was heavy on nostalgia but also big on sheer entertainment. "My pretty face is going to hell," chuckled Morrissey, in reference to the old Iggy Pop line. But for 80 minutes his audience was in heaven.
Watch Morrissey perform "Meat is Murder" at Glastonbury 2011
{youtube}fDEDXv76zkw{/youtube}