Ivor Abrahams, Mystery and Imagination, Royal Academy |

reviews, news & interviews
Ivor Abrahams, Mystery and Imagination, Royal Academy
Ivor Abrahams, Mystery and Imagination, Royal Academy
A print show that is tart and sweet, small but perfectly formed
In this month of royal weddings, endless bank holidays and (possibly?) equally endless good weather, it can be hard to focus, so perhaps this is the perfect opportunity to catch up with a show that nearly got away. Instead of winsome blockbusters like Tate Modern's Miró, or the V&A's The Cult of Beauty, Ivor Abrahams' print show is tart as well as sweet, small but perfectly formed, the ideal restorative after too much sugar, whether in wedding cakes or art galleries.
Ivor Abrahams is perhaps better known as a sculptor, studying under Anthony Caro in the 1950s, and first exhibiting, with Peter Blake, in the 1960s. Both of these artists seem to impinge on this print show, in delightfully unexpected ways.
Two literary sources are the jumping-off point for Abrahams here: Edgar Allan Poe's Tales and Poems and Edmund Burke's A Philosophical Enquiry into the Origin of Our Ideas of the Sublime and Beautiful. At first, there does not appear to be much to link the two: Burke's work first appeared in 1757, Poe's more than 75 years later; Burke's is a philosophical treatise, Poe's are literary explorations of the uncanny, the odd and the mysterious.

The prints with the overall appellation To Edmund Burke (1978-9) have no titles, but a panel of quotations from Burke's work appears beside them. These indicate that the individual prints are not illustrations, but are created as a whole to encompass the moods of Burke's work. The key citation would appear to be: "No passion so effectually robs the mind of all its powers of acting and reasoning as fear." This, surely, is the link between the two series, for Poe's work hovers around fear like wasps around some jam.

Yet oddly, while fear, uncertainty, grief, longing and mourning are all clearly the starting points for Abrahams, the prints themselves are wonderfully serene. They encapsulate the emotions almost literally, sealing them in via Abrahams' own lyrical skills and his measured and yet lush use of colour.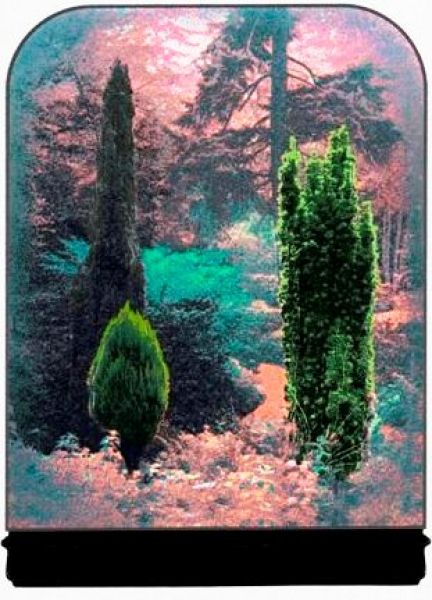 The 20 Poe screenprints recapitulate the stories in a similar way. Those familiar with Poe's tales and poems will be able to pick out elements – here, the raven, there, the prematurely buried figure. But while this time Abrahams does give us clues, by using Poe's titles for each image, these are not literal, or illustrative, renditions, but once again appear to be mood-influenced reveries.

Trompe-l'oeil depth and verisimilitude are used to remarkable effect in some of the prints. The Premature Burial has a white tomb-shaped box, without actually being either a tomb or a coffin; yet it is rendered in sharply realistic detail, which gives a vertiginous yes/no reading. Do we know what this box is? The trompe-l'oeil effect tells our eyes we must know, while our brains record that it is in fact left undefined. The dark-red fabric caught in the opening, therefore, gains a sense of foreboding because of the unresolved nature of our vision.

A Dream Within a Dream (main picture, above) has a Magritte-ish sense of illusionism too: in the top half, sand runs through the hour-glasses, warning that the end is at hand; on the bottom level, however, the sand illusionistically sits at the "wrong" end for gravity to be functioning. The same push-pull once again is neatly effected by Abrahams, once again wrong-footing the viewer.
Everything has the air of a dream yet, strangely, given the iconography, they are dreams without menace. Domain of Arnheim (pictured above, right) is a lush secret garden, yet in the "wrong" colours, pinks and saturated greens blending and creating a hypnotic pattern that makes one believe, none the less, that this is what has always been, as one does in a dream. Even one of Poe's most terrifying stories, The Masque of the Red Death becomes a symbolic, but not frightening, image (pictured left), a triangle of beautiful pattern spilling yet more beautiful blood.

There is claustrophobia here, but such intense lyrical beauty that it is impossible to be oppressed. For while Burke's notions of the terrible and the sublime may be oppressive, as in Abrahams' image of the headless, armless, high-heeled woman running endlessly, yet once in Poe's vivid world, instead of the terrible, a terrible beauty is born.
Share this article