If Walls Could Talk: The History of the Home, BBC Four |

reviews, news & interviews
If Walls Could Talk: The History of the Home, BBC Four
If Walls Could Talk: The History of the Home, BBC Four
Posh country piles and some interesting facts about the living room
I prefer "living room", but I have a friend who insists on "lounge". For some reason that probably goes deep into the psyche, I cringe at "sitting room". Same goes for "front room". As for "reception room", I've only ever seen that in the windows of estate agents. "Parlour", too, is a rarity, confined now to TV period dramas, which is exactly where "drawing room" seems to be heading (or perhaps I'm not mixing in the right circles). And anyone who calls it a "dining room" should surely be consigned to lonely TV dinners in perpetuity.
If Walls Could Talk: The History of the Home, the first of a new series looking at the social evolution of various rooms in the house, was far too cosy a viewing experience to go on about class very much, which meant that, though we were furnished with a long list, U and non-U usages were not up for discussion.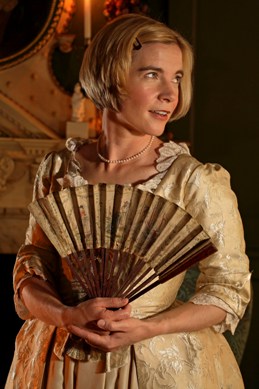 In fact, I'm not sure if it even dirtied its dainty little hands with the C-word, preferring "seriously rich" and "rich" and "middling" and "poor" as, I imagine, politer substitutes. In any case, I suspect the presenter, the somewhat impish Lucy Worsley, who, on occasion, reminded me of Queenie from Blackadder ("Eeugh!" she squealed and crinkled her pert little nose when she heard that cheap candles were once made of bits of animal flesh, which, if you were really poor and hungry, you might well resort to eating), is, in fact, far too well bred to suggest there's an "ought to" and an "ought not to" in such matters. Besides, apart from the TV work, Worsley (pictured right: dressing up as a Georgian) is chief curator of Historic Royal Palaces - were there are dozens of rooms that might well serve as the functional "living room" - so as a historian she knows that any such talk is nonsense.
So what did we learn about this domestic space? (Which reminds me: personally, I'd love a programme devoted to the evolution of the word "space" when talking about plain old rooms.) Well, lots of things. Before proper brick fireplaces, for instance, fires were built in the middle of the communal room, which, as you can imagine, turned the occupants into choking, red-eyed smoked kippers in no time. And that once we got fireplaces, which neatly confined all the nasty smoke, chimney breasts became status symbols and that the best-looking country houses in 17th-century England were obviously the most well stacked.
All of this was interesting, of course, but once you've done one country pile you get a bit bored of saying, "Wow, look at the detailing on those cornices." Still, as a gentle canter through 700 years of the front room it was all nicely diverting and the views were very pretty. What's more, we even got to meet one of the last remaining lamp lighters in the country, because, we were surely enchanted to learn, there are 1,600 remaining gas lamps in London. And he doesn't even have to dress up in fine livery for the role.
But who knew that a TV DIY expert would end up the villain of the piece? Back in the Sixties Barry Bucknell taught the nation a thing a two about sawing planks of wood. This would, of course, be handy for covering up those ghastly panelled doors. And as for that fuel-inefficient fireplace - why, rip it out and replace it with an electric heater. Estate agents hadn't yet been introduced to those enticing three words "original period features", for this was the era of Wilson's "white heat of technology" and we all wanted to be modern.
Tune in next week to find out "how poo becomes taboo" when the series looks at the evolution of the bathroom. Expect to see some of the finest bogs in England.
Share this article