Room at the Top, BBC Four |

reviews, news & interviews
Room at the Top, BBC Four
Room at the Top, BBC Four
Sexual intercourse did not begin in 1963: John Braine's postwar novel is re-adapted
Do we need another Room at the Top? John Braine's first and best known novel, eagerly read in its day and lassooed into that loose formation of agitating works by the so-called Angry Young Men, is much more widely celebrated in the screen version which came along two years later in 1959. Jack Clayton directed a film which formed part of British cinema's belated acceptance that Gerry had been defeated, society was on the move and wing commanders could maybe think about shaving off those splendid airborne whiskers.
But even that isn't watched any more. (If you missed it, see the video below for a flavour. It features Laurence Harvey as Braine's working-class hero Joe Lampton - he got an Oscar nomination despite a northern accent that came via Lithuania and South Africa - and the even more exotically miscast Franco-German Simone Signoret.)
Braine's aspirational hero was a young working-class accountant fresh from a PoW camp who had escaped his squalid hometown Dufton to take up a town hall job in well-to-do Warley. In him Braine embodied an entire generation who, having contributed to the war effort, were now gagging for a piece of the action. That national narrative still counted for something in the late Fifties. It's legitimate to wonder what Joe's class odyssey can possibly say to anyone when about 107 percent of us apparently regard ourselves as middle-class and there's just the one Etonian in the Cabinet. And in fact the script soft-pedalled the proletarian anger: we were now and then told that Joe was too chippy for his own good but, there being not much evidence, had to take witnesses' word for it.
In another important way, too, this version improves on a movie held primly in check by the British Board of Film Classification: in unfastening its stays, and unbuttoning its flies, it keeps faith with the rutting, frotting thrust of the novel. It feels right that in this version more or less every young man is eyeing up every young woman. From the opening frame, it was as if even the drably papered walls of Joe's lodgings were positively oozing sex. The new landlady looked like she'd fancy a bit, as did the secretaries at the office and Joe's fellow thespians in the am dram soc. There was no one who wasn't not itching for it, but this being the tailend of the Forties, where rules were there to remain unbroken, no one was getting much.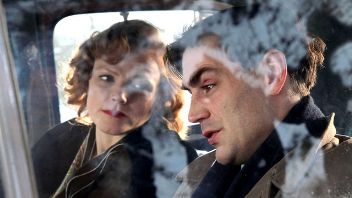 Undaunted, Joe had two candidates in his crosshairs: Sarah, the unattainable young daughter of a local industrialist (Jenna-Louise Coleman) who was being squired by an officer-class twit from the RAF, and Alice, a miserably married older woman (Maxine Peake, pictured right with McNulty). Given two sides of the fence to hanker for, Joe was left in a quandary at the end of the first of two episodes: should he shoot for innocence or experience?
The cast, as you'd expect, gives good period northern repression. Matthew McNulty as Joe makes for a slicked and rugged bit of rough you can half imagine pulling on his boots in This Sporting Life. Peake may never be Simone Signoret but she's on a bit of a roll, here subtly inflecting both the hunger and the pragmatism of the older woman in the throes of sexual reawakening. Shot on a low budget in locations which do a lot of doubling, it all feels like a nostalgic throwback to The Wednesday Play. Which is a good antecedent. So yes, there's still room for Room at the Top.
Room at the Top continues on BBC Four next Thursday
Share this article