Royal Scottish National Orchestra, Neeme Järvi, Usher Hall, Edinburgh |

reviews, news & interviews
Royal Scottish National Orchestra, Neeme Järvi, Usher Hall, Edinburgh
Royal Scottish National Orchestra, Neeme Järvi, Usher Hall, Edinburgh
Scots players burn for their old Estonian master in Dvořák and Shostakovich
White-knuckle crescendos loom large in that greater-than-ever conductor Neeme  Järvi's spruce Indian summer. Short-term bursts were the chief payoff in tackling Dvořák's deceptively simple-seeming Serenade for Strings with a huge department on all too little rehearsal time, but they also helped to pave the way for the two big events in Shostakovich's Seventh Symphony: not just the infamous "invasion" sequence based on Ravel's Boléro, but above all the final slow burn. It was ultimately here that Järvi's mastery of the long, inward line showed us what creative conducting is all about.
Musically speaking, the magnificent Estonian always knows where he's going, and these days who's going with him; once a year, at least, that means the current robust line-up of the orchestra which first burned for him in the early 1980s. There was much to commemorate here: not just the appalling siege of Leningrad which prompted Shostakovich to begin his most extrovert war symphony in 1941 - so, 70 this September - but also a ringing of the changes on the golden age of Järvi's Shostakovich and Dvořák recordings with the then plain SNO, an orchestra Edinburgh students like myself along with the rest of the concert-going public saw and heard transformed by his arrival. (Indulge me if I also note the first gobsmacked sampling of the mighty Russian symphonist live by my godson, 18 tomorrow, who well over a decade ago was singing along in the car to the First Jazz Suite by the composer he knew as "Curly Sausage".)
Järvi's conducting style veers between outwardly minimal control, vital for swathes of Shostakovich's long-term argument, and fluidly expressive, school-of-Leningrad engagement - not so easy for strings who rarely see him these days - to go with the flow in the Dvořák. Its gracious turns and ornaments are not perhaps best suited to a section freighted by eight double basses, sounding a little less polished than it had in current principal conductor Stephane Denève's impeccable Berlioz Symphonie Fantastique earlier in the season. There were co-ordination problems to begin with, and detailed, malleable phrasing rather than relaxed charm was the keynote of the delicious waltz, but by the scherzo the performance had begun to settle, those little bursts of adrenalin you usually find in a Järvi performance came thick and fast, and the famous left-shoulder shrugging seemed to conjure directly the extra kick of lower strings. Memories of this golden work in Scotland tend to go back to Mackerras and the Scottish Chamber Orchestra in the Queen's Hall, but Järvi's Serenade was a characterful if rough-edged law unto itself, with the sumptuous forces coming into their own for the swoony opening-out of the initially modest Larghetto and the thundering resolution at the end of the genial last dash.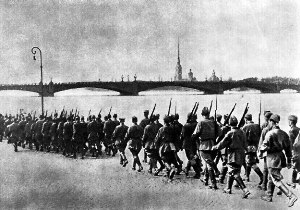 Then we plunged into the muscly determination of "the Leningrad", and a different sound was upon us even before the wind and brass - lined up antiphonally with the percussion in between them, trombones three and three, trumpets three and four - could make their acid mark. Even in the notorious "banality of evil" build-up - annotator Anthony Burton rightly noted Hannah Arendt's best-known phrase about the Nazis, which of course could apply here equally to Stalin's cohorts - there was no rigidity as the first side drum began its rain-on-the-roof tattoo; both he and consummate principal flautist Katherine Bryan had to watch Järvi like hawks. And the long-term argument propelled us into the anguished climax and beyond to an uneasy truce without our noticing the craft behind the art.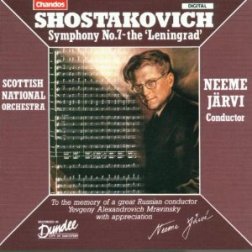 There was similar easy mastery in the final dematerialisation of the scherzo's purgatorial dance, introspectively gilded by RSNO veteran John Cushing's clarinet solo; I still can't work out quite how Järvi gets the special veil of sound for the Francesca da Rimini-like anguish of reflecting on happier times in misery ("Asks for a veiled sound?" suggested a friend, drily, but it's not as simple as that). Then came the perfect blending of wind-band sonorities in the slow movement which reminded me more than ever how Stravinsky's Symphony of Psalms was one of the young Shostakovich's favourite scores. Sure, minutes into the finale I got that "can I go home now?" feeling as Shostakovich runs dry of thematic inspiration; but I hadn't bargained for what Järvi could do with the last ambiguous haul. No crude hard-hitting here, just an inscaped sense of dread which thrust home the dissonances in the final sustained blaze. After it, he even exerted his genial but masterful crowd control on synchronised audience applause for the players he so admires. For all its dangerous moments, this was another of his great events, and everybody knew it.