Interview: The Unthanks |

reviews, news & interviews
Interview: The Unthanks
Interview: The Unthanks
Geordie folk gal explains why she won't be cheering up quite yet
Misery may be folk music's stock-in-trade but no one does it quite like the British. Maybe it's part of our heritage. We are a nation, after all, that has not only invented a drink called bitter but have a brand called Doom Bar. And within the UK, there's one particular volume of folk music that is unparalleled in its bleakness. It's called the Northumbrian Minstrelsy, and it's the first place Rachel Unthank, of critically acclaimed folk group The Unthanks, goes to look for new songs to cover.
theartsdesk is calling her in her Northumberland cottage to talk to her about The Unthanks' new album, Last, which contains many Minstrelsy-sourced numbers. Yet for such a communicator of woe she is in a rather jolly mood, surrounded by clogs and musical instruments, and glowing in the seventh month of her pregnancy.
The Unthanks have had a lot to be grateful for in the last year. They have seen their popularity spread worldwide, with successful tours of Europe and Australia, where they have been rapturously welcomed in concert and enthusiastically written about in the local press. The rise and rise of The Unthanks, formerly known as Rachel Unthank and the Winterset, is something to warm the heart of anyone who bemoans the commercialisation of music. Their first album, Cruel Sister, was such a DIY affair that it was debuted at the Holmfirth Folk Festival. The next, The Bairns, got a Mercury nomination. And by the time they released Here's the Tender Coming (2009), they'd won friends everywhere. When theartsdesk saw them play a sell-out concert at the Union Chapel there was a fair sprinkling of folkies but mainly they just played to people who keep an eye out for stirring music with real integrity.
But being a proper folk band that still adds a contemporary twist has got the band in trouble with the purists. These "folkdamentalists" like the strong north-eastern accents and Rachel's conventional folk voice, but they feel her younger sister Becky is too breathy in her delivery, and they dislike the way that songs are arranged for what is essentially a pop band. They also dislike the way the band covers rock songs. Of course, the sisters being who they are, their covers are of leftfield numbers like Robert Wyatt's "Sea Song". Rachel tells me how they even celebrated the finishing of the new album by changing repertoire for a couple of nights, playing covers of Wyatt and Antony and the Johnsons. "We've covered Robert Wyatt before and used to sing one of Antony's songs live," she says. "It was a bit of an indulgence and a nice opportunity to explore their music ourselves as musicians. We performed two concerts at the Union Chapel. It was terrifying yet exhilarating to play and to try to break down and interpret the music."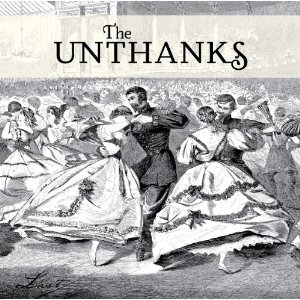 After years of relatively anonymous graft, this past year has really been the one where everyone has wanted a part of The Unthanks. Damon Albarn took them over to Ethiopia in the unlikely company of Flea from the Chili Peppers and Joan Wasser. This was part of a project bringing African and Western musicians together. Last week they sang the songs they'd contributed to a Geordie art-house film about shipping, live in the cinema. So why this interest, and why now? Well, no one can fail to notice that there's a lot more folk around generally. This week saw Sam Beam gather London's bearded community at the Roundhouse, and last month's Brit Awards took everybody by surprise when nu-folkers Laura Marling and Mumford & Sons picked up awards. Surely The Unthanks have mixed feeling about this? Rachel's husband and Unthanks' keyboardist-cum-producer rather mischievously implied in a recent interview that some bands might use folk as simply "decoration". Rachel, however, is feeling more generous. "Folk music is current again," she tells me, "it's fashionable. It's in the mainstream. Obviously there's going to be bands you like and bands you don't so much and, for us, I find that it is heartening to hear people like Laura Marling who is amazing. Sufjan Stevens we are huge fans of, and Bonnie Prince Billy we are fans of too. I think it's fine for pop music to take influences from different genres. I think it is healthy."
And the Brit Awards? "[Mumford & Sons winning was] a huge surprise really," she says, "and it shows that people are really looking for something else, something that doesn't feel as mass produced and polished as maybe what has been churned out at them, and represents a worldwide yearning for authenticity in our culture, seen in many things, not just music. People are starting to learn to cook again and learning to knit and playing instruments."
The girls grew up singing and competing in clog dancing contests and the music is as integral to their lives as dubstep might be if they grew up on a London estate
If folk is mainstream again, however, The Unthanks stand out by dint of their unplaceable sound. It's modern but not folk-rock. The roots are traditional but the band doesn't naturally sit alongside the likes of June Tabor or Kate Rusby. I suggest to Rachel that their style might be a Northumbrian thing, but she disagrees. "We are not consciously trying to create a Northumbrian style," she tells me. "It's basically that our accents stick out. Obviously we have a strong association with the North East. Me and Becky have grown up going to folk festivals, our parents took us to folk clubs, and it's very much been a way of life for us. When we approach our music we don't approach it with any set structures of how we want it to sound, and it's about the creative process and the story and the songs for us." So there you have it. The girls grew up singing and competing in clog-dancing contests (pictured right) and the music is as integral to their lives as dubstep might be if they grew up on a London estate. They don't treat it with kid gloves or undue reverence as it's always been current to them.
Their sound has steadily evolved over time, and Last is surely destined for critical acclaim. It's the second album that has been recorded with Adrian McNally replacing Belinda O'Hooley on keyboards. O'Hooley's role in the band was so significant – she wrote two of the most-loved songs on The Bairns – that many wondered how they would do without her. It's obviously still a sore point as when I ask Rachel about her she simply replies, "That's all in the past, I'd rather not talk about it." Instead she tells me about the recording of Last. "We recorded it partly at Snape Maltings," she says, "which is a beautiful music-hall theatre in Suffolk which was an old actual beer maltings and has absolutely beautiful acoustics. And we used our local village hall, where the string quartet sounded like an orchestra. Everything else was recorded in our house. We use the cupboard under the stairs as our vocal booth."
It all sounds very makeshift, but the casual way in which Rachel describes it surely belies the perfectionism that must have surrounded each session. In fact it is the sound of the album as much as the performances that make it such a success. There is a sustained ghostly melancholy from the dialect-rich "Gan to the Kye" (literally "Go to the Cow") and "The Gallowgate Lad" to the surprising cover of Tom Waits's "No One Knows I'm Gone" and the stunning reading of King Crimson's "Starless", which somehow wrings out of that tune the same mood they captured with "Annachie Gordon" on the previous album.
The Unthanks perform "The Testimony of Patience Kershaw"

McNally only contributes one song to the album, the title track, Last. Rachel explains: "It's more about making things last than being last, and kind of learning from the past – not looking back in a rose-tinted way but the idea that maybe we should look to the past and learn from our mistakes." It's comparative light relief from some moments on the album, like "Close the Coalhouse Door". In one verse, the sisters describe a disaster when 116 children died in a colliery in Wales.
So, what of all this misery? Surely you can have too much of it? Especially now with one of the girls pregnant and the other engaged. I ask Rachel whether it might be time for them to look to happier things. "What could be happier than singing songs?" she replies. "Our new situations are definitely not a sign that The Unthanks are going to stop making music. Definitely not."
Last is released on Monday, 14 March