Interview: Violinist Daniel Hope |

reviews, news & interviews
Interview: Violinist Daniel Hope
Interview: Violinist Daniel Hope
The intrepid fiddler travels back to the heyday of the Romantic composers
In the later 19th century, violinist and composer Joseph Joachim was hailed as the most brilliant fiddler of his day, but today his name lives on via the great works that he helped to bring into the classical repertoire. Brahms dedicated his Violin Concerto to Joachim, while Bruch's First Violin Concerto was substantially revised by Joachim and became closely identified with him. Both the Schumann and Dvořák concertos were written for him, though Joachim never performed the latter.
"Every fiddle player who picks up the Brahms concerto sees Joachim's name inscribed on it as the dedicatee, so you always knew who he was," reflects Daniel Hope, whose new CD The Romantic Violinist is a tribute to Joachim's pervasive influence. "But I had no idea of the depth and breadth of his creative output. When I was about eight I started collecting old records, and some of the earliest ones were by the violinists Sarasate, Ysayë and Joachim."
Even today, Joachim's 1903 recordings communicate vividly despite the snap, hiss and crackle of the primitive medium. They're startling, because they preserve a style of playing completely unknown to the modern listener.
"Joachim's recordings stuck out immediately, because his use of sound was different," says Hope. "He was not a very emotional or passionate player like the others were, he had a very straight and pure sound, but it grabbed me and touched me. It was far more intense than the others, which were sort of perfumed up, so I could immediately put a sound to the Joachim name. Then over the years you'd hear his name again and again, because you'd play pieces associated with him."
The ghost of Joachim's own recordings can be glimpsed on Hope's new disc, via his treatment of Brahms's Hungarian Dance No 1 (also recorded by Joachim) and a version of Joachim's own composition, Romanze Op 2 No 1 ("Joachim also recorded a Romanze of his own, though not the same one as me," he explains.) There's no way a modern recording can approximate the almost barbaric sound of Joachim's 1903 efforts, but did his style really have a profound effect on Hope's playing?
Hear Joseph Joachim play Brahms's Hungarian Dance No 1

"It had to really," he responds. "I had quite a few conversations with [conductor] Roger Norrington about this, when we did the Brahms concerto together in Japan with the Stuttgart Radio-Sinfonieorchester and they were completely vibrato-less. He said 'Joachim never used vibrato.' I said 'I'm not sure about that Roger, I think now and again he may have done,' but he did very much use a pure sound. You can never imitate or emulate him, you can't get close to it, but in your mind you can have an idea of what it might sound like."
But technical considerations aside, it's the breadth of Joachim's interests and influence that Hope seeks to convey on The Romantic Violinist. The disc opens with a complete performance of Bruch's First Violin Concerto, which Joachim comprehensively overhauled after the composer originally wrote it for a different soloist. Joachim's close rapport with Brahms and the Schumanns is reflected in Clara Schumann's Romanze Op 22 No 1 and a brace of Brahms's Hungarian Dances, and Hope also plays the Scherzo from Brahms's F-A-E Sonata, so-called because it derived from the initials of Joachim's motto, Frei aber einsam ("free but lonely").
Brahms's Geistliches Wiegenlied (Holy Cradle Song) earns its inclusion because Brahms composed it in 1864 to mark the birth of Joachim's first child. It was designed to be played by Brahms on piano and Joachim on viola, while Joachim's wife - mezzo-soprano Amalie Schneeweiss - took the vocal part. On the disc, Hope is joined by Anne-Sofie von Otter and her regular pianist Bengt Forsberg. It was the first time Hope had ever tried his hand at the viola.
There's a transcription for violin which would have been the easy way out, but Anne-Sofie said "No way! You're doing it on the viola"
"It's an amazing instrument, but it's quite a challenge if you've never, ever played it before," he recalls. "Having played with some phenomenal viola players, I had some trepidation about doing it. It's one of the most famous pieces with viola in it so it's not like you can just have a go. There's a transcription for violin which would have been the easy way out, but Anne-Sofie said 'No way! If you're going to do it, you're going to do it on the viola.'"
The notion of creating themed albums may represent a way for classical music to give itself a fresh spin in this age of downloads and crossover artists - one thinks also of Cecilia Bartoli's discs in homage to Maria Malibran or the music of the castrati - but Hope points out that it's something he has frequently tried.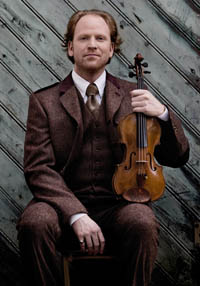 "I've done it with all my albums, going back to the first one on Nimbus Records in 1999," he stresses. "I've always believed in trying to tell a little story on a disc rather than just putting pieces together. For 30 years, the standard coupling was always the Bruch and Mendelssohn concertos, and it was Tchaikovsky with Sibelius, and that was the way you did it. It's been done to death, and I do think that if you're going to dare to record a piece so well known and often recorded, it's a nice viewpoint to present it in a different context. But it has to be a context that relates to something meaningful, not just because it begins with B or something."
Hope's strategy is to use a CD release as the starting point from which he develops different phases of live performances.
"I start them as a CD project, then they grow into touring projects. For the next two years I'll be doing five or six programmes. Some of them are directly connected to this album, some of them are not, but they'll all have a Joseph Joachim stamp to them. There are hundreds of pieces that he either commissioned, were written by him or for him, or appeared in his own concert programmes. For instance you could go back to concerts he gave with Clara Schumann, in which case you could have Mozart, Beethoven or almost anything in it. It helps to focus me for a while and follow that, like I did with the Air CD, when I did two years of Baroque concerts based around that concept. And of course the fact that Joachim was married to a singer opens up new options with vocal music."
Classical music is not about bits and pieces, and our world is now about two-minute video clips that have everything packed into them'
It's inconceivable that any artist today could replicate Joachim's effect on an entire generation of musical thought and artistic philosophy, but in his own way Daniel Hope represents an unusual cross-section of interests. His background is polyglot, to say the least - he was born in South Africa to an Irish father and mother with German roots, grew up in England (where his mother worked as Yehudi Menuhin's secretary and manager), travels on an Irish passport, and now lives in Hamburg. You could write a book about him, except he beat you to it with the publication of Familienstucke: Eine Spurensuche (that's Family Album: Following the Trail for non-German speakers).
All of this seems to have given him a flexibility of mind which is probably indispensable for survival in the plankton-like chaos of the 21st-century music and entertainment industries. Hope is as concerned as anybody about the marginalisation of classical music, but he sees grounds for optimism too.
"Classical music is not about bits and pieces, and our world is now about two-minute video clips which have everything packed into them, so it's tricky," he reflects. "A lot of radio stations have had to go down that path of short clips to keep people from switching off, whereas when you can sit down and listen to a whole piece it's a completely different experience. But at the same time, I think with webcasts and the internet and so on there's also a chance to experience much more music first hand that you couldn't do before, and that is a good thing. It can't replace the concert hall, but I think that access to music is vital."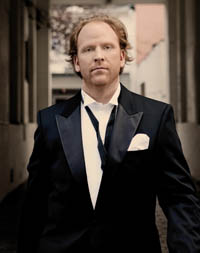 He's able to express some of his exploratory urges through his involvement with the Savannah Music Festival in Georgia, a 17-day jamboree kicking off this year on 24 March. Hope curates the classical dimension of the event, which in addition spans jazz, bluegrass, gospel, fado, blues, flamenco and more. It's a great opportunity for brainstorming and networking.
"Savannah has a very colonial Gone with the Wind vibe to it, yet the music is cutting-edge and we get some great classical artists coming down," Hope explains. "Everybody gets to interact. I had an amazing all-night drinking session with Wynton Marsalis, who I've always admired as a trumpet player. We sat in this Irish pub and talked about Bartók and Beethoven string quartets.
"Marsalis's knowledge would put most of us to shame, but he expresses everything in that particular way of his, so he's talking about Cherubini and Handel and he's swearing every two seconds. I won't quote him here, but I love being surprised by people like that. You know they're great musicians and showmen, but there's a lot going on in their heads too."
Share this article