Sadler's Wells Theatre, 2011 Season |

reviews, news & interviews
Sadler's Wells Theatre, 2011 Season
Sadler's Wells Theatre, 2011 Season
Full listings for the Rosebery Avenue dance and performance theatre
The 2011 season at Sadler's Wells features attractions including horses and mass nudity on stage, the Pet Shop Boys' first ballet, William Forsythe, New York's American Ballet Theatre, the usual hip hop, flamenco and tango seasons, and generous helpings of Belgian and Catalan contemporary dance. Full listings guide below.
Winter-Spring 2011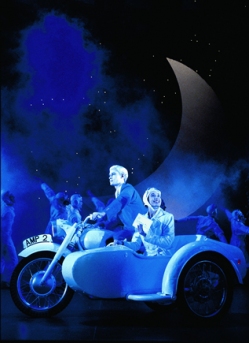 Matthew Bourne's Cinderella, 30 Nov-23 Jan 2011, Sadler's Wells Theatre
Set in London during the Second World War, Bourne's 1997 interpretation of Prokofiev's haunting score has, at its heart, a true wartime romance. Completely revised, this brand-new production is created to commemorate the 70th anniversary of the Blitz, and will be performed in Surround Sound. (Pictured left, courtesy SWT.) Read theartsdesk's review of Cinderella.
Robert North's The Snowman, 1 Dec 2010 – 9 Jan 2011, Peacock Theatre
Christmas staple based on Raymond Briggs's The Snowman, choreographed by ex-Scottish Ballet director Robert North and directed by Bill Alexander, music by Howard Blake including "Walking in the Air".

Bourgeois & Maurice, Can't Dance, 7-23 Dec, Lilian Baylis Studio
Garlanded neo-cabaret pair have a new show, Can't Dance, parodying TV reality shows.
Antonia Baehr, Laugh, 26-27 Jan, Lilian Baylis Studio
UK debut for German choreographer, performer and film-maker in a solo in which she laughs continuously. It is said to be a European cult hit.
Sadler's Wells Sampled, 28-29 Jan, SWT
Two days of samples of all sorts of SWT shows, from flamenco to contemporary ballet. Also includes a showing for the winner of the online Global Dance Contest.
American Ballet Theatre, Two Mixed Bills, 1-6 Feb, 2011, SWT
Programme 1: Alexei Ratmansky's Seven Sonatas/ Twyla Tharp's Known By Heart pas de deux/ George Balanchine's Duo Concertant/ Benjamin Millepied's Everything Doesn't Happen at Once. 1, 3, 4 Feb
Programme 2: Balanchine's Theme and Variations/ Antony Tudor's Jardin aux Lilas (pictured right, courtesy SWT)/ Pas de Deux/ Paul Taylor's Company B. 2, 5 mat & eve, 6 mat & eve Feb
Flamenco Festival London, 8-19 Feb, SWT
Performances by traditionalist Estrella Morente, moderniser Israel Galvan, vocalist Miguiel Poveda, Aida Gomez's Carmen, Rocio Molina, guitarist Tomatito Luz de Guia and diva Eva Yerbabuena.
Richard Thomas and Stephen Mear's Shoes, 8 Feb-3 Apr, Peacock Theatre
Second run for the populist celebration of footwear.
The Forsythe Company, I Don't Believe in Outer Space, 22-23 Feb, SWT
One of Forsythe's more recent pieces, with 14 dancers and a Thom Willems soundtrack, and theme of the world's fragility. There is an age guidance on it of 14+.
Bartabas - Ko Murobushi, The Centaur and the Animal, 1-6 Mar (no perf 3 Mar), SWT
Celebrated rider Bartabas puts his Zingaro Equestrian Theatre (dancing horses) on stage with Japan's butoh specialist Murobushi. A truly odd and intriguing prospect.
Pet Shop Boys & Javier De Frutos, The Most Incredible Thing, 17-26 Mar, SWT
Pop legends join the dance iconoclast to create a full-length fairy-tale ballet starring former Royal Ballet leading man Ivan Putrov.
Connect Festival, 14-25 March
Community festival involving children, local dancers and creative artists in a special commission.
Balletboyz, The Talent, 29 Mar-2 Apr, SWT
Well known from TV, the former ballet dancers introduce a new generation of ballet boyz in a programme of four works, including Russell Maliphant's classic male duo Torsion.
Russell Maliphant Company, AfterLight, 4-5 Apr, SWT
Return run for the gorgeous piece inspired originally by Nijinsky's experience of lunacy, with extraordinary lighting and video effects. Read theartsdesk's review of AfterLight.
Daniel Linehan, Not About Everything & Montage for Three, 6-7 Apr, Lilian Baylis Studio
London debut for New Yorker trained in Belgium's contemporary dance/art school, interacting with photographs. (Pictured left, courtesy SWT.)
Rosas, Early Works, 10-16 Apr, SWT
A retrospective series of leading Belgian dancemaker Anne Teresa de Keersmaeker's career, from her early Minimalist period, including performances of Fase, Four Movements to the Music of Steve Reich (10 Apr), Rosas Danst Rosas (12 Apr), Elena's Aria (14 Apr) and Bartok/Mikrokosmos (16 Apr).
Tango Fire, Flames of Desire, 12-23 Apr, Peacock Theatre
Argentinian international company shows new production exploring varieties of tango old and modern with dancers including three tango "world champions".
London Children's Ballet, Rumpelstiltskin, 28 Apr-1 May, Peacock Theatre
Aged 9 to 16, more than 50 young dancers involved in a new ballet based on the Brothers Grimm fairy tale.
Breakin' Convention, 30 Apr-2 May, SWT
Easter holidays weekend fills with hip-hop, b-boying, poppin', lockin' and house dancing from around the world, performances, workshops and free classes.
Summer 2011
Tap Olé, Tapeando, 3-7 May, Peacock Theatre
After success at the Edinburgh Fringe Festival, Catalan company makes London debut with a show mixing tap, Spanish guitar and percussion.
Maria Pagés & Sidi Larbi Cherkaoui, Dunas, 5-7 May, SWT
Contrasting schoolings, flamenco and contemporary dance, combined by two well-known soloists. (Pictured right, courtesy SWT.)

les ballets C de la B, Pénombre, 5-7 May, Lilian Baylis Studio
World premiere of French-Spanish dancer Rosalba Torres Guerrero's dance-with-video for the Belgian contemporary dance company usually associated with Alain Platel. Video by French video artist Lucas Racasse brings a male-female theme.
Dutch National Ballet, Hans Van Manen - Master of the Dance, 12-14 May, SWT
HET Ballet (its Dutch name) has long punched in top circles, and Van Manen is a major ballet choreographer under-represented in the UK. Live orchestral performances of Beethoven and Frank Martin music for this triple bill.
Northern Ballet, Cleopatra, 17-21 May, SWT
New full-length production by the Leeds company with a specially composed score by Miss Saigon composer Claude-Michel Schönberg, played live by the Northern Ballet Sinfonia. (Watch the trailer below.)
Rambert Dance, features Paul Taylor's Roses, 24-28 May, SWT
Long-overdue showing of work by the great, witty American Paul Taylor on a mixed bill also with work by Tim Rushton and Henrietta Horn. Rambert Orchestra plays live.
Merchants of Bollywood, 31 May-3 July, Peacock Theatre
Return of the theatrical dance extravaganza about the history of world Indian cinema, colour, costumes and beats, created by choreographer Vaibhavi Merchant.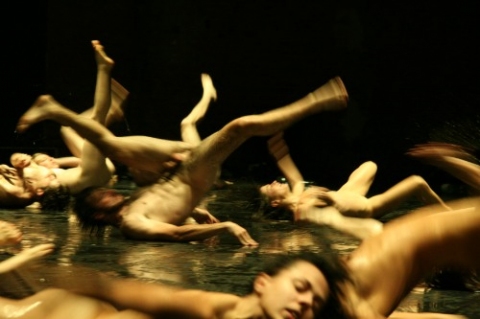 Sum of Parts, 31 May, SWT
Huge new collaborative work for a community cast of over 200 performers from London, involving input from Hofesh Shechter, Russell Maliphant, Matthew Bourne, Kate Prince, Wayne McGregor and Nitin Sawhney.
Dave St Pierre, Peu de Tendresse Bordel de Merde, 2-4 June, SWT
Twenty nude dancers on stage in a light-hearted naked romp by Canadian choreographer, including "explicit adult material that some may find shocking". Age guidance 18+. (Pictured above right, courtesy SWT.)
Nats Nus Dansa, Momentari, 4 June, Lilian Baylis Studio
Award-winning children's show from a Catalan company about a magical cube inhabited by characters who take the audience on strange journeys. (Pictured left, courtesy SWT.)
Jasmin Vardimon Company, Yesterday, 9-10 June, SWT
Production made from snippets of 10 years' shows by Vardimon, a dance-theatre creator who is a Sadler's Wells associate artist. Age guidance 14+.
Saburo Teshigawara/ KARAS, Mirror and Music, 15-16 June, SWT
Return of the regular Japanese visitor with his sophisticated visuals and symbolical dancing.
Martin Creed, Work No 1020, 21 June, SWT
Second showing for Turner Prize-winning artist Creed's first dancework created for SWT last year, using five ballet dancers as material for video and multimedia ideas. Age guidance 18+.
Sol Picó, El Llac de les Mosques, 23-24 June, SWT
Catalan dancer's debut at the Wells with a show half rock'n'roll, half surreal flamenco, all about nostalgia.
les ballets C de la B, Gardenia, 29 June-2 July, SWT
Now it's Alain Platel and Frank Van Laeke's turn to choreograph for the Belgian troupe, a collaboration with transvestite actress Vanessa Van Durme to tell the story of the closure of a TV cabaret in Barcelona and the lives of its artistes. Age guidance 18+. (Pictured right, courtesy SWT.)
Hofesh Shechter, Political Mother - The Choreographer's Cut, 12-16 July, SWT
Return of an expanded version of the rock-dance show that was so deafeningly brilliant last year. Now with 12 dancers and 20 musicians. Read theartsdesk's review of Political Mother.
Autumn 2011
Sidi Larbi Cherkaoui with Japanese manga art (autumn 2011)
Composer focus: a new series, launched with Mark-Antony Turnage collaborating with Wayne McGregor and Mark Wallinger (autumn 2011).
Explore topics
Share this article