Imagine: Bruce Springsteen, Darkness Revisited, BBC One |

reviews, news & interviews
Imagine: Bruce Springsteen, Darkness Revisited, BBC One
Imagine: Bruce Springsteen, Darkness Revisited, BBC One
An evocative documentary detailing the making of an austere masterpiece
Tuesday, 07 December 2010
Anyone who has ever spent even a little time in a recording studio will be aware that the process of making an album lies somewhere between "watching paint dry" and "ripping out your own toenails" on the scale of interesting and enjoyable activities. It rarely makes for great television. The first image we saw in last night's Imagine was of a youthful Bruce Springsteen holed up in New York's Record Plant studio in 1977. He yawned; then he yawned again. Here we go, I thought.
What elevated the film to more than just muso musing about "sound pictures", "dead rooms" and "snare sounds", all of which reaffirmed the truism that making records is generally about as much fun as dental extraction, were the uniquely dramatic circumstances it documented. This programme was an edited version of the Thom Zimny documentary The Promise: The Making of Darkness on the Edge of Town, which accompanies the boxed version of The Promise, the recently released double album comprising 21 songs recorded in 1977 and 1978 by Springsteen during the making of his fourth album, Darkness on the Edge of Town.
Recalled through a mixture of archive footage and new interviews with all those involved, these epic sessions held a significance beyond their immediate context. They soundtracked an artist in a state of personal, professional and creative flux. Specifically, the Darkness... sessions took place beneath two hovering storm clouds – one was fame, the other was a lawsuit. It was obvious that Springsteen found the former by far the more troublesome.
Having roared to stardom in 1975 with Born to Run, he was battling what he called in the film "the separation of success". On his guard against accusations of frivolity and hype, Springsteen resolved that his next album would be "a reaction to my own good fortune, reflecting a sense of accountability to the people I grew up with". His first three records had been wild, boisterous, theatrical affairs filled with carnival music, urban gypsies and romanticised street characters. With Darkness... he wanted to drain all that colour away, leaving only what he described as "an austere, apocalyptic grandeur". Or as his manager and producer Jon Landau put it: "We wanted the coffee black."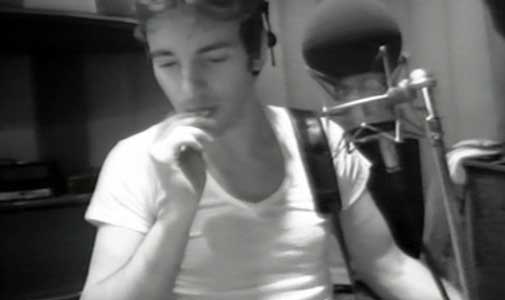 His new songs were a reckoning with the adult world of work, compromise and disappointment. Interviewed in 2010 for the film, Springsteen said he asked himself: how do we honour our own lives? What can and cannot be compromised without losing yourself? These questions were especially pertinent given the fact that at the time he was embroiled in legal action with his manager, Mike Appel, which boiled down to the question of who had creative control over Springsteen's career.
While the lawsuit was ongoing, he was prevented from going into the studio with any producer not approved by Appel. So at first he simply didn't go in at all. We saw some fantastic footage shot in 1977 at his New Jersey farm, when he was effectively under the recording equivalent of house arrest. Stripped to the waist, sporting a hairstyle apparently modelled on Bob Dylan's dog, he looked like some creative outlaw on the lam. Interestingly, he seemed to positively embrace the lawsuit. It made him an outsider again at a time of bewildering success, and steeled his resolve to follow his vision without compromise.
In June 1977 the suit was settled in Springsteen's favour and he entered Record Plant in New York to begin recording. We saw that process evolve through old black-and-white film (pictured above) depicting long hours, days and weeks of frustration, mechanical drudgery and confusion, punctuated by some brief, electrifying moments of pure musical connection - none more so than the joyous run through of "Sherry Darling", with Springsteen bashing out the chords on the piano and his guitarist Steve Van Zandt hammering out a rhythm with a pair of drum sticks on what looked like a rolled up carpet.
Overleaf: watch "Sherry Darling" performed on The Promise: The Making of Darkness On the Edge of Town
We saw the notebooks and the "junkyard of stuff" from which Springsteen carved the pared-down final album. He wrote some 70 songs and recorded 40 of them during the Darkness... sessions – the story of these "lost" songs is told in full on The Promise record (and to a degree on The River and Tracks albums) but it was less fleshed out in the film. Nonetheless, we sensed both the exasperation and admiration of his colleagues as Springsteen ruthlessly pursued the sound in his head to the detriment of everything else, discarding or giving away anything that sounded like a hit.


The musicians gazed back from 2010 and tried to make some sense of it all. There was an interview, full of quiet insight but a certain guardedness, with the current version of the Boss – now the undisputed CEO of US heartland rock - strumming away on his acoustic, thumbing his old work books and wheezing like Muttley. Interviews too with all of the E-Street Band (pictured below, with Springsteen centre), the album's producers and Patti Smith, as well as a maddeningly brief appearance by that troublesome former manager, Mike Appel.


A little more exposition on the fall-out from that relationship would have been most welcome. Indeed, a general lack of critical rigour was the main flaw in this portrait. Post-Appel, Springsteen and manager Jon Landau have controlled his image with an increasingly vice-like grip, and this documentary was no exception. The film could have done with Alan Yentob (and I don't say that lightly) poking around and asking some awkward questions of Springsteen and his oddly anthemic brand of austerity. As it was he merely provided a tacked-on, scene-setting introduction.

In the end this was a film about determination and drive in which the internal life of the artist seemed to be oddly incidental. It took only 20 seconds for the phrase "work ethic" to crop up, and almost immediately afterwards Steve Van Zandt cleared the decks of any extra-curricular issues; the kind of trifles most of us file under Real LIfe: "There were no wives or families or girlfriends that mattered; we were [in the studio] all the time."

Springsteen at one point mentioned that at the time he was terrified of writing a proper love song – but we never found out why. There was little sense of what drove him to be so distrustful of stardom, or to be so terrified of losing his identity, or so relentlessly drawn to the shadows. Springsteen is a far more complex, conflicted and downbeat character than the grunting, rabble-rousing caricature perpetuated by his detractors. Throwing the net a little wider would have made this a more revealing and rewarding film.

Instead, it was an enjoyable, entertaining, evocative document of a man who, at 27, was consciously honing his artistic instincts into artistic intelligence: we saw before our eyes the death of Springsteen as a potentially great writer of three-minute Top 10 singles. During these sessions he turned his back on what he called "the never-ending now" of pop music and instead dedicated himself to the music of truth and consequence. In this sense, we were watching him write the opening pages of the story he's been telling ever since.
Share this article