theartsdesk in Tallinn: 23rd European Film Awards |

reviews, news & interviews
theartsdesk in Tallinn: 23rd European Film Awards
theartsdesk in Tallinn: 23rd European Film Awards
A 2D Roman Polanski accepts an excess of gongs for The Ghost in Estonia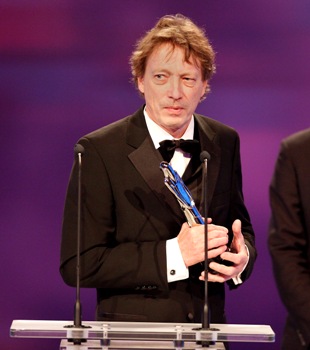 The Ghost is below-par Polanski, its only haunting aspect the chilly place of exile it provides for its Blair-like Prime Minister (the grey German coast necessarily standing in for the States). Albrecht Konrad's award for Production Design (Konrad pictured right) was the one award it conceivably deserved. Polanski and Robert Harris's tatty script, and Ewan McGregor's workmanlike performance, were hardly the best Europe could offer, this or any year. But, along with Best Composer Alexandre Desplat, Best Director and Best Film, The Ghost was gifted them. The moment Pierce Brosnan's PM has his brains blown out was replayed more times than the Zapruder footage of Kennedy's killing by the end. "You have rewarded a truly European venture," Polanski commented, of a film made by Poles, Germans, Britons and an Irishman. In this way at least, the European Film Awards as usual lived up to its ideals.
Arriving in Tallinn the day before, its snow and cold hardly seemed exotic, more a continuation of conditions as I'd left them in south London. But the icy runway the Estonian Airlines pilot casually bounced the plane along – grounds for closure back home - showed how much more at ease they are with winter hazards. Estonian snow, too, seems deeper and purer than the slushy, treacherous stuff on British streets. Sinking into it past my ankles in a Tallinn common, I felt child-like, playful pleasure.
Tallinn is 2011's European Capital of Culture. As with the Ruhr last year – also the EFA's home then – it is an imaginative, laudable choice, turning the spotlight on one of the continent's lesser-known treasures. Estonia declared independence from the Soviet Union in 1991, only its second period of freedom after 20 years between the World Wars. Tsars and Swedish kings dominated the country before. But Tallinn feels a young, free city now. Internet and mobile-phone coverage are incredibly good (Skype, Polanski's connection to the world when he was incarcerated in Switzerland, too, is an Estonian invention). There are jutting new skyscraper hotels. But in the Old Town, I stared up in wonder at St Olaf's church, a mightily solid structure with a steeple pointing proudly to heaven, which in the 14th century was reputedly the tallest place in Europe. For a city under Soviet control for so long, Tallinn's graceful mediaeval streets are remarkably untouched.
We got free by singing. It sounds incredible, but it's really true
The press were welcomed on Friday night at the Loovala art studio. The promise that it would be a participatory evening felt more like a threat. But as I became engrossed in decorating a Soviet-era glass bottle, at a table with Russian, Irish, Italian and Spanish journalists, barriers broke, and we all began talking. Kaire Jakobson, the good Estonian artist teaching us, spoke with passionate feeling about how the Old Town is being emptied of locals, preserved in deathly fashion for tourists, and of the bad old Soviet days. Estonia was the only Soviet republic with access to Western media, via TV from neighbouring Finland, and its sense of national culture remained strong, despite its brief glimpses of liberty. The country finally shook itself free in 1991 in the most remarkable European revolution. A series of mass singing protests broke the Soviet will. "We got free by singing," Jakobson says in wonder. "It sounds incredible, but it's really true."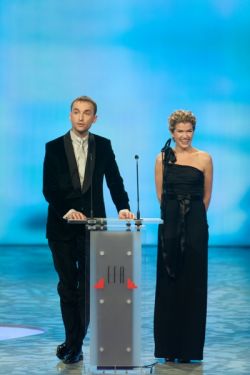 Walking to Tallinn's harbour to see the Baltic – a peaceful, still scene on a windless day – I met one unfriendly figure. A moustached man sidled up to me in the empty harbour car park and said something unintelligible. Discovering I was English, he fixed me with a look of pure loathing, spat out Russian-sounding words in a vile tone, then opened a case to try to sell me what looked like film canisters. He might have been the last KGB spy in town, still touting his shabby wares.
The awards ceremony at the Nokia Concert Hall began with singers lining the red carpet, and the Estonian Television Girl's Choir opened and closed the TV broadcast. Estonia's culture minister Laine Janes promised the country would contribute to the night in our "small but enthusiastic way", setting a modest tone. German co-host Anke Engelke's jokes based on the idea that Estonia was a backward, inaccessible place with an incomprehensible language were lazy and unwarranted. But she was otherwise a brilliant wild card the Oscars would never let near a TV screen. A video sequence in which she played herself, Wim Wenders and The White Ribbon director Michael Haneke, and complained to "Wim" of feeling "the life draining away from me on stage, my breasts sagging" the year before at Haneke's dour, wilting gaze, and asking the white-bearded "Father Abraham" to be banned, was jaw-dropping. Alongside the drily funny young Estonian star Märt Avandi (pictured above with Anke Engelke), she was unfailingly, nimbly irreverent.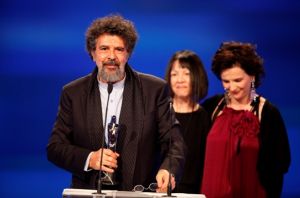 Amidst the sentimentality of the Polanski avalanche – "This is too much," the director said with self-knowledge, at his third personal award – there were genuinely moving moments. When Juliette Binoche presented composer Gabriel Yared (pictured right with Binoche) with his Achievement in World Cinema award, she spoke of their mutual collaborator, the late Anthony Minghella, and "the great respect and light in his eyes" when he worked with Yared. The emotion on stage was deep and unforced, and very unlike Hollywood. Katarzyna Klimkeiwicz, the young Polish winner of Best Short Film for Hanoi-Warszawa, gave a similarly human face to film-making in her nerves and joy. "Now I feel like a child again. And I think everything is possible," she said.
Wim Wenders, presenting the Lifetime Achievement Award to his old friend Bruno Ganz (pictured below), took the opportunity to tell a long, brilliant story about their first film together, The American Friend, when Ganz's frustration at the wild ways of Dennis Hopper, fresh from the Apocalypse Now set and still in character as that film's drug-crazed photographer, made him punch Hopper on the nose, starting a furious brawl. Hopper, Wenders said, later told him the incident had saved his life, shocking him into realising he had to straighten out and really work again, like Ganz. The play of emotions across Ganz's face as he listened, eyes mysterious and assessing, was a masterclass in itself.
The People's Choice award, a public vote which put Dutch film Mr Nobody ahead of the likes of The Ghost and An Education, showed the range of European films and taste. Sylvie Testud won Best Actress for Lourdes, but, like many other winners, was not in Tallinn to accept. Israel's Samuel Maoz took the Discovery Award for Lebanon, and Marion Monnier and Luc Barnier became the only Academy-voted nominees to beat The Ghost, deservedly taking Best Editing for Olivier Assayas's six-hour terrorist epic Carlos.
At the party afterwards, Portuguese beauty Maria de Madeiros sat on the dancefloor in her shiny, bright Sixties-style dress, and Wenders, hair flopping even more than usual, took off his tie. The vodka blur in the early hours couldn't dim the feeling that, for all the faults of this year's winners, the European Film Awards remains a successful, idealistic project, bringing Europe and cinema together with missionary zeal. Freezing, youthfully fresh Tallinn was made for it.
Share this article
Subscribe to theartsdesk.com
Thank you for continuing to read our work on theartsdesk.com. For unlimited access to every article in its entirety, including our archive of more than 10,000 pieces, we're asking for £3.95 per month or £30 per year. We feel it's a very good deal, and hope you do too.
To take an annual subscription now simply click here.
And if you're looking for that extra gift for a friend or family member, why not treat them to a theartsdesk.com gift subscription?