Cinderella, Birmingham Royal Ballet |

reviews, news & interviews
Cinderella, Birmingham Royal Ballet
Cinderella, Birmingham Royal Ballet
For your inner five-year-old, a gorgeous Christmas treat
Thursday, 25 November 2010
Cinderella is even trickier than most fairy-tale ballets. As I said last week, Prokofiev's music is almost anti-fairy tale – it's spiky and sour, harsh and bitter: no one in Prokofiev's world is happy, and they're quite content to spread that around. So Bintley has, very intelligently, darkened his source material, the Perrault fairy tale of Cinderella, and taken us back to the darker, nastier Grimm-style fairy tale.

This Cinderella begins with a funeral: the child Cinderella and her father stand before a black urn under a hovering, inky, colour-stained sky. Then what is clearly going to be the evil stepmother (the Gothically terrifying Marion Tait, on whom enough praise cannot be showered) sweeps across and nobbles Cinderella's father; Cinderella is left behind with two threatening-looking children.
All this occurs over what is normally played as an overture, and here Bintley and Macfarlane set out their stall: the black and navy (and later silver) colour world we are to inhabit; and the cruelty of the world Cinderella lives in. And Bintley goes all out for it: this is not the pantomime-dame nagging and pushing of most knock-about Cinderellas – this is child abuse. Cinderella (pictured below left, played by Elisha Willis) lives in a dank basement kitchen, and she is not bullied and ignored, she is beaten and degraded. It works, but it's tough, and the audience, all set up for a nice romp, was very uneasy – there were a lot of nervous titters on the first night.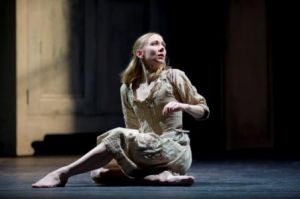 Yet Bintley and Macfarlane (and truly it is a double act, with both taking an equal share) then move surely to the "magic": the fairy godmother makes her first appearance as a beggar in a roil of the chimney fire and smoke. And here is one of Bintley's touches of grace. In most productions, Cinderella gives the woman a loaf of bread, or some soup – things that, today, signify nothing, no loss; we have no sense that the child will go hungry because of this. In Bintley's world, Cinderella gives the beggar the shoes she keeps in a box together with a portrait of her mother – possibly her mother's shoes. They matter to her, they are her talisman of a better time, a time when she was loved. She doesn't want to give them, but she does, because the woman in front of her has even less than she. It is rare that the emotions are so touched by such simplicity, as Bintley achieves here.

From here, the transformations take over: Macfarlane has designed a lovely set that opens up from reality to the visionary at the moments of transformation – from the white-damp kitchen to inky-black magic world of the seasons, where Cinderella is turned into the girl who shall go to the ball; then from whitey-silver ballroom to copper machine parts when the clock strikes midnight; and from kitchen back to silver sky in the final love pas de deux.

Both choreographer and designer have chosen to stress Prokofiev's leitmotifs with parallels of dance, symbolism and design (repeated steps, the handing of shoes, the magic world of the sky). A few bits need some work still – the frog footman and mice coachmen are splendid, but the coach itself is a bit of frost, a big static icicle constructed on stage while the corps of dancing stars performs, so it looks as if a meccano competition is going on at the back (I suspect the requirements of a touring production mean that a coach sweeping out of the wings, as the music describes, play a constraining part here).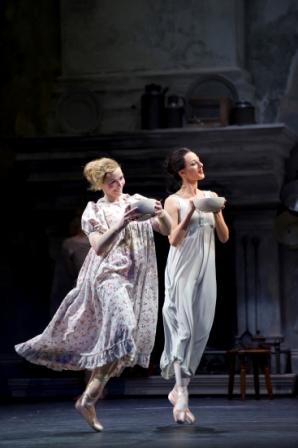 But there is so much right with this ballet, so much to admire, to be moved by, to want to return to in order to work out the detail, that this is a minor quibble. Bintley and the BRB took a huge risk mounting such an expensive production just as the recession took hold, and it is a joy to report that it has paid off a thousand-fold: there is not a child, not an inner-child, who can fail to be moved by this fine work.

On the first night there were some splendid performances – Iain Mackay, as the prince, has grown in stature and presentation over the past couple of years, and is a pleasure every time he appears; Elisha Willis did the washed-out abused Cinderella better than the radiant one (the lack of make-up is a very bad idea), Carol-Anne Millar and Gaylene Cummerfield (pictured above) did well as the stepsisters, whom I normally detest, and, I was happy to see, Bintley probably does too, keeping their slapstick brawling down to the bare minimum. Lei Zhao as the Fairy Summer was particularly fine (and won Second Best Frock of the Night in a gorgeous late-Romantic ochre tutu). First Best Frock of the Night (Schiaparelli pink with black decoupage, since you ask) and Finest Acting Award, however, go to Marion Tait, who neatly stole every scene she was in, her blood-sucking horror of a stepmother always inching towards Cruella de Ville, but never quite tipping over into parody or Disney-fication: a master performance.
Share this article
Subscribe to theartsdesk.com
Thank you for continuing to read our work on theartsdesk.com. For unlimited access to every article in its entirety, including our archive of more than 10,000 pieces, we're asking for £3.95 per month or £30 per year. We feel it's a very good deal, and hope you do too.
To take an annual subscription now simply click here.
And if you're looking for that extra gift for a friend or family member, why not treat them to a theartsdesk.com gift subscription?