Pianomania |

reviews, news & interviews
Pianomania
Pianomania
Who'd have thought a documentary on piano-tuning could be this fascinating?
Nobody can remember seeing a film about a piano tuner before. Happily, Pianomania isn't merely unique; it's a riveting documentary into the bargain. It takes as its subject the micro-detailed and nit-pickingly demanding routine of Stefan Knüpfer, Master Tuner for that Rolls-Royce of the piano industry, Steinway & Sons. Among Knüpfer's celebrated clients are such titans of the keyboard as Lang Lang, Alfred Brendel, Till Fellner and Julius Drake, all of whom appear in the film's 93-minute span. The main driver of the narrative is the ongoing account of how Knüpfer helps Pierre-Laurent Aimard to record Bach's Art of Fugue.
You might think tuning a piano is merely a matter of carefully tweaking each string to the correct pitch (isn't there an iPhone app for that?), but as the film unwinds it becomes clear that Knüpfer's job comprises elements of psychology, superstition and intuition, as well as mere hands-on practical skills with wood and wires. Each pianist has his own hyper-sensitive demands about the tone, touch, feel and resonance of the instrument, and Knüpfer must display monk-like patience and emit waves of empathy and reassurance towards his musicians as he nurses them towards that perfect sound. Actually, it's not too difficult with Lang Lang, who demands merely a stout piano bench which won't collapse beneath him during his performance, in which we see him attacking one of Liszt's Hungarian rhapsodies as if he's trying to chop the keyboard into matchwood with his flying fists.
But the core of the film explores Knüpfer's relationship with Aimard as the pianist prepares for his Bach recording. Would you like the sound to be like this, asks the Master Tuner, making a gesture as if cupping a large balloon in his arms, or like this (clamping both hands together around an invisible baseball)? "Ideally I'd like it to be both," says Aimard helpfully.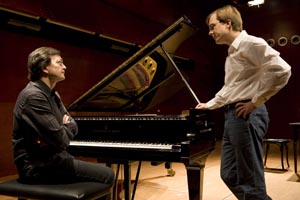 The layman might think a piano just sounds like a piano, but as we probe into the arcane inner world of the concert pianist, a secret universe begins to expand before our eyes. Depending on the piece and the occasion, a pianist like Aimard might require the instrument to make a chamber-sized sound or to boom like an orchestra. He might want its tonality nudged to sound more like an organ, a harpsichord or a clavichord. We hear Knüpfer explaining how he can adjust the keys so that for a given amount of physical input from the pianist, the piano will produce a full, crisp tone or an airier, more impressionistic effect. A piano perfectly set up for one particular concert hall may sound dull and dismal if moved to another one. Knüpfer even swears that a piano has a kind of memory, preserving the spirit of the pianist who last played on it.
This may all sound like fringe science running amok, but there's an engaging wit and self-deprecating quality about Knüpfer which not only makes him an engaging subject, but explains how he keeps his sanity in the faintly Lewis Carroll-ish world he inhabits. Pianomania's director Robert Cibis has explained how he first encountered Knüpfer after hearing about his unique abilities from his brother, who's a pianist. "He was making the whole place laugh and telling such insightful stories that we decided we have to make a film with this person," said Cibis, though he didn't want to make a film about piano-tuning per se. "It was really casting first and concept second."
Having discovered this improbably perfect subject, Cibis and his partner Lilian Franck then had to lie in wait, like wildlife film-makers trying to capture some furtive nocturnal species, until they could win the confidence of their subjects. "It's very hard to be filmed while you're recording, because those are such fragile moments," Aimard confessed. "But there was a mix of dedication and discretion, respect, modesty and concentration so that after several sessions, you just wanted to open the door." This probably won't be the summer's bestselling multiplex-buster, but it's as compelling an investigation of the mysteries of music-making as you could hope to see.
Watch the trailer for Pianomania
Share this article