Shakespeare's Sitcom: Merry Wives Return to The Globe |

reviews, news & interviews
Shakespeare's Sitcom: Merry Wives Return to The Globe
Shakespeare's Sitcom: Merry Wives Return to The Globe
Christopher Luscombe's matchless Merry Wives of Windsor is back
"It isn't a surprise to me, but it is a surprise to him that it isn't a surprise to me." On a Monday morning in the rehearsal room at Shakespeare's Globe, actors and actresses are getting into character. "You're acting panic," clarifies the director, "and when you hear his voice it's real panic." Exactly how funny is The Merry Wives of Windsor in the 21st century?
On the evidence of the Shakespeare's Globe production, which opened two summers ago to huge acclaim and audiences to match
(pictured below)
, very funny indeed. It is now returning to the Globe before heading off around the globe in the autumn for the Globe's first ever large-scale international tour: Santa Monica, New York, then various theatres in the UK. It will also be memorialised on film. The director Christopher Luscombe has been back in rehearsal with most of the original cast, above all in the principal roles: Christopher Benjamin as the Fat Knight Sir John Falstaff, and Serena Evans and Sarah Woodward as the merry wives who he disastrously attempts to seduce.
Four years ago Luscombe had a popular hit at the Globe with a Comedy of Errors which used the play's ancient Greek setting and the Plautine source as an excuse for a giant tribute to the Carry On tradition. For The Merry Wives of Windsor, to unravel the more arcane elements of Shakespearean comedy for a modern audience his handrail is sitcom. "I'm not the first person to say that," Luscombe stresses. "It feels very conversational, very relaxed, not histrionic, not literary. It seems to me to be written absolutely as people spoke. But I was scared of the tag until I read this very authoritative academic article comparing Merry Wives with Fawlty Towers. And there are so many connections. John Cleese must have been familiar with it."

The possibly apocryphal story goes that The Merry Wives of Windsor came about as a result of a royal request. The queen, having enjoyed Falstaff's visits to the Boar's Head tavern at Eastcheap in Henry IV part one, wanted to be further entertained by the fat knight, so Shakespeare dutifully bashed out his only play set in contemporary England. Whether the story is true or not, The Merry Wives remains, if you will, the Elizabathan Frasier: a bespoke spin-off for a popular character.

The first question for Luscombe to answer was which version of the play to stage. A quarto edition was cobbled together by actors in 1604, the more reliable First Folio published in 1623. The traditional approach is to work from the Folio, but Luscombe has chosen to marry the two. "You could say, 'Well, why don't you just keep the Folio?' But there are things in the Quarto which seem much more authoritative. It is an imperfect science because there is no version that Shakespeare saw through to publication. You have to do what you feel he would approve of if he were in the room. I feel he would say 'whatever works', particularly in a play like this. It's not great poetry. All I'm trying to do is make 400-year-old material really funny."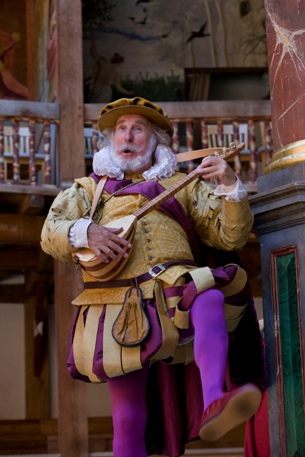 On the morning I went to rehearsal they were working on the play's most overtly farcical scene. Falstaff, played by the not inconsiderable Christopher Benjamin, is to be conveyed out of Mistress Page's house in the laundry basket. His reduction from sexual conquistador to quivering wreck hidden among soiled linen is part of an elaborate scheme by two married women to strike back at all predatory males and jealous husbands.

"It's weirdly heavier," he explains to the servants lifting the basket. "That's all your thinking." Their psychological back story established, they duly fall all over the floor on attemping to pick it up. Various ways of falling over in various directions are attempted. If their colleagues' supportive reaction is any guide, the moment will bring the house down. They then have to repeat the sight gag when they come to remove the basket a second time, but with the fresh surprise in store that Falstaff is no longer inside. There has been a laugh planted in the same place for four centuries. Is there any point in attempting something new?

"Fifteen hundred people are all longing for you to pick up the basket," says Luscombe. "The reason you laugh is because it's wish fulfilment. You could just miss it, because the whole audience are waiting for that to happen. I've seen it done without." The Globe is not the place to take the unexpected route in Shakespearean comedy. The only material deviation from that rule of thumb comes when Luscombe announces that he's cutting a poo joke. "I am half afraid he will have need of washing," says Mistress Ford as Falstaff quakes in his bolthole.

"I don't want it to sound like I've sanitised it because I really haven't," says Luscombe. "But with great respect to Shakespeare, I'm not mad about the implication that 'Falstaff will have shat himself'." Actors never like losing lines, but on this occasion no one complains. No one at the Globe will mind if audiences once more wet themselves.
Explore topics
Share this article