theartsdesk at the End of the Road Festival |

reviews, news & interviews
theartsdesk at the End of the Road Festival
theartsdesk at the End of the Road Festival
Patti Smith, Dirty Three, Alabama Shakes, Savages and more make for an intense weekend in Dorset
Tuesday, 04 September 2012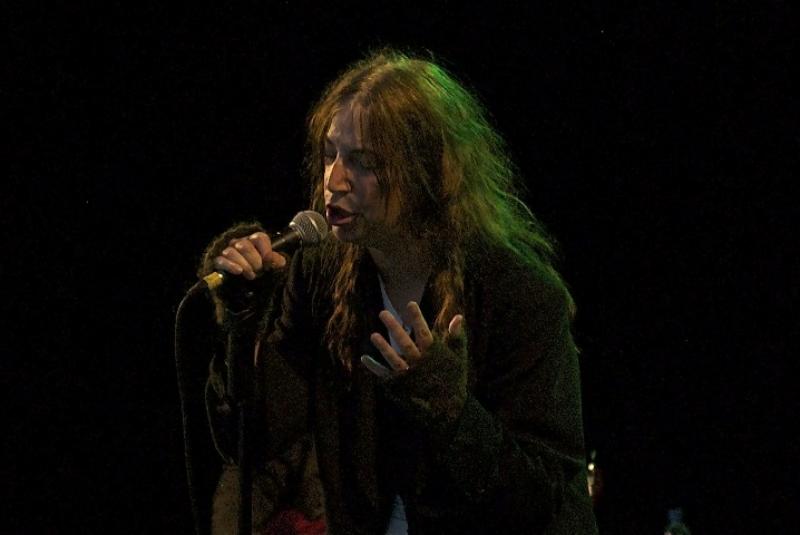 Patti Smith pays tribute to Pussy Riot
"There're a lot of turds out there, ladies and gentlemen. But they're not one of them." It's Friday afternoon in Larmer Tree Gardens, a wood-rimmed, laurel-trimmed, urn-decorated corner of Dorset, and thank yous are coming thick and fast for Bella Union, the indie label Simon Raymonde founded in 1997 with fellow Cocteau Twin Robin Guthrie.
To celebrate their 15
th
birthday, the defenders of much that is beautiful, offbeat, meditative and plain meaningful in the world of music are curating the first day of the seventh End of the Road, the boutique festival dedicated to all that is beautiful, offbeat, meditative… you get the picture.
And, characteristically, it's Warren Ellis of Dirty Three (pictured below) – the soul-staking, rule-breaking, storms of sadness-making instrumental Melbourne trio and the second act ever to sign to Bella Union – who just offerered the most incisive tribute. Under gathering rain clouds at outdoor main stage The Woods, Ellis's showmanship switches up another notch, and soon he's grinding white resin from his screeching violin like a lunatic with a bone saw, one black brothel creeper sporadically slashing upwards through the air as if marking lines of poetry.
The runaway success of Fleet Foxes and Midlake has led some to cast Bella Union as the go-to label for nostalgic Americana – think 50 shades of sepia. The latter do indeed close the Garden Stage on Friday with a slightly too brown and itchy set of polished, pastoral prog. But elsewhere Friday takes in the darkly euphoric maxi-drones of I Break Horses; recent signings Veronica Falls, who bop expertly through single "My Heart Beats" like classic Elastica; the curiously diffuse bliss-pop of Beach House, whose stylishly lit hour-and-a-half is like listening to one long perfumed yawn; and even Joanna Newsom and Kate Bush's favourite Seventies outsider songwriter, Roy Harper, who intersperses songs of social change ("I Hate the White Man", "One Man Rock'n'Roll Band") with wistful we-nearly love songs such as the much-covered "Another Day", a cousin to Leonard Cohen's "Suzanne" with its line about being served Tibetan tea on a flower tray.
In the Big Top, Danish ambient-rockers Sleep Party People prove too weird
Like Bella Union, End of the Road now offers far more than alt.folk, attracting in turn an audience who aren't always quite so staunchly about the music. During Grizzly Bear's fourth show in two years the (expanding) drag of gift shops is rammed, despite the fact they've kitted out their woozy triumphalism for the Saturday night headline slot with some big ratcheting beats. In the Big Top, Danish ambient-rockers Sleep Party People prove too weird for the predominant mood as they take to the stage in hoodies and rabbit masks, the ears seeming to flop in mock disconsolation as they groove on regardless over their synths.
Many people seem to be here solely to see soul hollerer of the moment Brittany Howard and her retro-styled southern rockers Alabama Shakes (pictured overleaf), and will be pleased with a set (or rather two, since they do it again in a secret slot on Sunday) that replicates debut album Boys and Girls down to the slick inflections of grit. Howard's impressive wrecking ball of a vocal rolls up and over the hill to where Robert Ellis, a lanky Texan with long hair, a crooked parting and a brilliant bluegrass guitar style, is singing sweet, dark, wittily phrased Mad Men-referencing country that falls somewhere between Johnny Cash and James Taylor. "I'm getting really used to playing acoustic sets and hearing Alabama Shakes playing on the main stage at the same time," he says.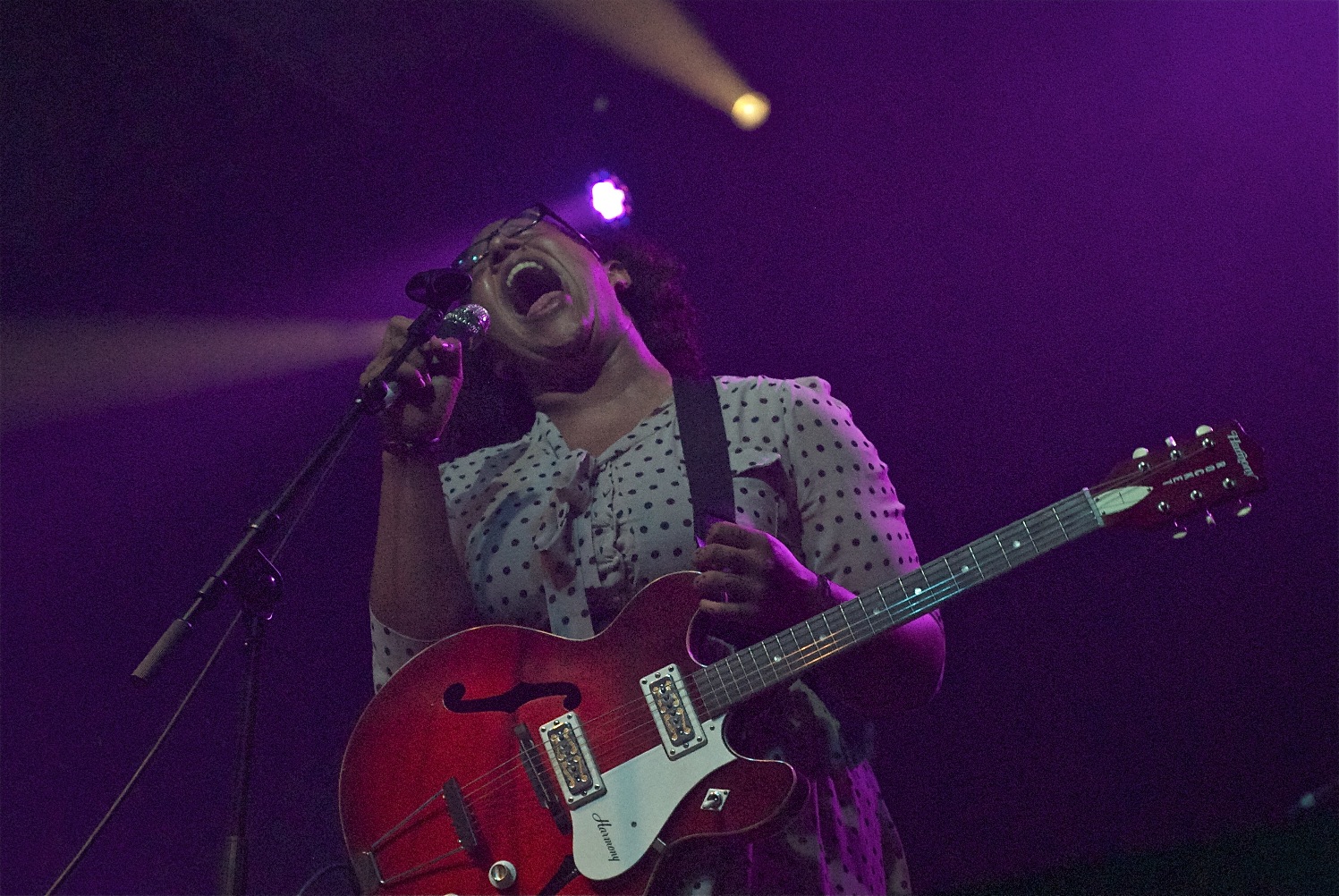 Sunday starts with a jolt at noon: cold black whips of post-punk courtesy of Savages, four women coolly justifying the comparisons to Siouxsie and the Banshees and Joy Division with a sound that's fine-boned but fearsome, intelligent and insistent, and makes a visceral kick out of precision. As the motor rhythms grind darkly, French singer Jehnny Beth dances with fists out in front and eyes on the middle distance, like an actress in a film poster coolly outrunning an explosion.
The day also brings boombox beat-blues from Willis Earl Beal, a showman of musical deconstruction to almost rival David Thomas Broughton ("Swing Low, Sweet Chariot" has never sounded so postmodern) and covers of "Swans" and "The Fresh Prince of Bel Air" cast as gloriously shivering modern spirituals from Cold Specs, whom we watch in the company of a peacock through a gap in a hedge. After 20 minutes' faffing with a bust video screen, the newly regrouped Grandaddy are ushered to the stage with John Sebastian's "Welcome Back" for a headline set of reliably whining, chugging, naggingly harmonic lo-fi power pop.
But Patti Smith has already sealed the deal, taking to The Woods at 7.30 with spit flying, black jacket cuffs flapping and a girlish grin to do inspiring and sometimes surreal battle with the persistent drizzle, the stage's recurring tech problems and President Putin. Uniting this year's rather fractured crowd in a thrilling rendition of "Gloria", she ends by substituting the letters of Pussy Riot. "Youth and truth should not be imprisoned!" is her message in support of the Russian punk band, and also "Be free!" and also, while you're at it, "Save our fucking planet!" Leaving the stage to hand out plectrums to little girls one minute, and wrenching the strings from her electric guitar the next, she's a beat-punk paragon, still, of anger and of love – which, as it turns out, is what every almost-perfect music festival needs.