Reissue CDs Weekly: William Onyeabor, Tears For Fears |

reviews, news & interviews
Reissue CDs Weekly: William Onyeabor, Tears For Fears
Reissue CDs Weekly: William Onyeabor, Tears For Fears
Musical bombshell from Nigeria and Eighties introverts get 30th anniversary makeover
William Onyeabor: World Psychedelic Classics 5 – Who is William Onyeabor?
A primitive drum machine rattles out a Latin rhythm. Keyboards begin. The gaps between the repetitive spirals of notes are plugged by blobs of fat synth. A disembodied yet warm voice sings "Good name is better than silver and gold. And no money, no money, no money, no money can buy good name." The melody nods towards Kraftwerk's "Computer World". The music is as intense as early Marshall Jefferson and the whole suggests Tom Tom Club.
William Onyeabor's "Good Name" is compelling and electrifying: minimal and immediately impactful electro-dance that won't give up. Though fantastic, it isn't a highlight of this collection (on David Byrne's Luaka Bop label) as everything included is just as great.
Onyeabor is Nigerian and, between 1978 and 1985, issued eight albums. As for who he is, he isn't giving much away. Luaka Bop's initial contact with him elicited the response "I'd only like to speak about Jesus Christ". When he did give some biographical details they were as striking as his music: he studied cinematography in the Soviet Union and visited Sweden in the Eighties to buy equipment to manufacture records. He than ran a food-processing plant. His home was and is in Enugu, beyond the cultural orbit of Lagos. He lives behind gates in what the label described as "a palace" with a fountain in its grounds.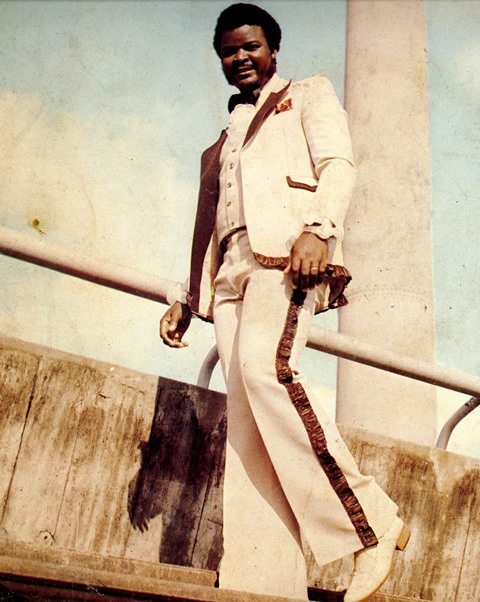 The music is easier to comprehend than the sketchy and enigmatic biography. Onyeabor first attracted attention beyond Nigeria in 2001 when his "Better Change Your Mind" was included on the seminal and ground-breaking Nigeria 70 compilation (listen to "Better Change Your Mind" overleaf). On its own, divorced from the context of the rest of his music, "Better Change…" characterised him as an electronic Curtis Mayfield who had reduced Afro-Beat to a clipped electronic quintessence. Who is William Onyeabor? does nothing to dispel that impression but fills in the picture by revealing that this was not a one-off. Onyeabor was special: a spiritual musician with a vision taking music from nearby and reinterpreting it with a still-developing technology.
An Onyeabor song is rarely less than seven minutes – the CD edition includes nine, while the triple-album vinyl version adds another four ("Better Change Your Mind" is not included on either the CD or vinyl). Once the groove is set, the music insistently snakes along. There's an element of the trance-inducing: the psychedelia homed in on by the label. This is gripping stuff.
Plans are afoot to try and bring this music to the stage, but the chance of Onyeabor's engagement is less-then zero. He will not become the next Rodriguez. The rediscovery of this thrilling music is enough.
Tears For Fears: The Hurting 30th Anniversary Edition
Whether an expanded, four-disc edition of a single album is overegging, this is a nice package. And whether Tears For Fears's debut album is a ripe candidate is also beside the point as this 30th Anniversary Edition of The Hurting is close to a text-book case of how to do this sort of package properly.
A proper box with a lift-off lid houses four discs: three CDs and a DVD. The accompanying book is cleanly laid out with no fussiness or intrusive graphics. Photos of Roland Orzabal and Curt Smith are either full-page or spread across two – there are no images of anyone else involved in the album or of musicians from their live band. Disc One is the album itself, with no distracting extras. Disc Two is tracks from singles while the third is BBC radio sessions. The fourth is a DVD of a live show from December 1983 where most of the album is performed. There is, though, nothing previously unheard or unreleased. Although not addressed in the book, the creative process must have been included the preparation of demos, none of which have been disinterred apart from a demo of "Suffer the Children" which surfaced at the time. Also missing is the B-side "Saxophones as Opiates".
Some intriguing rightings of old wrongs emerge while reading the book. The duo's early band Graduate were "often inaccurately described as a ska revival outfit" and "Rolling Stone rather missed the point" in their review of The Hurting. Despite the curious excision of that B-side this doorstep ensures that, 30 years on, no one could miss the point.
It's unlikely anyone not already a committed fan will buy this, but the album does hold up surprisingly well as the electronic elements supplement rather than smother the songs with a smoothness at a polar opposite to William Onyeabor's rough-edged immediacy. For testing the water after all this time, an original pressing of The Hurting can be bought for under £3 – less than a 10th of this box's price.
Overleaf: listen to William Onyeabor's "Better Change Your Mind"