Reissue CDs Weekly: The Velvet Underground |

reviews, news & interviews
Reissue CDs Weekly: The Velvet Underground
Reissue CDs Weekly: The Velvet Underground
Beautifully packaged but completists-only edition of the Velvet's third album
The Velvet Underground's Lou Reed in 1969: "a face that arouses interest but gives no satisfaction."
The Velvet Underground: The Velvet Underground Super Deluxe Edition
MGM, The Velvet Underground's label, didn't have a clue how to promote the band's third album. The press kit accompanying its March 1969 release described drummer Maureen Tucker as "not your typical virgin. She looks like a red-headed music hall tart and pounds the drums with the force of a weight lifter. A female Brendan Behan." Lou Reed was said to have "a face that arouses interest but gives no satisfaction."
So it was no suprise that the album indeed became a poor seller and aroused little mainstream interest, which no doubt brought the band little satisfaction.
This was The Velvet Underground's first album without John Cale and the recorded debut of his replacement, Doug Yule. Despite including Reed's "Candy Says", "Pale Blue Eyes", "What Goes on", "Beginning to See the Light" And "I'm Set Free " – all classics – the album doesn't resonate with the force of their debut or its follow-up, White Light/White Heat. It's moot whether this six-disc edition will recalibrate the cultural barometer. It will probably speak to converts only. Nonetheless, it is a useful reminder that what's usually called Third is a great album.
Beyond reiterating that this was a new, quiet Velvet Underground which eschewed distortion and replaced it with both an intimacy previously limited to songs like "Sunday Morning" and a more direct approach to rocking – as on "What Goes on" – little needs saying about the album itself and its context as it so familiar. (Pictured left: Maureen Tucker contemplates whether she's "your typical virgin")
The new 45th-anniversary version of Third brings the disc count to six by scattering the album itself across the first three discs. Disc Four is a fresh collection of the material recorded in 1969 for what is often suggested as a shelved or uncompleted fourth album – the story on this is most pithily told in the Richie Unterberger book White Light/White Heat The Velvet Underground Day by Day. The final two discs collect recordings from San Francisco's Matrix, taped on 26 and 27 November 1969. These were, partially, the source for 1974's posthumous 1969 Velvet Underground Live album (Unterberger's book is also the best place to read the tangled story of these tapes). Despite this set's exhaustiveness, the often bootlegged radio ad for the album is not included.
For unheard and rare material, this is not a holy grail although the two live discs sound great with new, sparkling mixes and nine previously unissued performances (of 18 overall). "Heroin" is the stand-out. The band are relaxed yet have a tension which leaps out on "Beginning to See the light" and "I Can't Stand it Anymore". A very lengthy "Sister Ray" is hard to get through though. But beyond once again confirming that this period Velvet Underground was a fabulous band on stage, these live tracks feel like a footnote and add little to the story or legacy.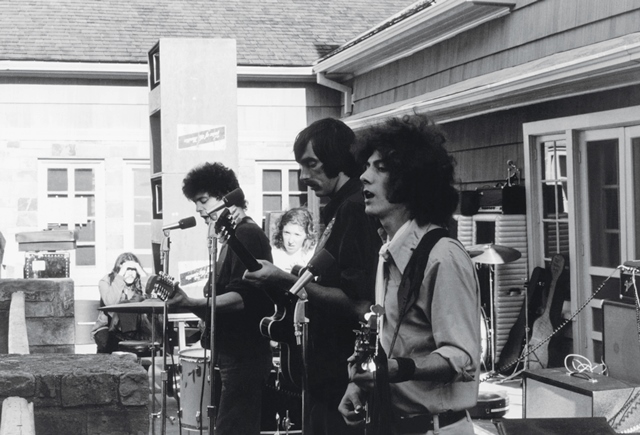 Disc Four includes the band's post-Third 1969 sessions: a rich source for archive releases since 1985's VU album. This new configuration is the most satisfying yet, although there are no previously unheard takes. New mixes of unfinished recordings sit well with original 1969 mixes (some previously unissued). "Foggy Notion", "I Can't Stand it" and the early version of "Rock 'n' Roll" are unbeatable. Everything sounds better than ever and this would be a fine stand-alone release despite the familiarity of the source recordings. (Pictured right: seen live in 1969, The Velvet Underground show their direct approach to rocking)
The album itself appears as three versions, each barely different from the other. Finely honed ears are needed to discern the dissimilarities. The first is the most widely issued, in a mix by studio engineer Val Valentin. Lou Reed's mix, the so-called "closet mix" which originally surfaced on only a few hundred British pressings of the album, is on Disc Two with an inessential alternate mix of "Beginning to See the light" appended as an extra. Disc Three is curious. It's credited as a "promotional mono mix" of the album – no mono version of album was issued in 1969 and no explanation of its source is given. The mono "What Goes on"/ "Jesus" single is added as a bonus.
Of the three configurations of Third, the previously unheard mono version is the least vibrant (though "Beginning to See the Light" is anomalously dynamic). The "closet mix" suggests Reed intended the album to sound as flat as possible, but hearing this rarity with its alternate take of "Murder Mystery" is no revelation as it appeared in full on the 1995 Peel Slowly and See box set. With its rounded timbre, the Val Valentin version remains the best.
This beautiful package comes as a case-bound book with a fine, insightful essay by Rolling Stone's David Fricke. The illustrations are fantastic. But however the cake is cut and however essential and terrific the original album, this is for completists only.
For unheard and rare material, this is not a holy grail
Explore topics
Share this article