Interview: Oumou Sangare, Soul Rebel |

reviews, news & interviews
Interview: Oumou Sangare, Soul Rebel
Interview: Oumou Sangare, Soul Rebel
On the road with Africa's greatest diva
Oumou Sangare, Malian diva and one of the world's great singers, is not, as I eventually found out myself, a woman to be trifled with. When she bought some land outside Bamako, the capital of Mali, a local official by accident or oversight also sold the land to someone else who planted the fields. Sangare turned up with a bulldozer and destroyed the man's crops. She also had a quiet word with the President of Mali and got the offending official sacked. I could easily imagine Sangare in her preferred garb of traditional colourful African robes and Parisian stilettos in the driving seat of a bulldozer – she's chic, tough and is a woman who bridges the divide between cosmopolitan and traditional Africa.

Or how about her command performance to the King of Swaziland, who already has seven wives? (His father had 32.) "Each year he has all the young girls, thousands of them, come out and dance, literally naked, in front of him, and each year he chooses another wife like that," explains Sangare. "He was sitting directly in front of me, with three wives on one side and four on the other and I began to sing: 'Polygamy is the worst of all things.' People cried out and couldn't believe their ears."
Her last album, Seya ("Joy") released last year was high up on theartsdesk's Favourites of 2009 list and showed "Attitude in spades, mixing traditional instruments like the ngoni with Hammond organ and the funkiest of guitars. Her powerful, beautiful voice can send chills down the spine." The songs covered taboo subjects she has sung about earlier in her career like forced marriage and polygamy.
Listen to Sangare's hit tune "Yala", set to a photo-montage of Malian photographer Malick Sidibe:
This week sees her touring as part of the African Soul Rebels tour with the highly rated "voodoo funk" band Orchestre Poly-Rythmo de Cotonou from Benin and Warrick Sony's Kalahari Surfers, a South African band who have been going over 30 years mixing dub rhythms, a kind of punk aesthetic and social commentary (their first album was banned under the apartheid regime). Their guest is Teba Shumba, a reggae and dance-hall artist and poet. All of them are veterans of African pop, although Sangare and all of them have had complicated and often antagonistic relationships with local authorities.
When Sangare produced her first album in 1990 Moussolou (Women) at the age of 21, "it was a revolution," she says. It was directly addressing the problems of African women, but also expressing the joys of sensuality. "People had sung about love before, but not about lust," she says of the song "Diaraby Nene" (The Shivers Of Love). As a Muslim woman, even if Mali is not the most hardcore of Islamic countries, Sangare's album was, she says "like a bomb". The record was a huge hit - "It was released on 4 January 1990, the most important date for me. That was when my life changed."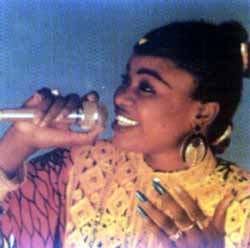 Her take on women's issues and polygamy in particular was from bitter personal experience. When she was two her father took a second wife and emigrated to the Ivory Coast abandoning her mother who was pregnant at the time. Her mother was a singer whose main income was the "sumu" – the weddings and baptisms that you can see in the streets of Bamako. "She was often too exhausted and depressed to accept even when she got work, and life became a real struggle." A song on her last album, "Magnoumako", describes the suffering of her mother: "When she hears it on the radio, she switches it off. There were six of us in one room and she'd often cry because she had no means to feed us the next day."
From the age of five, Oumou accompanied her mother and loved the atmosphere of the parties and soon found herself in demand - "My music education was singing in the streets, my motivation, what pushed me into music was to help my mother." At the age of 16 she was recruited as lead soloist into a band called the Djoliba Percussions, an important if short-lived group in Mali (picture above, young Oumou). Under the tutelage of the Amadou Ba Guindo (leader of the legendary National Badema) she decided to form her own group, which she spent a couple of years rehearsing.

Although born in Bamako, her parents were from the remote Southern corner of Mali, a region called Wassolou, and much of her music is based on the idioms of that area, particularly the deep, ancient, bluesy music of the hunters. So having flown into Bamako, when I heard she was planning a trip back to Wassolou I was more than happy to be allowed to tag along. Wassolou (map, left ) has a reputation as being having been a crucible of all kinds of music and dance forms and I wanted to see the place for myself.
For the first few hours outside Bamako the roads are tarmac, then you're on to deep red dirt tracks. The bus stopped off for some cooked goat by a stall where they were selling watches with the face of Osama Bin Laden on them. Although much of the north of the country is dry and desertified, the landscapes of rice-fields and woods in this area were intensely green, as it was the rainy season. Oumou was resplendent in the front of the bus, as ever, immaculately turned out – in fact she wore 16 different dresses in the four days we were with her.
She was also accompanied at all times by her griot, or praise-singer, a woman who was like her walking, talking, singing spin-doctor, announcing her and literally singing her praises at every stop. The griots will know your ancestry (Oumou knows 12 generations back) great deeds of your family – your grandfather killed a lion, for example- and will generally remind you and those around you of your talent, intelligence, wealth and beauty. I asked Oumou why she liked having her personal griot around. "It's the tradition. And the griot gives you courage." She also said it kept the other griots away – even so many of them who we came across in the villages launched into extravagant praise for Oumou. "Some of them really are too exaggerated and say I am the most beautiful woman in the world, a superwoman. Or even the only woman in the world." Sounds like the people who write record company biographies, I say. She laughs, "C'est vrai."
The other function of the griots is to keep the oral history and spread the news – still an important function in a society that is 60 percent illiterate, "Especially outside Bamako that's the case," says Oumou, "Music and singing have always been the way to get information out." You can be initiated into the griots and you get a new name. Oumou's griot gives me the name of a famous one called Banzumana Sissoko, who was grumpy, opinionated and was prepared to insult as well as flatter. I felt suitably honoured by my new name.
Many of these Malian traditions are ancient: when the Moroccan traveller Ibn Battuta came to Mansa Suleyman's court in 1355 and described the griots, he wrote, "I was informed this performance was already old before Islam, and they had continued to do it."
Just as old is the hunters' traditional music – if you wanted to point to one place that is Ground Zero for the blues (and thus for jazz and Western pop), Wassolou would be a good candidate. We went to a village called Djilefine to hear this music. The hunters' jackets are covered in small mirrors, and the hooves and tails of the animals, the musicians radiating the kind of ineffable, crumpled cool that Keith Richards would die for. Oumou says that the hunters have magical powers, "They can make a buffalo appear out of nowhere and mud turn into water."

The hunters' instrument is the sacred six-stringed harp, the doso ngoni. In the 1960s, a Wassolou boy named Alata Brulaye made the first kamala ngoni "youth harp", which as Banning Eyre puts in his book In Griot Time caused "a calamity... Hunter's songs were meant for the spirits. To play or even to hear them under improper conditions might upset the balance between the human and the spirit worlds." The elders called it "samakoro" – bed lice – as it induced an irresistible itch to dance, and was used for secular and satirical songs. As it was tuned higher, equally shockingly, women could also sing to the instrument. As Eyre put it, "The craze was probably no more stoppable than the rock'n'roll that was upsetting British and American elders at about the same time." Oumou said, "Naturally, this instrument had to be exploited."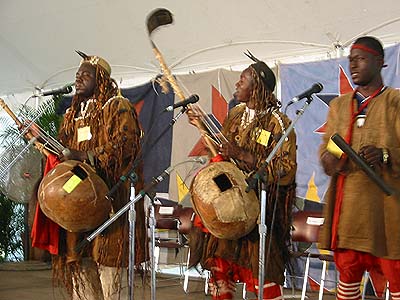 As well as this style, we saw the extraordinary masquerades, fuelled by frenetic djembe drumming of the "sogoninkun" - "little antelope head" - where acrobatic dancers with fearsome masks tease the audience (perhaps break-dancing came from here as well). Oumou told me in the old says these "sorcerers of the air" could fly through the air. She was particularly impressed by a group of girls, who with split-second timing created sultry rhythms by throwing calabashes around. In this very fertile, green world, you understand the nostalgia many Africans have for a pre-colonial, pre-Islamic Africa. Although Merrie Africa was probably just as much a myth as Elizabethan Merrie England.
Oumou said she was proud both of the relative stability of Mali compared to its war-torn neighbours and of the extraordinary richness of the music here. (Many commentators, such as BBC Radio 3's Lucy Duran, who came with us, consider Mali to be the most musical nation in Africa.) Other younger singers are coming up behind her, notably Rokia Traore. But while Traore is educated and middle-class, Oumou made it out of poverty and singing in the streets, speaking particularly to the women of Mali, much loved for gutsiness and stunning voice.
Everywhere we went, she was treated like visiting royalty (her usual view pictured, amidst admirers), and back in Bamako she created a sensation by taking us to some of the funkier clubs in the capital, dancing to Malian hip-hop and remixes of her own hits like her recent irresistible hit "Yala" (see video, above). She's also a successful businesswoman and we stayed in her hotel, called, naturally, the Wassolou, near the airport. And then there's the "Oum Sang" car named after her, an SUV made in China.
But we incurred her displeasure by moving to another hotel rather than hers in the centre of town, convenient for the music of the Biennale festival which had just started. When we dropped into her hotel on the way back to the airport, she overcharged us the equivalent of a couple of night's accommodation for some steak and chips. She also made sure (her fans on the airport staff) that the record company woman who remained at her hotel got upgraded, while we remained firmly in economy. As I say, not a woman to trifle with.
{youtube}sbxCaUdvlsI {/youtube}
Find Seya on Amazon
Book for the African Soul Rebels tour: visiting Poole, Brighton, London Barbican, Northampton, Bristol, Basingstoke, Warwick, Liverpool, Edinburgh, Manchester, Leicester and ending at Gateshead on 3 March