Interview: 10 Questions for Russell Watson |

reviews, news & interviews
Interview: 10 Questions for Russell Watson
Interview: 10 Questions for Russell Watson
The People's Tenor prepares to sing for the Queen and President Obama
A Salford lad who used to work as a bolt-cutter by day and sing in working men's clubs at night, Russell Watson started out in showbiz by singing popular hits by Elvis Presley, Neil Diamond or Simon & Garfunkel alongside a few belters from famous musicals. One night the patron of the Wigan Road Working Men's Club suggested he should have a go at Puccini's "Nessun Dorma".
"It was the first operatic piece I ever sang, and that was really where it all started for me," Watson recalled. It lit the fuse on a chain of events that led to Watson signing a deal with Decca and winning himself global renown as the People's Tenor, and becoming known as the man who invented Classical Crossover. He racked up a string of hit albums incuding The Voice, Encore and Amore Musica.
Then it all went horribly wrong. He'd begun suffering from agonising headaches, and when he was in Los Angeles in 2006 to record That's Life, he was diagnosed with a pituitary ademona (a brain tumour, in layman's language). He flew back to Britain for a five-hour operation to remove the tumour, leaving him with permanent damage to his pituitary gland, which controls the body's hormone levels. He managed to finish That's Life and undertake a UK tour, but in late 2007 a secondary tumour was discovered. Watson was rushed into emergency surgery in Manchester, and after surviving a spell on the critical list, had to undergo extensive post-operative treatment and radiotherapy.
But he's a tough bastard, and rumours of his imminent death proved to be exaggerated. On 28 May he releases his latest album, Anthems - Music to Inspire a Nation, his fourth since he emerged from his terrifying ghost train ride to the outer limits. "I just refused to give in," he says. "It's that drive in me that has seen me last 12 years as a recording artist, and it got me through the health issues as well." With a hectic summer ahead, Watson tells theartsdesk about his rejuvenated career.
ADAM SWEETING: How are you? You were looking outrageously healthy the last time we met.
RUSSELL WATSON: I'm very well, thank you. I'm even more outrageously healthy than I was the last time you met me! I'm very good – it's been five years now since I had any health issues and I'm back on the road and all clear. But I still have to take way too many pills to mention.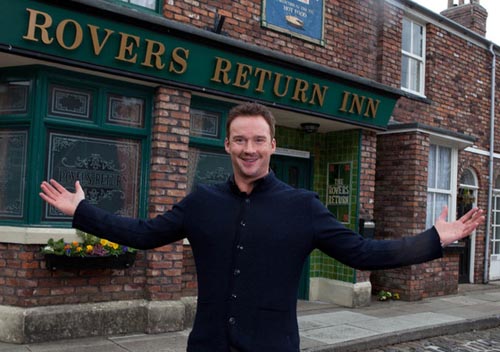 What was it like appearing onstage recently in Street of Dreams, the Coronation Street musical? (Watson on the Street, pictured left)

It was great actually as I don't get to watch soaps much, but my family - my girlfriend, mum, dad and all the rest of them - are all big soap fans so I got a huge amount of kudos for being in that particular show. It was also a very good song as well ["Ghosts - Take my Hand"], and I got the opportunity to meet up with my good friends Paul O'Grady and Julie Goodyear. So that was lovely.
If you were in Corrie on TV, which character would you be?
I think I'd be Mike Baldwin's love child. I'll have come back from many years ago and turn up as some dodgy, shady backstreet car dealer and then somehow everybody eventually finds out that I'm actually Baldwin's love child. I'd set up my own tailoring business there for a while as well, and make hand-made suits or something like that. Nice tailor-made Savile Row quality suits that, when you put them on, they fall apart and everybody comes back and complains.
On your new album you've picked tunes to appeal to the whole UK - Scotland, Ireland, England, Wales. Do you feel that's your duty as the People's Tenor?
Not duty as such, but I really wanted to make this record and sing tunes from all the nations within the United Kingdom. It's a rich mixture of different tunes, like "Land of Hope and Glory", which encompass the whole United Kingdom. Then there are specific ones like "Flower of Scotland" for the Scots, "Danny Boy" for Ireland, and "Calon Lân" for Wales. I was very conscious I wanted to make this record a British-based album as opposed to just English. Something for everyone is on there.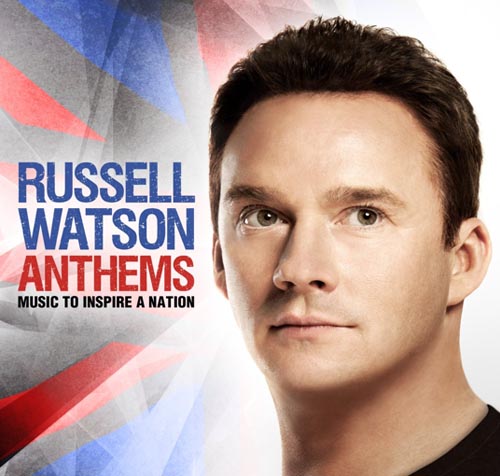 You've called the album Anthems - Music to Inspire a Nation. Do you think the nation needs to be inspired at the moment?
That's a good question. I think the nation has suffered considerable anxiety in the past few years because there's been an horrific set of circumstances with our finances, and across the world as well. And I think we should take any opportunity we can get to lift morale. Yeah, I think it's a good time to make this record. I also think the Queen's Diamond Jubilee and the Olympics have come together at a really good time for the UK and hopefully all the festivities and all the patriotism will help the UK buck up again. They are something we can all share in. I think one of the things that has made Britain great over the years is our unity and our togetherness as an island. It would be fantastic to see that bond of our nation become strong again. I remember the Silver Jubilee in 1977 and there was a real sense of unity across the whole of Great Britain. Maybe I'm reflecting on times gone by and wondering if they're ever going to return, but I like to think that we could see that kind of unity in the UK again.
Is that an E Type Jaguar on the album sleeve, and is it yours?
It's not mine, but it is an E Type Jag. It was made in 1966, which is important because that is when England famously won the World Cup and also that's the year I was born. I know it may not look like it, but I was!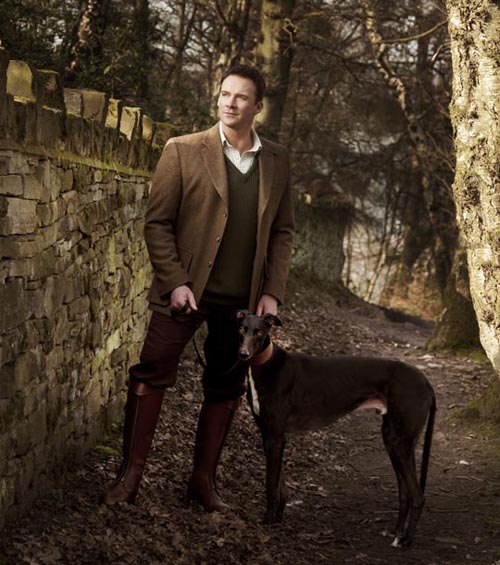 How is your voice in 2012 compared to how it was in 2002?
Way better. I can't even make comparisons really as it's so vastly different to how it was in 2002. I look back to my first record where I got most of my criticism, about not having the "right" training and that I'd not been to the right schools and that I shouldn't be singing this kind of repertoire, and to some extent I agree. Maybe sometimes it wasn't presented in a particularly pleasant way, but in many ways I agree with what they were saying. Proverbially speaking, I put the cart before the horse. But what has happened over the past 10 to 12 years is that my voice has improved immensely, based on the fact that I have learned as I've gone along and I've worked with some of the best vocal coaches in the world like David Dubery at the Royal Northern College of Music in Manchester, Sir William Hayward from the Royal College of Music in London - he was a former pupil of Adrian Boult - through to Patrick McGuigan who trained a lot of the Metropolitan Opera singers as well. So I've had the benefit of working with some incredible coaches.
The majority of the time I was ill in that three- or four-year period I studied incredibly hard on different techniques and also the infrastructure and mechanics of the voice – everything. I worked incredibly hard and it paid off, because technically now I'm doing things now that in 2002 I couldn't even have dreamt of doing. And I'm taking on major pieces now like "Il Paradiso" and the more obscure opera arias where previously I wouldn't even have known where to start. In the beginning I was plunged into it all and I was petrified because I knew I was out of my league, and I put on a front that seemed a bit cocky because I was nervous about the whole thing. But now I can perform with any orchestra in the world and feel confident I know what I'm doing both musically and vocally, and it's a nice feeling.
You're going to sing at the Memorial Day concert in Washington DC on 27 May. How did you get that gig?
They've been trying to get me for two years but I couldn't do it last year because I was doing concerts in Japan. But I can do it this year and it's one of those things that I'm delighted to be involved with. It's a dream gig. Basically I'm going to be on Capitol Hill, stood in front of the White House, singing with a 60-piece orchestra for all the military and top brass of the United States and it'll be televised across the whole of America on the PBS network. It's going to be the biggest televised PBS special of the year, a fantastic moment, and it's one I've been waiting for for a long time. I'm doing two songs, "Bridge over Troubled Water" and "Abide with Me" from the new record.
Slash told me he had a couple of my records and he loved my stuff
What will you say to President Obama?
"Hello! I believe you do a bit of singing in your spare time? Do you fancy doing a duet?" I'd love that! Obama likes a bit of Al Green, I believe. Actually I'd love to kick ass in America.
On your upcoming UK tour, you're doing two Diamond Jubilee Gala shows at the Albert Hall. Will you be doing special pieces for the occasion?
I'll be doing numbers from the album. There is going to be a special guest appearance by the Military Wives. I met them a little while ago and invited them to my concert at the Royal Albert Hall and I'm very excited about that. That's going to be a nice moment.
Do you have a personal message for the Queen?
Happy anniversary, your Majesty! What she has achieved over the past 60 years as Queen is just incredible. The amount of travelling and the amount of people she'll have met and maintaining her stature has been quite amazing. She is very regal, but somehow still has that common touch as well which I think is a remarkable quality. I've been fortunate enough to meet the Queen on several occasions and every time she's been incredibly pleasant and never seems to falter.
Would you like to sing at the Last Night of the Proms?
Yes. The closest I got recently was the Proms in the Park for Radio 2 and I thoroughly enjoyed that. I got a fantastic response as well. But I'd love to do the Proms at the Royal Albert Hall and sing "Land of Hope and Glory". That would be absolutely fantastic.
Is it true you were asked to join Velvet Revolver, the rock band?
Yeah, it is true. I met with Slash in LA in 2002 or '3 at the Rainbow on Sunset Boulevard, and when I went in he was stood with a cigarette hanging out the corner of his mouth and a pint of Guinness in one hand. Stereotypically rock'n'roll. It was one o'clock in the afternoon. I was doing a TV show for BBC One about the similarities between classical music and rock music, and he was one of the interviewees. He told me he had a couple of my records and he loved my stuff. He said my voice was so pure and so beautiful and strong and would I like to audition for his new band. I had to decline as I had no time, and I had to interview other rock icons for this show - Gene Simmons, Meat Loaf, Def Leppard and Saxon. It was surreal!
What have you learned about the music business?
Nobody does it for you. There is no magic wand and no one will work for you unless they see you are doing all you need to be doing. You've got to keep pushing forward yourself and maintain focus on your career. That's my advice for a lot of new acts coming into the industry. The industry has changed and only the toughest will survive.
Anthems - Music to Inspire a Nation is released on 28 May
Watch video of Russell Watson singing Nessun Dorma
Explore topics
Share this article