Hjaltalín, Hoxton Square Bar and Kitchen |

reviews, news & interviews
Hjaltalín, Hoxton Square Bar and Kitchen
Hjaltalín, Hoxton Square Bar and Kitchen
Icelandic outfit marry show tunes and disco-soul to winning effect
Saturday, 13 November 2010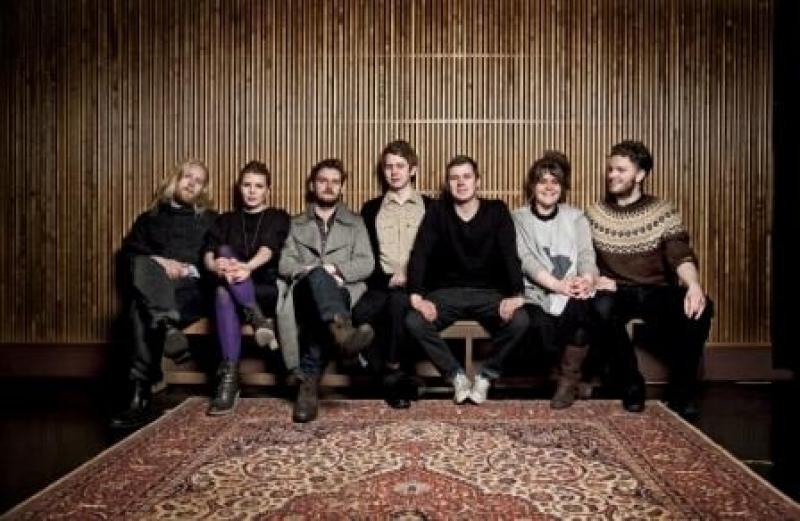 Hjaltalín take it easy, with bandleader Högni Egilsson on the left
There's a moment during Hjaltalín's encore when bolero rhythms take over and you wonder if the Reykjavik septet have invented a new musical hybrid: a Ravel-driven makeover of Seventies-slanted soul. As singer Sigrídur Thorlacius lets rip on the thrillingly anthemic "Feels Like Sugar", it's clear that Hjaltalín aren't bothered with current musical templates. They take from the unlikeliest sources, smoosh them together and end up sounding like no one else.
After all, this is a band with a stand-up bassoon player. At home, they topped the charts covering a song by Icelandic disco star and Eurovision loser Páll Óskar.
Hjaltalín's recent album, Terminal, is one of this year's highlights. Bandleader Högni Egilsson's gruff voice is part Barry White, part Rufus Wainwright drama. The contrast with bell-like co-singer Thorlacius is sharp, but attractive: the tart and the sweet. Musically, the fully orchestrated Terminal marries a Broadway show-tune sensibility with New York Seventies soul. At its most upbeat, it's as if a hyperactive Stephen Sondheim was scoring string-driven Philly soul for disco icons La Belle or Sylvester. A chat with Egilsson before Thursday night's Hoxton show finds him declaring, "I've never seen a musical, that was not the idea for Terminal. It was very impulsive making the album, I'd want a sound and just do it. It became stagey with the integration of the sounds, using orchestral instruments and pop instruments. I have this throaty voice – people used to make fun of it – and Sigga [Sigrídur] was a friend who sings really well. We are a contrast."
Unfortunately for Hjaltalín, a significant part of the audience was intent on yacking throughout the show. Before the atmospheric ballad "Sonnet For Matt" – inspired by a drunk who collared the band in Hitchin, Hertfordshire – Egilsson asks for quiet. Despite some mass shushing, he's largely ignored and the babble continues. A pity, as it's an affecting song with subtle, observational lyrics. The quietness of delivery reveals a tone in Egilsson's voice that oddly echoes the wounded intimacy of John Martyn.
Watch the video for Hjaltalín's "Sweet Impressions":
In the stripped-down live setting, the songs from Terminal are rockier than the album versions, more syncopated and almost post-punk. Some of Gudmundor Óskar Gudmunsson's snappy bass-playing could have escaped from a Gang of Four record. Axel Haralsdson's drumming is unusual, showcasing bolero-like circular patterns that aren't rock and aren't jazz, but seamlessly support Egilsson's ebbing and flowing songs. Rebekka Bryndis Björnsdóttir, on that bassoon, sounds more brass than the bottom end of an orchestra. Despite the magpie make-up, everything coalesces and Hjaltalín retain their show-tune feel.
Opening their set with new single "Suitcase Man", Egilsson doesn't immediately look like a soul man. In a baggy shirt, with long blonde hair and scrubby beard, he could be in a stoner metal band. But when second song "Sweet Impressions" kicks in, the promise of the album is realised – chugging like early disco, its chorus soars. The pace of the set is a bit odd, however. Although "Stay By You", another affecting ballad, is great, a brace of midpoint slowies halts the momentum. It's as if Egilsson is afraid of fully letting go.
But whatever the slight hiccups, this is a compelling show. Odd, idiosyncratic and out on a limb, Hjaltalín aren't the furrowed-brow practitioners of artifice their approach might suggest. Joyful, spontaneous and melodic, they have a power that can lift spirits, move your feet and drive away thoughts of this wet, windy, winter night.
Egilsson doesn't immediately look like a soul man. In a baggy shirt, with long blonde hair and scrubby beard, he could be in a stoner metal band
Share this article