CD Special: The Basement Tapes Complete |

reviews, news & interviews
CD Special: The Basement Tapes Complete
CD Special: The Basement Tapes Complete
It's here - the full, final, complete official bootleg edition
Wednesday, 29 October 2014
Backwoods Bob: Dylan on the cover of The Basement Tapes
Earlier this year, bobdylan.com posted "Full Moon & Empty Arms", a song associated with Sinatra and the popular music of America before rock'n'roll. Dylan's new version seemed to presage an album of tunes of similar vintage titled Shadows in the Night, featuring the likes of "Melancholy Baby", "On a Little Street in Singapore" and "Stormy Weather".
Those new recordings, however, have been pushed back to make room for another release, one so big and wide you'd need to tear out the door to bring it in.
Six discs, 138 songs, 17 reels, five young men, one dog, and roughly nine months of sessions from almost half a century ago – the Bootleg Series Volume 11 is an epic voyage into the interior of folk and popular song that trawled the world before rock'n'roll – and indeed, before recorded music – one that came up with a mixture of treasures, floaters, flotsam and jetsam, and a barnacled mythology to match any seafaring yarn.
Yes, ladies and gentlemen, the legendary lost hoard of The Basement Tapes finally gets its official release. Dating back 47 years to Dylan's house in Byrdcliff, Woodstock, the basement of the Big Pink rented by Rick Danko, Richard Manuel and Garth Hudson in nearby West Saugerties, and later at Danko and Levon Helm's place on Wittenberg Road (Robbie Robertson had his own gaff, of course), these are the bare facts: nine reels of tape were filled between March and September 1967 – the summer of love, but for Dylan and the Band, a summer of retreat from psychedelia, synthetic drugs and Apollo space missions to earlier ages and climes, a magic lantern universe of Child ballads, Hank Snow weepies, 1920s vaudeville, and sundry gnarled blues and backwoods country tunes of shellac vintage. This was the sound of Dylan's ragged retreat from studio trickery and guitar effects, from rock superstardom and punishing world tours, and as the initial warm-up bout of cover versions and ballads gave way to new songs, they were recorded on magnetic tape by Garth Hudson, sometimes over pre-recorded reels (Kenny Rogers was one).
Hudson compiled the first "Basement Tapes" set for music publishers in September 1967 (another seven reels would be filled before the sessions concluded in early 1968). These demos became the Great White Wonder, the inaugural bootleg of the rock era. Six years later, Robbie Robertson oversaw an official release for Columbia, adding numerous vocal and instrumental overdubs with The Band and whittling the mile-wide stereo originals to mono. More bootleg albums appeared, and with the 4CD Tree With Roots, most collectors thought they had it all.
Now they have this: a 38-track, 2CD "best of" set and the full CD boxed set of 138 cuts, featuring everything that was recorded and retrievable between March 1967 and early 1968, with thirty or so previously unheard covers, sketches and originals included that had somehow evaded bootleggers. Finally, the cupboard has been cleared and its contents put on public view. Do we really want it? Do we really need to have Dylan's uproarious pastiche of 50s Americana, "I'm Your Teenage Prayer"? Or a pass through the British and American folk traditions via "Ol Roisin the Beau", "Young But Daily Growing", "Bonnie Ship The Diamond" or "Come All Ye Fair and Tender Ladies"? How about a spectral, out-of-tune version of "People Get Ready"? Or multiple takes of the most famous of The Basement Tapes originals – the likes of "Tears of Rage", "Quinn The Eskimo", "I Shall Be Released"? Sometimes, too much of anything can drive a man insane…
The Basement Tapes come with much mythological freight. Two books have been written about them, and all sorts of mojo forces have been heaped upon them, from their direct but invisible influence on their own time, on the Stones and Beatles going "back to basics", to the whole of the Americana genre today. How much you swallow of that mythology, or how it affects your listening, will influence how you approach this gargantuan set.
How much you swallow of that mythology will influence how you approach this gargantuan set
Most listeners will be satisfied with the 2CD Raw collection; the full six CDs demands a different level of commitment. If you're really into Dylan, it's a thrilling if rocky, sometimes repetitive ride, and it's far from easy listening. In truth, small but daily doses are indicated. On the one hand, mixing teenage rock'n'roll with apocalyptic fire and brimstone in a voice that eerily presages the driving force of his 1980s gospel incarnation, as Dylan does on "Baby, Won't You Be My Baby", is just the kind of thing you'll covet this complete set for. On the other, hacking through three amiably loose, casually similar versions of "Open the Door Homer" is just not as rewarding as, say, following the wildly different studio approaches to "Visions of Johanna" from the previous year.
These six discs are aural sketchbooks, verite recordings for extended study, rather than immediate gratification. The full set is a documentary in sound, in an eavesdropping, through-the-keyhole kind of way, letting the listener in on trade secrets of creativity, spontaneity and composition shared by four or five brilliant young men taking cover from what's going on outside, and discovering, in that hiatus, the mythic, eternal world of folk and country music. It was a realm that Dylan, for one, had soaked up en route through Minnesota, Greenwich Village and London to his crooked tower of song. Spiced with a down-home surrealism and acute sense of history, the explorations of The Basement Tapes would distil themselves to absolute clarity in 1968's John Welsey Harding.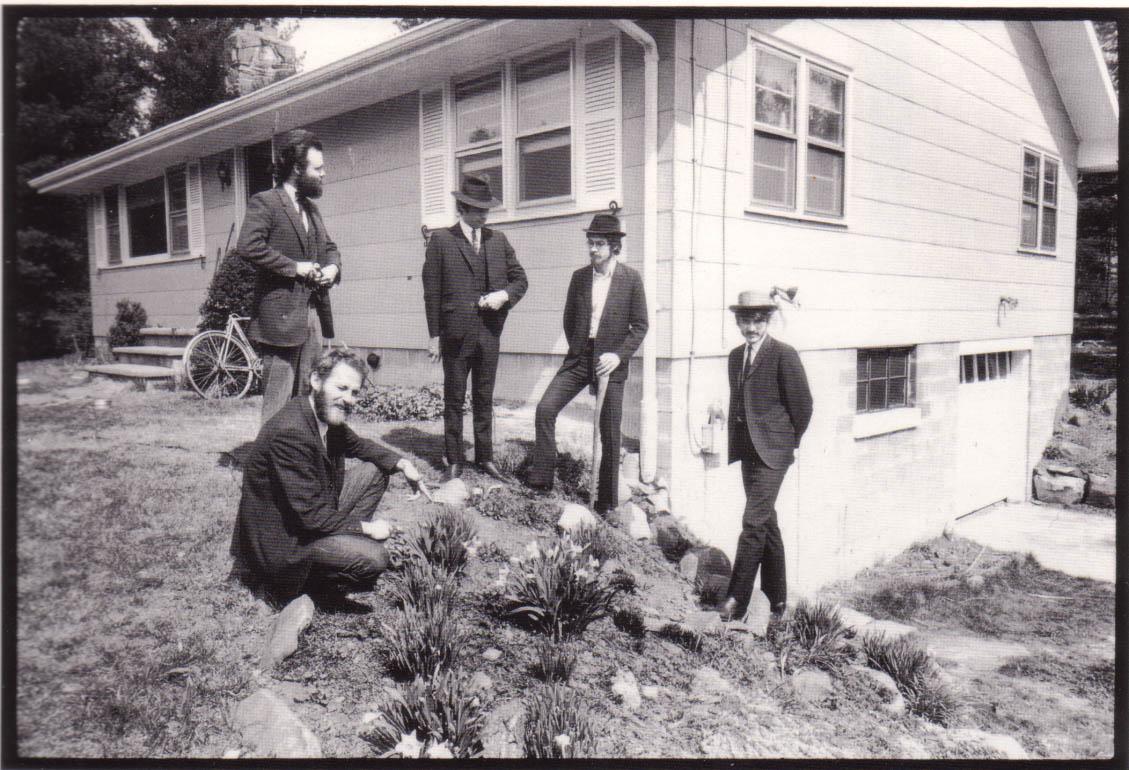 The first two discs set the pace with their mixture of the throwaway and profound, of new tunes and old favourites. Set opener "Edge of the Ocean" is a previously uncollected Dylan original, surrounded by covers of Johnny Cash, Hank Cochran, Hank Williams, Pete Seeger. Second disc opener "Johnny Todd" will be familiar to anyone who watched Z-Cars – the sea shanty from Liverpool provided the series with its theme tune – and there's a heap more covers, including "People Get Ready" and "Rock, Salt and Nails". These warm-up sessions led to the more serious work of discs three and four, comprising multiple versions of the best-known Basement Tapes songs, as well as the cryptic, quixotic "I'm Not There", one of the most famous in Dylan's unofficial canon, and which gave its name to Todd Haynes' movie biopic.
A mix of traditional songs and originals, and refreshed work-outs of "Blowin' In The Wind", "One Too Many Mornings" and "It Ain't Me Babe" fill disc five, with Levon Helm having rejoined the ranks on drums. Disc six is a "bonus" disc, recordings of dauntingly low fidelity, but it is, perversely, perhaps the most compelling of the whole set, littered with hitherto unknown, largely indecipherable and thrilling-sounding Dylan songs, seemingly recorded early on in the sessions, in the Red Room at Byrdcliff, and featuring a muffled but compelling take of "On a Rainy Afternoon", which features, briefly, in the 1966 tour film, Eat the Document. Distortion is heavy, the simple guitar chords buzz like the trashy Glam Rock stompers that were a few years down the line, and the hiss and distortion of these final, never-before-heard tracks mirrors, in a way, the effects of memory and experience with which we, Bob Dylan's audience, approach an iconic landmark like this. The long history of The Basement Tapes cannot be divided from the tapes themselves. No one comes to it clean; we're all adjusting the levels, adding to the noise.
The Basement Tapes Complete: The Bootleg Series Vol. 11 is released on 3 November
These six discs are aural sketchbooks, verité recordings for extended study, rather than immediate gratification
rating
Share this article