Bellowhead, Bristol Old Vic |

reviews, news & interviews
Bellowhead, Bristol Old Vic
Bellowhead, Bristol Old Vic
Award-winning, floor-shaking 10-piece bring funk'n'punk to folk
Bellowhead are 21st-century genre-busters: punk music-hall madness born out of British folk, seasoned with a zeitgeist-friendly dose of multicultural spice. Sounds gimmicky? Well, not at all, as Bellowhead's greatest quality, apart from being an outstandingly enjoyable live act, comes from the way they ride their eclecticism with brio and intelligence, inventing as they go a new folk music for our times.
British folk has two distinct but interconnected strands, reflecting perhaps the (oft-forgotten) fact that we are an island people: a rootsy and sometimes purist obsession with homegrown tunes and lyrics and a contrasting urge to work the past into a more contemporary mode, as well as absorb all manner of influences from across the seas. Our island folk music has a resolutely pagan side as well: a yearning for the everything-goes freedom of polytheism, and pleasures untainted by Protestant guilt.
Not surprising that Bellowhead's most recent and much-acclaimed album should be called Hedonism. The current tour showcases material from the new CD, songs and instrumentals that dazzle with their stylistic range, without ever feeling excessively disparate. There is a distinct Bellowhead sound - call it "big-band folk" - with the varied tonal colours of reeds and brass used as texture and riff, and a palette of moods that stretches from the melancholy and poetic to the roughness of superbly delivered ceilidh romps.

The difficult challenge of opening for Bellowhead on the first night of the tour was bravely taken up by northerners Jonny Kearney and Lucy Farrell, daring, with almost painful innocence, to bare their souls in a string of melancholy songs delivered with astonishing vulnerability. Distant vocal cousins of Sufjan Stevens, Bon Iver and Joanna Newsom, they stumbled over forgotten lyrics and bad tuning, and yet skilfully used their mistakes as further signs of authenticity. Their quiet and often beautiful musings, delivered with a minimum of histrionics, could not have provided a more fitting prelude to the fire and theatre of Bellowhead, whose opening song, "Yarmouth Town", followed the duo's super-gentle support set like a hurricane.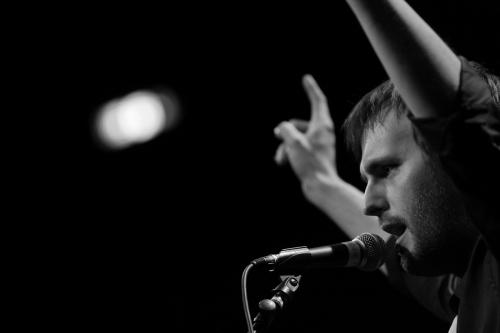 While Bellowhead's 10 musicians are all stars in their own right, each with several brief moments of musical glory, this is very much Jon Boden's band (pictured right). He comes from a tradition of charismatic British frontmen that spans from music hall to punk, a hard-working and thoroughly professional entertainer, whose every gesture enhances his vocals and fiddle-playing. In a series of songs that conjure up a world of heroes and heroines from the margins of society – whores, sailors, drunks and other transgressors – he incarnates the essence of underworld pleasure-seeking. There is a hymn to whisky and a song in which he celebrates the month of May – that pulsating moment of the year when everything is young and drawn to love and sex. With Jacques Brel's "Amsterdam", a Gallic valse with touches of klezmer and jazz, he pulls in the audience, working up an emotional storm, rising a long way from the safety net of the British folk tradition.

The combination of funk and jig, English dance music and African-inspired syncopation is blindingly obvious, and yet no band has done it quite like this before. Bellowhead's music suggests, without a trace of academic pretension, that so much mainstream popular music of the last 50 years – from rock to funk – has encoded in its DNA elements of the British (and particularly Scots-Irish) folksong and dance tradition. What Bellowhead does, they do with the instincts and technical skills of a group of incredibly savvy and creative musicians and, what's more, they know in their bones that mojo-workin' voodoo is not entirely unrelated to our own shape-shifting tradition of magical healing and sorcery.
At the very end of the show, they reclaim their roots in a series of rip-roaring dance tunes
The fiddlers are superlative, bowing away as if in a race with the devil, the horns flawlessly riffing in perfect unison. The trombonist wails away in a priest's incongruous cassock: this is a band with little respect for established religion – or the rigorous forms of any other tradition. They evoke distant echoes of colliery brass, overlaid with blasts of Southern soul, the controlled anarchy of New Orleans and the fiery spirit of the Balkan Roma. John Spiers, the squeeze-box virtuoso, plays straight man to Jon Boden's comic-book rascal hero, providing a subtle but ever-present ground to the band's many-layered sound. Two of the violin players double on pipes and oboe, changing instruments as swiftly as sleight-of-hand artists, adding the rich textures that give Bellowhead their unique character.
Bellowhead are a character-driven band in every sense and this is ensemble work (as they say in the theatre) of the highest order. The unique atmosphere of Bristol's Old Vic, originally a venue designed for music as well as drama, suits their antics very well. The BOV's artistic director Tom Morris, recognises the band's theatrical potential and his assistant Simon Godwin has coached them a little, ahead of the current tour. Not that they need much performance enhancement, for this has always been one of the most accomplished live acts in the country, not just within the world of "new folk".
There are many exotic colours to Bellowhead's brilliance, but they are also essentially English. The traditional song "Little Sally Racket" launches Jon Boden into a fast and furious punk-style rant, in a manner that recalls the best homegrown (and quintessentially British) bands of the late Seventies, but the song then breaks into Young Tradition-style deep-folk a cappella. At the very end of the show, they reclaim their roots in a series of rip-roaring dance tunes: the band's front-line fiddlers pogoing exuberantly one second, and skipping joyfully like seasoned clog dancers the next. The audience are jumping up and down too: this has been an exceptional night and the band's exuberance has swept any lingering signs of seasonally affected disorder well away.
Explore topics
Share this article