10 Questions for Russell Smith of Terminal Cheesecake |

reviews, news & interviews
10 Questions for Russell Smith of Terminal Cheesecake
10 Questions for Russell Smith of Terminal Cheesecake
Guitarist from recently resurrected noise mentalists talks Beatrix Potter, marijuana and Nigel Kennedy
In the late Eighties one of the most sonically unhinged bands of all time came together in East London. Terminal Cheesecake caused few commercial waves but gathered a devoted coterie of fans for their unholy racket at pummelling concerts. Their sound was initially crunching riff-rock smeared with head-frying psychedelia and deranged electronic effects but throughout a career of five albums – Johnny Town-Mouse (1988), VCL (1989), Angels in Pigtails (1990), Pearlesque Kings of the Jewmost (1992) and King of All the Spaceheads (1994) – they gradually drifted into monstrous exercises in marijuana-stewed rhythm'n'dub.
The band was the brainchild of Gary Boniface, previously of rockabilly bands The Purple Things and The Vibes, and Russell Smith, who had been in noiseniks A.R. Kane and was associated with MARRS (of "Pump Up the Volume" fame). The latter exited after three albums to work, over the years, with God and Skullflower, as well as regularly DJing soul at Madam Jojo's and multiple other venues. Terminal Cheesecake eventually folded in 1995 with Boniface going onto his Bud Alzir tech-dub project. After almost 20 years away they now return to play the Supernormal Festival in Braziers Park, Oxfordshire, on August 9-11, a rare chance to catch one of rock's naughtiest, noisiest, druggiest, most underground bands. Happily, there are also plans afoot to record new material. Russell Smith, 50, spoke to theartsdesk on the phone from his home near Bordeaux.
Listen to "Herbal Space Flight" by Termimal Cheesecake
THOMAS H GREEN: So why are Terminal Cheesecake back?
RUSSELL SMITH: I always wanted to get the band back together but it slipped out of my hands. I didn't ever really leave. I went on holiday and got back to find my own band had gone on without me. I was only away two months. We'd previously been on a sort of hiatus then John Peel rang up and said, "Are you still together?" We said, "Actually, John… just about." "I wondered if you'd like to do a Peel Session." "Yes, we'd like to do a Peel Session," but I didn't have a band so how was I going to do that? So I spoke to Gary and he said, "How are we going to do this? We haven't got a drummer." I said I'd speak to Rudy [Tambala], my mate from A.R. Kane who had a studio so we recorded the Peel Session with him. It came out so well suddenly everyone was keen again, then I went away to have a little break in the States because I was consuming far too much, erm, things I shouldn't have been. While I was away a gig came up and they just carried on without me.
But how did it come back together again recently?
It was a bit difficult because I wanted to do it but Gary said, "I don't want to do it but you fuckers can't do it, it's my band." I said, "We were all in this together," then we had a long chat and he said, "I don't want stand onstage with a mic, it's not me anymore." I said, "We wrote all this good stuff and people want to hear it again. It'd be a laugh to do it." In the end, he agreed to let us get on with it so now Terminal Cheesecake is Dave Cochrane who was in God with me, a great bass player, then two guitars instead of one, me and Gordon Watson who took over guitar from me, and John Jobaggy, the drummer. It took three years to get it together because we couldn't just replace Gary, he was such a good frontman and we had to get the right line-up but Neil [Francis] from this band Gnod did rehearsals with us and has proved to be absolutely perfect.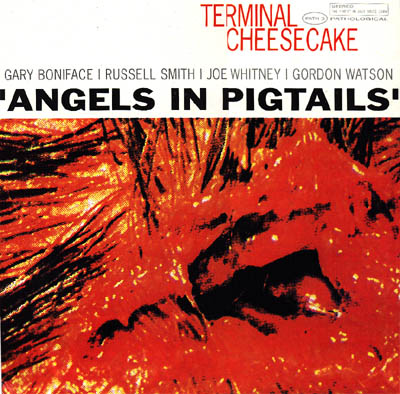 When Terminal Cheesecake appeared they sounded like no one else. What were you all listening to?
We didn't want to sound like anyone. I'm sure a lot of bands set off trying to sound like someone else but we didn't know how. We were ingesting large quantities of psychedelics, drinking a lot, partying a lot, seeing all these bands from the States - Pussy Galore, Big Black, Sonic Youth – and we all worked in record shops. Writing from this we had a set together quickly. We loved the Butthole Surfers' sense of stupidity. Their subject matter was not inane, it was amusing, and they were brilliant live. We wanted to be as intense as them but harked back more to British stuff, Syd Barrett-era Floyd and the best parts of Hawkwind, alongside punk influences and thrash.
The cover of the album Angels with Pigtails is completely appropriated from an older record isn't it?
Yes, on the CD cover it's a German schoolgirls' choir [a 1955 single by the Obernkirchen Children's Choir]. It came out on EMI and I found it in the record shop where I worked. It looked completely ridiculous, like something that today you'd probably be charged for owning, just wrong. All three sleeves were good. The vinyl album (pictured above) was a still of a car crash victim's fractured skull, all bits of hair round it, but surrounded by a Blue Note-style jazz cover, a nice bit of art.
Why is Nigel Kennedy "obnoxious"? Part two of the interview overleaf
And you appeared to have a thing about Beatrix Potter?
Classic English psychedelia, isn't it? We all grew up with it and it's a little bit weird. The track "Jonnny Town-Mouse" was a stroke of Gary genius, still one of best tracks to play live. It's in the set and it sounds brilliant – "They say we did it but I know better!" It pummels your brain. John, our drummer, loves that one. He's one of best, most aggressive drummers. He has the feel to really build intensity, an amazing, proper jazz drummer.
We just hated Nigel Kennedy. He was such an obnoxious individual
Where did the song and album title Valium Chicken Leg come from?
There was basically this twisted drug abuser I sort of knew and he lost the plot so badly he started injecting cooked chickens with morphine and eating them. He thought injecting into muscle would do the trick. All this stuff we found funny. Actually, that's our tribute to Floyd's track "Come in Number 51, Your Time is Up" [a version of "Careful With That Axe, Eugene" recorded for the soundtrack to Michelangelo Antonioni's 1970 film Zabriskie Point]. I grew up near Cambridge and everyone from Cambridge loves Syd Barrett's Pink Floyd, that early stuff was pretty much as good as it gets, although it's a shame there's not much live stuff recorded at the UFO Club.
You also seemed obsessed with the violinist Nigel Kennedy, entitling tracks "Kennephant Man" and "Head of Nigel"…
Bring me the head of NF Kennedy! We just hated him and it was just another joke. We sampled a bit of violin but I don't think it was actually him. He was such an obnoxious individual, always on the television going on and on. Where is he now? What does he do? He was so annoying. A lot of marijuana humour.
Yes, the other ongoing theme was marijuana with tunes such as "Lung of Iron" and "Mrs Skinupski Speaks".
I think so, I can't recall but I think "Lung of Iron" was someone who can cope with much bong intake. Mrs Skuinupski was actually a real person. There's also one that came up in rehearsals – "Inter-Steptoe Overdrive" because [Pink Floyd's] "Interstellar Overdrive" and the theme to Steptoe & Son are so close. It's totally ridiculous. You can play it for ten minutes but then, no, it's not on. There's been calls for it, though, so it may still appear.
Terminal Cheesecake were once on sonic maverick Kevin Martin's label, Pathological, and you were also part of his God project. His music, always extreme, has run the gamut from Godflesh's mantric hammering to the ragga attack of The Bug. How did you find him?
Us lot loved playing music but don't take ourselves seriously at all. We like to think we're pretty good musicians but have fun with it, a good laugh, elements of humour. Why does it all have to be so serious? It's entertaining, serious music but we don't take ourselves too seriously. Kevin takes himself very seriously. God tours were something else. They must have been endurance tests [for him] – he had ten idiots in the back of the bus from different eras of music: Tim Hodgkinson from [Seventies avant-garde prog-rockers] Henry Cow, me and Dave [Cochrane] all drinking and partying and he was the only one trying to be serious. God was his baby. They were great live, a hypnotic noise once it gelled.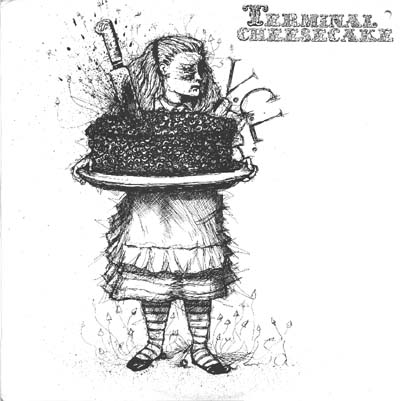 What about your involvement with A.R. Kane prior to Cheesecake?
Someone had a bass in the corner and said, "Can you play that?" "Not very well." "Do you want to be in my band?" "What do they sound like?" "A bit like the Mary Chain." "Yeah, I'm in." That was a noisy feedback assault with Adrian Sherwood doing the live sound. He really was a massive influence on everyone in Cheesecake. That sound system he had, everyone knew that would be the best night out. Tackhead! Top drawer!
Back when Cheesecake began electronic musical distortion was being appropriated by dance music and rock was somewhere else completely. How did you end up smashing them both – and much else - together?
It just seemed music needed a kick up the arse. The stuff we were listening to was extreme. You've got to create your own sound and do something extraordinary. There were so many dire indie outfits about then, all that shambling. There were exceptions - Loop, Spacemen 3, World Domination Enterprises – but things needed to be pushed a bit further. We were using the same Roland effects [as house/techno music] but applying them to guitars. We were also listening to hip hop. Public Enemy were another massive influence. They were cutting up and splicing stuff. Early Public Enemy doesn't even sound like hip hop, it sounds like madness, dangerous, aggressive, even now it sounds out on the edge. Christ almighty - Welcome to the Terrordome, it's amazing. We had the same tools and that's what the results were. Some on the second album were almost rock tracks but then [on the last two albums] Gary and Gordon were listening to more dub and smoking even more. By the end of Cheesecake there was hardly any guitar, more beats and sample-based. I love those albums even though I'd left by then, a different sound but I love them. I couldn't fault them. They're classics.
Listen to "Valium Chicken Leg"
Explore topics
Share this article
Subscribe to theartsdesk.com
Thank you for continuing to read our work on theartsdesk.com. For unlimited access to every article in its entirety, including our archive of more than 10,000 pieces, we're asking for £3.95 per month or £30 per year. We feel it's a very good deal, and hope you do too.
To take an annual subscription now simply click here.
And if you're looking for that extra gift for a friend or family member, why not treat them to a theartsdesk.com gift subscription?