Nile Rodgers: How to Make It in the Music Business, BBC Four review - good times had by all
Nile Rodgers: How to Make It in the Music Business, BBC Four review - good times had by all
Rhythm king tells his story of disco conquest one more time
He is family: Nile Rodgers
One New Year's Eve in the 1970s, hot young session musicians Nile Rodgers and Bernard Edwards were assured by Grace Jones that they could penetrate the inner sanctum of Studio 54 by dropping her name at the door. A doorman thought otherwise and invited them to "fuck off".
Making alternative arrangements, they bought a couple of bottles of Dom Perignon – "rock'n'roll mouthwash", in Rodgers' phrase – and went home to jam.
The doorman's valediction kept running through their heads and came out in a rhythmic disco riff. "Fuck off. Fuck Studio 54." The tune was more radio-friendly than the verbatim lyrics, which eventually mutated into "Freak out, le freak, c'est chic." It cost them $10 to bribe an elevator operator to keep his mouth shut as they snuck into a studio to lay down a demo. "Le Freak" remained Atlantic's bestselling single for 37 years. Paul Gambaccini is still baffled by the song's refusal to relinquish its number one slot, which it reclaimed twice.
The story has been told often before, most recently on BBC Four in the last documentary appreciation of Nile Rodgers in 2013. This remix is a two-part series which explains how Rodgers first discovered his sound then exported it. Like a perfect Chic song, the first episode of Nile Rodgers: How to Make It in the Music Business was a finely crafted treat. Styled as a documentary memoir, it featured the great man voicing his own tips of the trade like a folksy ole grandpappy, while Nina Sosanya's more sober narration filled in the biographical bits. The disingenuous title is a charming misnomer because Rodgers' entire career was built on that gigantic stroke of luck: being refused entry into a nightclub won't make anyone else a millionaire.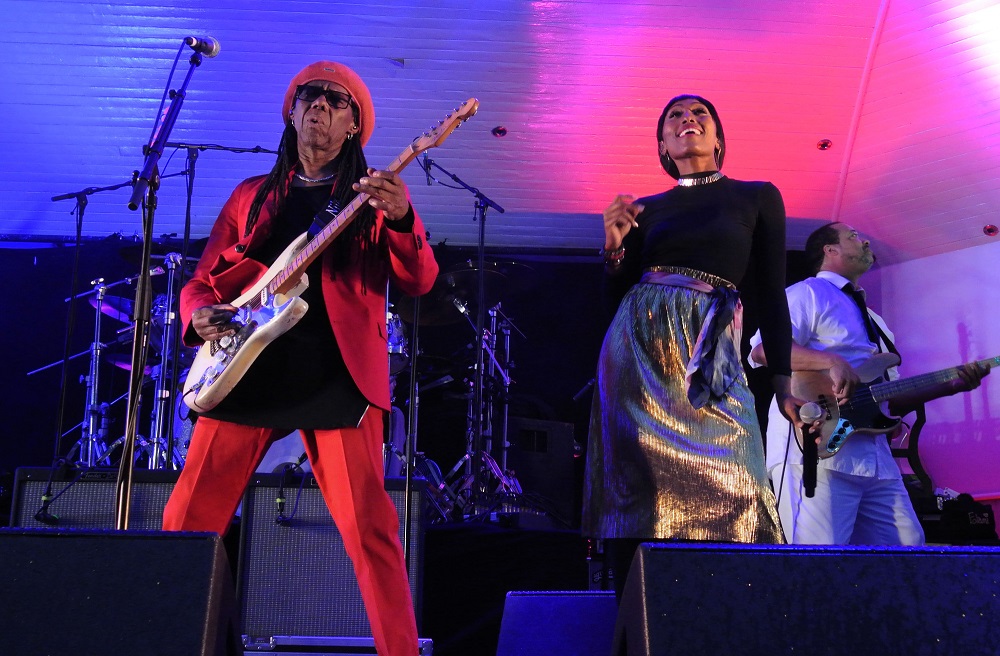 The other stroke of luck was meeting Edwards, whom Rodgers had identified as his ideal collaborator. The first time they talked was over the phone, when he proposed forming a band with hippyish influences. "Lose my number," said Edwards, hanging up. The next weekend they were booked to work the same session, and the rest is disco history.
The heart of this celebration was a sharp deconstruction of all the elements in the Chic sound. The chuggy Fender Stratocaster rhythm guitar, the boogyish bass, those frontloaded hooks – "we're gonna start with dessert," in Rodgers' words, a formula which turned out to work on "Let's Dance" and is now the indispensable template for all pop music competing for millennials' short attention spans.
At the heart of this sound was Rodgers' inner pulse, ingested from his father, a percussionist. Rhythm was the very breath of Rodgers's life: hospitalised with asthma as a child, he fitted his breathing to the music which runs constantly through his head to this day (to screen it out, he has a TV in every room at home). Later, when he started writing songs, he could only compose on the subway. Rodgers's rhythm guitar is the sound of the A train.
One thing that wasn't fully explored was the blend of Rodgers's Stratocaster and the female voice. There were plenty of musical excerpts, and Kathy Sledge (pictured above) fondly remembered those packed days in the recording studio with her God-fearing sisters learning to sing about sex. Because Rodgers couldn't croon he never became a musical seducer like more honey-voiced axe-wielding contemporaries Bobby Womack and Curtis Mayfield. And the lyrics celebrated dance as balm for the troubled soul rather than just music to unclip bras and unzip pants to. QED: there were brief quotes from Nick Rhodes and Mark Ronson, and some historical context was supplied by Keith Harris, but the Rodgers-Edwards oeuvre was best explained, both emotionally and intellectually, by British music journalists Kate Mossman and Krissi Murison.
Success couldn't have happened to a more thoroughly decent man. At one point, as he was demonstrating a lick from yet another masterpiece, he tried croakily singing along and sounded less than a million dollars. "Anyway," he said, "I write really cool songs. You wouldn't know it from what I'm doing now."