theartsdesk in Western Sahara: The World's Most Remote Film Festival |

reviews, news & interviews
theartsdesk in Western Sahara: The World's Most Remote Film Festival
theartsdesk in Western Sahara: The World's Most Remote Film Festival
FiSahara takes place in a refugee camp in the Algerian desert
During the 1960s, when decolonisation movements were sweeping the world, it was joked that, after achieving independence, a country had to do three things: design a flag, launch an airline and found a film festival. Western Sahara has a flag but no airline and, despite a 35-year struggle, has yet to achieve independence. The closest Western Sahara comes to its own film festival is the Sahara International Film Festival (known as FiSahara), the world's most remote film festival, whose eighth edition took place this month in a refugee camp deep in the Algerian desert.
FiSahara takes place in a refugee camp 130 miles from the nearest town and aims to offer entertainment and educational opportunities to the refugees, as well as raise awareness of a forgotten humanitarian crisis. The refugees are Saharawis from Western Sahara – occupied unlawfully by Morocco in 1976 – and an estimated 165,000 of them have lived in four camps for over three decades.
Visitors to the festival live with refugee families, sharing their tented or mud-brick homes. The hottest hours of the day are spent sitting on the carpeted floor drinking endless cups of sweet tea with your Saharawi hosts. Although the people may be welcoming, conditions in the camps are not. There are no paved roads, no sources of food or water, and during the heat of the day a thermometer on a wall registers 120 degrees. One day, caught in a sandstorm, it becomes very clear why the area is known locally as the Devil's Garden (pictured below, image by Stefan Simanowitz)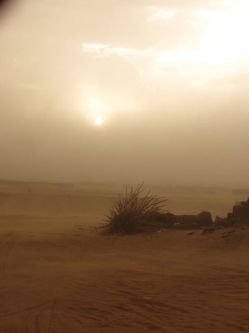 Speaking from the festival, the Spanish actor Carlos Bardem announced that his brother, Javier Bardem, had donated 10,000 Euros to help fund a new film school. The school, which opened its doors this month, will give up to 20 refugees each year a chance to learn about all aspects of film-making. Carlos Bardem was among dozens of actors, producers and directors attending the festival. Javier Bardem, who visited the festival in 2008, sent his support and regretted that he was unable to attend this year's event.
Among those who were there was former United Nations Assistant Secretary-General Francesco Bastagli, who resigned in 2006 in protest over UN inaction on Western Sahara. Bastagli expressed frustration at the UN Security Council's failure last month to extend the mandate of the peace-keeping force in occupied Western Saharato to include human rights monitoring. "Whether it's conflict prevention, basic human rights or responsibility to protect, Western Sahara is the long-neglected obligation of the international community," he said.
Living in camps has forced us to develop our imaginations. From your earliest days you are forced to imagine your homeland
Set up by award-winning Peruvian documentary film-maker Javier Corcuera, the festival is paid for through a mix of private funding and institutional sponsorship, including money from the Spanish Ministry of Culture. Films are screened at night in a spacious area in the centre of the camp where a multiplex-sized screen is surrounded by tents for workshops, exhibitions and indoor screenings. The festival programme included an eclectic mix of over 20 films from around the world including films made about and by the Saharawi people. Watching films while sitting on the sand beneath the stars as an occasional camel strolls past provides a surreal but agreeable viewing experience (pictured right, camel racing; image by Alberto Almayer).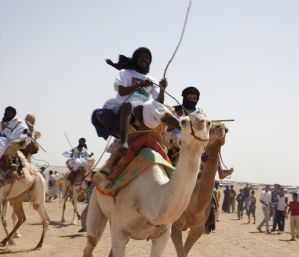 "I liked the film about the boy in the sea," said Sidi Hassan, 14, referring to Jermal, an Indonesian film about a 12-year-old boy sent to work on an isolated fishing platform in the Malacca Straits. "He was surrounded by water just as we are surrounded by sand." At a dusty red carpet ceremony on the final evening the White Camel award for Best Picture was picked up by film director Gerardo Olivares for his 2010 film Among the Wolves. Actor Luis Tosar was given the Jury Prize for the Spanish movie Even the Rain. If there had been an audience prize it would probably have gone to Al-Yidar (The Wall), a documentary about the 1,500-mile wall in the desert built by Morocco that divides Western Sahara in two. "I have been to the wall to protest, but landmines stopped me from getting too close," Admed Deidi tells me. "This film made me see the wall in a new way."
Some of the films shown were made by refugees themselves. Najla Mahamed, 22 (pictured right; image by Stefan Simanowitz), believes that Saharawi are naturally good storytellers. "Living in camps has forced us to develop our imaginations," she says. "From your earliest days you are forced to imagine your homeland. As you grow up that imaged place grows up with you."
Before we leave, Carlos Bardem is given a traditional tea set to present to his brother: a gift from the Saharawi people to Javier Bardem and Penélope Cruz to celebrate the recent birth of their child. The atmosphere is buoyant as we board the convoy to leave but as we head back across the expanse of empty desert, the mood starts to change and thoughts turn to those we have left behind. The further we drive, the more apparent it becomes just how isolated and abandoned the refugees are.
"Each time I leave these camps I feel like a thief," Bardem tells me. "I arrive bearing gifts and goodwill but leave so much the richer, taking away lessons from the refugees about how to live in dignity and how to never give up the fight for your rights."