theartsdesk in Locarno: All About the Wet Bits |

reviews, news & interviews
theartsdesk in Locarno: All About the Wet Bits
theartsdesk in Locarno: All About the Wet Bits
Some fun, a bit of boredom and, dazzlingly, ladies of a certain age in the Alpine heat
Feuchtgebiete has been the talk of Locarno. The word combines "damp" or "moist" with "areas" – yes, you might guess what's coming. English-born, German-bred Charlotte Roche published in 2008 a novel of the same title, which became Wetlands in English. And as my mother's reprimand of me and my brothers sniggering at what boys always snigger at went, "Will you please get your heads out of your pants…"
The pants here are Helen's (Carla Juri). She's a hyper-imaginative teenager who can't keep her mind off her fanny. She has bad haemorrhoids – don't we just know that at the film's start as she scratchily excavates her bum skateboarding down some Berlin avenue (below right, Juri, horizontal, pictured later in the film). That's mild fare compared to what lies ahead: cunnilingus on a park wall, masturbation with an avocado stone and, in perhaps the most excruciating passage of the film, life-threatening loss of blood – self-inflicted by the protagonist in order not to go back to a loveless home – from a certain "unclean" part of her anatomy. My goodness, the hands covering eyes at this point…
How on earth do some directors get funding other than by saying that they know one end of a camera from another?
David Wnendt directs Roche's book as a young woman's sexual phantasmagoria in which there is, in fact, little love or sex of the inter-communicative kind. This is not a sexy film. Answering an e-mail query from a London film producer friend of mine about how offensive it is, I had to state that it isn't at all, but I suppose that's a matter of perception.
Mine is that it's a very smart film: funny, fearless, psychologically coherent, and – surprising adjective maybe – compassionate. Helen, prettily, brilliantly and compellingly played by Ticino local and newcomer Juri, is victim of an appalling family life. Feuchtgebiete is about inner disconnection, premature erosion of confidence, loss of self: themes of course all too readily identifiable in many ordinary lives that, in this case, might seem hidden (but really aren't) behind the movie's extreme imagery. Alas, one scene, involving a pizza and semen – we'll leave it right there – is unlikely to ease Feuchtgebiete's way towards general release.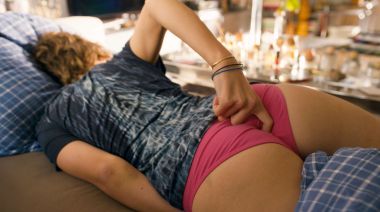 In the competition section, Feuchtgebiete woke me up. In another whining e-mail back home I'd written of, up till then, mirthless hours of "solipsistic communion with some of the world's halfwits" (art-film directors), irascible words I repeat because they were brought on by When Evening Falls on Bucharest or Metabolism by the Romanian, Corneliu Porumboiu. With the title already suggesting that he doesn't know what it's about – something to do with a man making a film, having an affair with his lead actress, and, after discussing with her why Chinese food is eaten in the way it is, deciding not to shoot her in a nude scene – 90 minutes like these leave one only asking how on earth some directors get funding other than by saying that they know one end of a camera from another. Not even that.
Dare one say the same of Britain's Joanna Hogg? I shall be in trouble with at least two esteemed colleagues who write for this site if I do, but Exhibition, Hogg's third full feature, leaves me cold. A couple are selling their London designer house; both are artists of sorts, clearly well-off, and their personal problems seem nothing out of the ordinary.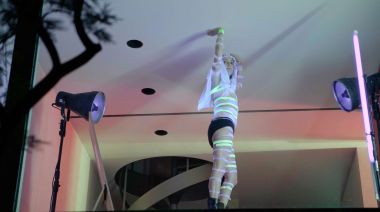 So it's possible to make a film out of the well-heeled selling property, sexual stasis and an "exhibition" (of a sort) by one of them, to happen long after the film's over and, it be might speculated, forgotten? Ms Hogg has done it, using, technically, non-actors: as "D", Viv Albertine (once of The Slits: pictured left), and as "H", artist Liam Gillick – and it shows. These two talk to each other as if they've just met and have read a stuttering, twiddly-naturalistic script; then they act as if they're acting. In the stalls, narcolepsy's not too far round the corner. Exhibition does not augur well for the future of British art cinema, though cohorts will disagree.
Locarno's Piazza Grande presents the much-more-obvious. With this year, once again (see 2012), the weather being exceptionally fine, there were plenty of mood-lifters. Les Grandes Ondes (à l'Ouest), or Longwave – the title means literally "the large waves in the west" – is a charming Swiss venture into light, slightly schematic comedy, about a group of four radio people driving from Lausanne to Portugal in 1974 to report on aid but colliding, exuberantly, with the revolution. When that breaks, the film really picks up, with a star turn by the Comédie Française's Michel Villermoz.
We're the Millers, ostensibly about a quartet of losers on an apparently lucrative drugs-haul from Mexico, exists only for a Jennifer Anniston striptease (no, of course not the whole way). Not every joke is predictable: see all cinemas any time now. Much better on the same night was Mikkel Nørgaard's The Keeper of Lost Causes, another headlong Scandinavian detective nasty, featuring first-class dourness by Nikolaj Lie Kaas, Sarah Lund's moody hunk in The Killing III. The best Piazza moment when I was there (for five nights out of ten) was after the screening of an uncomfortable but deeply affecting film from Francophone Canada, Gabrielle. Director Louise Archambault has created a little love story with a cast of real-life mentally handicapped Montrealers, who like singing and are rehearsing for a festival; Gabrielle Marion-Rivard, the film's mobile, hugely sympathetic star, was, uniquely for a Piazza night, picked out by a spotlight, along with director and co-star Alexandre Landry, and applauded by thousands. No wonder the film won first place in the festival's public vote.
Some tedium a given, this has been under a new artistic director, Carlo Chatrian, an upbeat Locarno, with Piazza Grande appearances by a posse of grandes dames. Faye Dunaway, Victoria Abril (an Almodóvar marvel) and, most elegantly and eloquently, the 68-year-old Jacqueline Bisset (pictured above right) all received lifetime awards. If the competition can dull the senses, the Piazza under clear skies is always there to dazzle them. Locarno's 2013 concurso for Golden Leopard has, meanwhile, been won by a Franco-Spanish production, Albert Serra's Historia de la meva mort.
Explore topics
Share this article