The Rum Diary |

reviews, news & interviews
The Rum Diary
The Rum Diary
Withnail & I director tackles early Hunter S Thompson, uncertainly
Thursday, 10 November 2011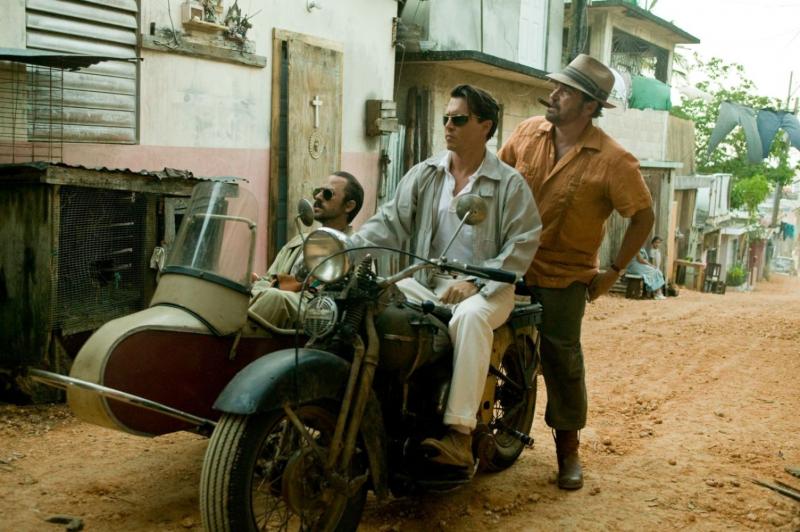 On the road: Kemp (Johnny Depp) and Sala (Michael Rispoli, right) search for the origins of Gonzo
In later years, when callow reporters would be sent to interview the wrecked legend Hunter S Thompson in his Colorado compound, at some point in the weekend, in between the drugs, booze and random gunfire that punctuated his days, the Gonzo journalist would betray unaccustomed nerves, and point his guest to a pile of typewritten pages. This was The Rum Diary, an attempted novel from the early Sixties he picked at for four decades.
He never published a novel in all that time, instead making himself the lead character in
Fear and Loathing in Las Vegas
and other, maybe fictionally extrapolated versions of his confrontations with a broken American Dream.
When The Rum Diary was finally published in 1998, it wasn't the failure Thompson and many others had feared it to be, but an elegantly written, bohemian book about US expat reporters in Puerto Rico, as its writer had been: a sort of Gonzo prequel. That's the notion writer-director Bruce Robinson and star Johnny Depp run into the ground in this loving, stuttering adaptation.
Depp's acting is in danger of becoming a series of caricatures
Depp, of course, befriended Thompson when he played him in Terry Gilliam's fine Fear and Loathing... film. He adopts similar tics this time as Thompson-substitute Paul Kemp, head jolting back and eyes widening with quick double-takes, as if his nerves are under constant assault from the absurdities and horrors he sees (very much Thompson's perspective, hence his diet of powerful hallucinogens). Adding to his ongoing Keith Richards homage in Pirates of the Caribbean, Depp's acting is in danger of becoming a series of caricatures, and when called upon here for gravitas, righteousness, or even convincing attraction to co-star Amber Heard, the tank is empty.
Hunter S Thompson talking LSD
Bruce Robinson's presence as director, only his third film since Withnail & I (1986) and by far the highest-profile, also shows Depp's taste. He makes Kemp's photographer friend Sala (Michael Rispoli) a sleazy Sancho Panza in the style of Fear and Loathing's "crazed Samoan attorney", allowing the pair boozy, slapstick japes a long way from the book's elegiac tone – more low-grade Robinson than Thompson. So is a sub-plot about US businessmen's corrupt plans for Puerto Rico which Kemp becomes involved in, straying in perhaps from James Ellroy's justifiably paranoid novel Blood's a Rover, set in a similar place and time. "Just so we're all sitting in the same Jacuzzi," one fat good ol' boy winks at Kemp as he's handed papers to sign. "In case a turd floats up."
Robinson indulges in extensive foreshadowing of the Thompson to come. "I've got no voice. I don't know how to write like me," Kemp agonises, with the implication that these events forge it. "There is no Dream," he's soon pondering, proto-Gonzo. "Just a piss-puddle of greed spreading throughout the world." Though The Rum Diary is very much a product of the pre-LSD, diligent reporter Thompson was in the early Sixties, Robinson's most effective glimpse of his future is a wholly invented scene where Kemp and Sala drop an acid-like drug. Imperceptibly, normality slips, time slows, acutely amplified sounds splash, and Sala's tongue rolls out across the still room.
It's fine work by Robinson, as is a scene taken faithfully from the page, when wild child Chenault (Heard, pictured above with Depp), whose at first implicit love triangle with businessman boyfriend Sanderson (Aaron Eckhart) and Kemp powers the plot, begins dancing with a black stranger in a club. The R'n'B band's damply echoing beat and the way it makes everybody in the dance hall sway as fans slowly rotate the muggy air feels sensually real, spinning Chenault away from the white world, as her dress is unhooked and she hardly cares. The solid olive light of a place where heat and sweat don't relent gives the film a hard, unstylised edge.
Robinson and Depp are clearly both intent on making this a tribute to Thompson. The faux-Gonzo speeches pile up, portentously spouted by a Depp you can see forgetting how to act right in front of you. But their film is too plain and uncertain to match its subject, either in his anarchic maturity, or as the idealistic young man shown here.
Watch the trailer to The Rum Diary
The faux-Gonzo speeches pile up, portentously spouted by a Depp you can see forgetting how to act right in front of you
rating
Explore topics
Share this article