Oscars 2012: Who Will, Who Should, Who Won't |

reviews, news & interviews
Oscars 2012: Who Will, Who Should, Who Won't
Oscars 2012: Who Will, Who Should, Who Won't
The Arts Desk's film writers pore over the nominees to make predictions and express outrage
Every year before the Academy Awards speeches are tacitly composed, flowing gowns and priceless necklaces booked and no doubt small blameless animals slaughtered in the Roman style for good luck.
Before the gladiators enter the ring, we at
theartsdesk
continue our novel take on the 2012 Oscars by allotting a category each and asked our film writers to sift through the nominations, tell you who they think will win, who they really would like to win, and who has been most egregiously overlooked by Oscar's overwhelmingly ageing white male judiciary. Will Meryl actually go home with her third statuette? Has
Shame
been traduced? Will best supporting actor go to yet another senior citizen?
Click through the pages and you can read Matt Wolf on the Best Film category, Demetrios Matheou on Best Director, Graham Fuller on Best Actor, Emma Simmonds on Best Actress, Jasper Rees on Best Supporting Actor and Actress, Emma Dibdin on Best Original and Adapted Screenplays, Veronica Lee on Best Animation and Tom Birchenough on Best Foreign Film. Read on and then tell us what you think.
Best Film
by Matt Wolf
Nominated: The Artist, The Descendants, Extremely Loud & Incredibly Close, The Help, Hugo, Midnight in Paris, Moneyball, The Tree of Life, War Horse

Oscar's premier category posed an unusual question this year: just how many films would rise to the Best Picture top? For decades, of course, the normal cut-off point has been five, the number widening out in recent years to allow for a greater selection of nominees, thereby allowing more films to feed off the PR campaign that – let's face it – is why the Oscars exist to begin with.
The voters seem to want a movie that for the most part is mute
This year, though, a new procedure was put in place that in effect meant that no one knew in advance precisely how many films would make the grade. With pundits predicting a short-list of seven or eight, there was some surprise when Academy president Tom Sherak and Winter's Bone actress Jennifer Lawrence appeared before the world's media last month to announce nine nominees, especially since the blockbusters that a fuller roster was meant to accommodate still didn't get a look-in. I mean, when Extremely Loud & Incredibly Close is cited and Harry Potter and the Deathly Hallows Part 2 (pictured below) is not, you know something is wrong in the state of filmdom. Either that or LA really does exist in thrall to Extremely Loud producer Scott Rudin, an ongoing force in the film world (theatre, too) whose intelligence and power are respected and feared in equal measure.
Of those films that are in contention, there seems little doubt that the night will belong to The Artist, marking yet another feather in the cap of Harvey Weinstein, who specialises in little films that end up making a big noise and going the Oscar distance (cf Shakespeare in Love). Myself, I would vote for Moneyball, easily the smartest film of the line-up and, unexpectedly, also the most moving. (The final scene of Brad Pitt listening to his daughter's CD says more about parent/child relations than all of The Descendants.) I'd also grant Young Adult, We Need to Talk About Kevin, and Tinker Tailor Soldier Spy pride of place above almost all the films cited, and, yes, Harry Potter's final instalment, too, which brought a variable film franchise to a resoundingly serious, beautifully judged conclusion.
But the voters have spoken, and they seem to want a movie that for the most part is mute. Maybe Uggie can return next year to host the Oscars?
Will win: The Artist
Should win: Moneyball
Most lamentable omission: Harry Potter and the Deathly Hallows, Part 2
See also: Best Director; Best Actor; Best Actress; Best Supporting Actor and Actress; Best Original/Adapted Screenplay; Best Animated Film; Best Foreign Film
Best Director
by Demetrios Matheou
Nominated: Michel Hazanavicius (The Artist), Alexander Payne (The Descendants), Martin Scorsese (Hugo), Woody Allen (Midnight in Paris), Terrence Malick (The Tree of Life)

The Academy's handling of the director's category has always been terribly lazy, tending to favour the role of director as marshal – for merely putting the pieces in play and pointing his or her camera at them – rather than artist. It is always a category to fret over. Of this year's nominees, Woody Allen's presence for Midnight in Paris is a travesty (sure, he wrote something that isn't execrable, but it's shot from the top of a tourist bus) and Alexander Payne's for The Descendants a perfect example of solid, though undistinguished direction lifted by the writing (albeit Payne's own) and acting.
In contrast, the woeful omission of Nicolas Winding Refn (for Drive) and, in particular, Steve McQueen (Shame) underlines the fact that Oscar voters will ignore excellence if it fails to charm them; they certainly don't wish to be challenged, and God forbid that an existential thriller or a tale about sex addiction, both with minimal dialogue and downbeat endings, should be fêted. Yet these films are graced with incredible craft, their narratives reliant as much on image and soundtrack as words, as befits the medium. I would also have liked Asghar Farhadi, whose A Separation is nominated for best foreign language film, to have been nominated here; to make his family drama play like a nail-biting thriller is an astonishing achievement.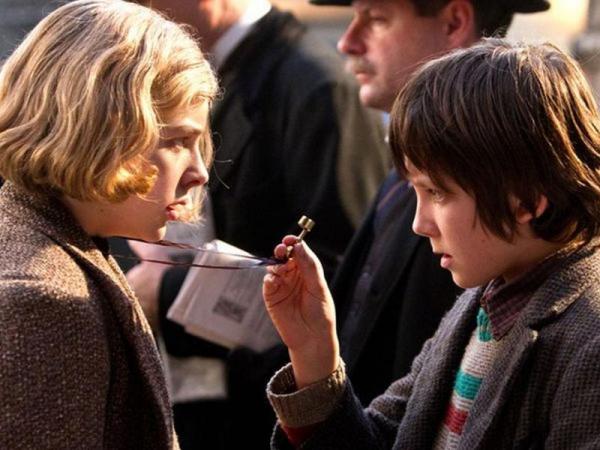 The other nominations are deserved. Hugo (pictured right) doesn't have the feel of a Martin Scorsese film, but the old dog has embraced 3D as few others, and there are moments when the gliding, inquisitive camera could be no-one's but his. And with The Tree of Life, Terrence Malick again brings poetry into the cinema, with one sumptuous and mysterious sequence after another.
This year the Academy may get it right, if for no reason than that they do like to follow form. And The Artist has been irresistible. It is directed by Michel Hazanavicius with a blend of terrific technique, a touching sense of film history, and infectious enthusiasm. Indeed, no film this year better expresses the pure pleasure in and of cinema, and for that Hazanavicius deserves every prize going.
Who will win: Michel Hazanavicius (The Artist)

Who should win: Michel Hazanavicius (The Artist)

Most lamentable omission: Steve McQueen (Shame)
See also: Best Film; Best Actor; Best Actress; Best Supporting Actor and Actress; Best Original/Adapted Screenplay; Best Animated Film; Best Foreign Film
Best Performance by an Actor in a Leading Role
by Graham Fuller
Nominated: Demián Bichir (A Better Life), George Clooney (The Descendants), Jean Dujardin (The Artist), Gary Oldman (Tinker Tailor Soldier Spy), Brad Pitt (Moneyball)

Whereas five or six lead actresses can consider themselves unlucky not to have been nominated for an Oscar this year, there were less noteworthy performances by actors. Michael Shannon (Take Shelter) and Michael Fassbender (Shame) gave the most significant overlooked performances, though Ryan Gosling (The Ides of March) and Leonardo DiCaprio (J. Edgar) probably had their feathers ruffled, and hardly anyone has mentioned 14-year-old Islington kid Asa Butterfield, outstanding in Hugo.
Fassbender's portrayal of a detached and solipsistic sex addict (pictured right) is genuinely disturbing, but Shame was betrayed by several excruciating dialogue scenes. Thus, it was the tonal inconsistency of Steve McQueen's film that primarily cost Fassbender a deserved nomination, not, as the director asserted, Americans' fear of sex, though doubtless some Academy voters flinched at the frankness.
All the nominees are worth their places, but the Mexican outsider Demián Bechir and Brad Pitt won't expect to win. Bechir is affecting as an illegal immigrant in Los Angeles struggling to bond with his son in the unsentimental A Better Life. Pitt, who has become of Hollywood's finest leading men in the last five years (via Jesse James, Benjamin Button, and Aldo Raine), plays Moneyball's baseball manager as an evangelical shark. As the unyielding George Smiley in Tinker Tailor Soldier Spy, Gary Oldman crossed over from eternal youthfulness into chilly geezerdom, suggesting the second act in his career could be even greater than the first.
The consensus is that either George Clooney or Jean Dujardin will win. It's a treat to see Clooney play an out-of-condition Hawaiian lawyer who's a cuckold and an incompetent dad in The Descendants, but he grows visibly in the part, making peace with his daughters, his heritage, and himself. Dujardin's faux Fairbanks is charming, energetic, and funny, and to hate The Artist is to hate life. It's the broader of the two performances, but Dujardin's claiming of the Screen Actors Guild's prize indicates Uggie will have a new gold-plated bone to chew on come Monday morning.
Will win: Jean Dujardin (The Artist)

Should win: Gary Oldman (Tinker Tailor Soldier Spy)

Most lamentable omission: Michael Fassbender (Shame)
See also: Best Film; Best Director; Best Actress; Best Supporting Actor and Actress; Best Original/Adapted Screenplay; Best Animated Film; Best Foreign Film
Best Performance by an Actress in a Leading Role
by Emma Simmonds
Nominated: Glenn Close (Albert Nobbs), Viola Davis (The Help), Rooney Mara (The Girl with the Dragon Tattoo), Meryl Streep (The Iron Lady), Michelle Williams (My Week with Marilyn)

It's hard to conceive of the mighty Meryl not triumphing, with the Golden Globe and BAFTA already fighting for space in her (presumably enormous) trophy cabinet. Although she has eight Golden Globes in total, astonishingly it would only be her third Oscar (if that seems odd it's because she's been nominated 17 times). There's an outside chance of Viola Davis (The Help) stealing it away from her, as she did at the Screen Actors Guild Awards. And Davis does deserve credit for giving a semblance of subtlety to a film which is anything but. However, a win for anyone else would be a major shock. Mark my words, Streep will head to the stage as victor for the first time since 1983.
The question of whether she deserves to win is a thornier one. The Iron Lady is a terrible film: politically inept, patronising to Thatcher and powerfully offensive to those she crushed. Meryl however is magnificent as both the defanged old lady and the beastly, bristling battle axe. She eats up the screen in a huge performance which almost - but never quite - disguises the film's multitudinous flaws. Although it would be something of a jarring triumph given the context - oh go on - give her the Oscar if you must.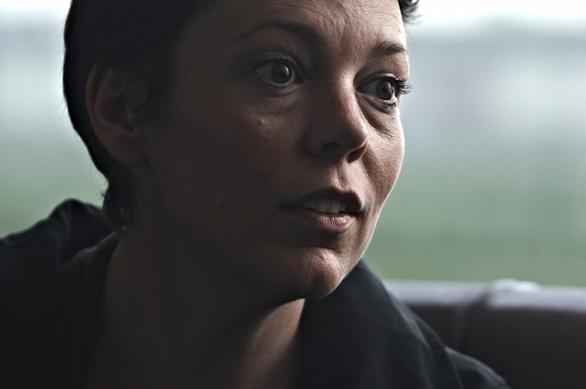 The Best Actress nominations for me don't quite represent the cream of the last year's crop. Perhaps with the exception of Streep, I'd personally overhaul the entire line-up. Dramatically, Olivia Colman (Tyrannosaur), Tilda Swinton (We Need to Talk About Kevin) and Anna Paquin (Margaret) all shone in provocative films and each is a galling omission. Funny ladies have been ignored as ever and this year saw a couple of corking comedic performances: Kristen Wiig's breakthrough in Bridesmaids for one (although her co-star Melissa McCarthy is nominated in the Supporting Actress category Wiig for me is the stand-out), and Charlize Theron surprised many with the first significant cinematic display of her comedic chops in the beautifully bitter Young Adult.
Who will win: Meryl Streep (The Iron Lady)
Who should win: Meryl Streep (The Iron Lady)
Most lamentable omission: Olivia Colman (Tyrannosaur)
See also: Best Film; Best Director; Best Actor; Best Supporting Actor and Actress; Best Original/Adapted Screenplay; Best Animated Film; Best Foreign Film
Best Performance by an Actor/Actress in a Supporting Role
by Jasper Rees
Nominated for Best Supporting Actor: Kenneth Branagh (My Week with Marilyn), Jonah Hill (Moneyball), Nick Nolte (Warrior), Christopher Plummer (Beginners), Max Von Sydow (Extremely Loud & Incredibly Personal)

This is perennially a curate's egg of a category, into which nominees can be strategically entered by producers to give them a better chance of winning even if they carry the film. Or, like Judi Dench in Shakespeare in Love, a star can cart off an Oscar for less than 10 minutes' screen time. As often happens, the Best Supporting categories can look like a residential home for OAPs, and so it is this year for the men. Only Jonah Hill's number-cruncher in Moneyball brings down the average age. Christopher Plummer's gay dad in Beginners and Max Von Sydow's silent turn in Extremely Loud and Incredibly Close will be vying for the sentimental vote from which Nick Nolte's drunk in Warrior is excluded only by virtue of the fact that no one ever went soft on Nolte. Kenneth Branagh's Larry Olivier in My Week with Marilyn is deliciously ripe, and some perhaps would love to give a gong to two thespians in one fell swoop. Plummer will shade it, but Hill's is the meatier performance. Any number of actors in Tinker Tailor Soldier Spy and The Ides of March have been overlooked.
Will win: Christopher Plummer (Beginners)

Should win: Jonah Hill (Moneyball)

Most lamentable omission: Paul Giamatti or Philip Seymour Hoffman (The Ides of March)
Nominated for Best Supporting Actress: Bérénice Bejo (The Artist), Jessica Chastain (The Help), Melissa McCarthy (Bridesmaids), Janet McTeer (Albert Nobbs), Octavia Spencer (The Help)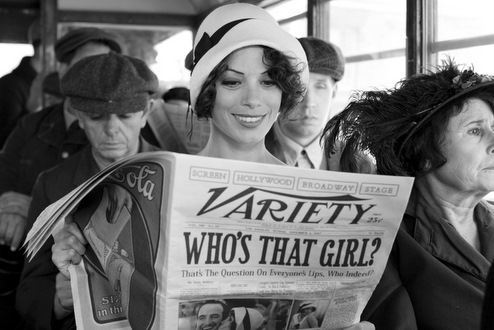 Of the actresses the vote will be split not between veterans but co-stars on the same film. The Help's Jessica Chastain and Octavia Spencer are slugging it out. Given that Meryl Streep is going to walk all over Viola Davis in the Best Actress category, it looks likely that Spencer will lure the consolation votes her way. Janet McTeer, playing a woman who lived as a man in 19th-century Ireland in Albert Nobbs (not yet released in the UK), feels more like the kind of performance they give the Best Actress award to. Melissa McCarthy was the saving grace of, for my money, the grossly overrated Bridesmaids, but won't win. For pure charm it should be the delectable Bérénice Bejo, whose gawky heroine spends too little time on screen in The Artist. As for the omissions, it's Olivia Colman again, who played Carol Thatcher in The Iron Lady as if she deserved a film all of her own.
Will win: Octavia Spencer (The Help)

Should win: Bérénice Bejo (The Artist)

Most lamentable omission: Olivia Colman (The Iron Lady)
See also: Best Film; Best Director; Best Actor; Best Actress; Best Original/Adapted Screenplay; Best Animated Film; Best Foreign Film
Best Original Screenplay/Best Adapted Screenplay
by Emma Dibdin
Nominated for Best Original Screenplay: The Artist (Michael Haznavicius), Bridesmaids (Annie Mumolo and Kristen Wiig), Margin Call (JC Chandor), Midnight in Paris (Woody Allen), A Separation (Asghar Farhadi)
The Original Screenplay category is one of the few that contradicts the (largely accurate) idea that the Academy doesn't do adventurous, with mainstream comedy, Iranian cinema and silent film all getting a look in. Given this, it's tough to gripe too much about omissions, although Kenneth Lonergan's sprawling, verbally dexterous Margaret (pictured right) couldn't be more deserving of a nod.
In fact, the most questionable nominee is also the most established writer. As much whimsical charm as Woody Allen's Midnight in Paris had on screen, its script was beset by some terribly reductive character writing, not least for poor Rachel McAdams' shrewish, one-note fiancée. Paris is now seen by most as the only competition for The Artist, but it's the weakest contender here for writing alone.
It's gratifying to see recognition both for Kristen Wiig and Annie Mumolo's (Bridesmaids) combination of broad setpieces and nuanced characterisation, and JC Chandor's (Margin Call) incisive, pressure-cooker take on the financial crash, while the tense moral maze Asghar Farhadi (A Separation) paints is more than deserving of recognition outside the Best Foreign Film pen.
There's been a tendency amongst punters and professionals alike to state that The Artist "has no dialogue" (what were those intertitles all about, then?) but what's worse is the assumption that a screenplay is no more than the sum of its dialogue. You need only look at this Entertainment Weekly article to see the level of deft, descriptive detail in Hazanavicius's writing, and how much of the film's witty, inventive imagery was on the page. He will, and should, be recognised – and if this goes some way to correcting people's misapprehensions about the definition of screenwriting, all the better.
Will win: Michel Hazanavicius (The Artist)

Should win: Michel Hazanavicius (The Artist)

Most lamentable omission: Kenneth Lonergan (Margaret)
Nominated for Best Adapted Screenplay: The Descendants (Alexander Payne and Nat Faxon & Jim Rash), Hugo (John Logan), The Ides of March (George Clooney & Grant Heslov and Beau Wilimon), Moneyball (screenplay by Steve Zaillian and Aaron Sorkin; story by Stan Chervin), Tinker Tailor Soldier Spy (Bridget O'Conner and Peter Straughan)
The one glaring omission from the Best Adapted list is Lynne Ramsay and Rory Kinnear's remarkable We Need to Talk About Kevin (pictured below), a veritable guide to adapting a seemingly unfilmable novel. Doing away with the epistolary structure, they boil the story down to its raw, most impressionistic core and retain far more of the original's horror than a more straightforward adaptation could have.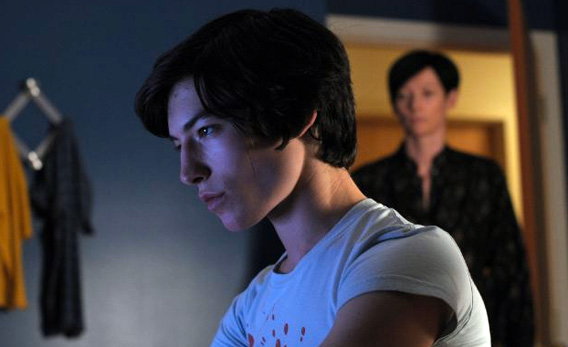 Peter Straughan and Bridget O'Connor pulled off a similar feat with John Le Carre's Tinker Tailor Soldier Spy, condensing his serpentine saga into a lean, cinematically comprehensible form while preserving all of the novel's key beats and injecting the occasional new, acutely observed character moment. The tragedy of O'Connor's death before the film was made could be the kind of factor that sways things in Tinker's direction, but many of the Academy likely found the film just that bit too opaque for its own good.
Hugo will remain a film that's remembered more for its arresting visuals than its words, while The Ides of March's adaptation from the stage is no more than workmanlike. Moneyball was an impressive feat – turning a book about statistics into an emotionally engaging story – but it's too soon for Sorkin to triumph again.
Payne's got form having won for Sideways in 2004, and the long hiatus he's taken will only bolster his appeal. The Descendants is by no means an undeserving win – his trademark balance of acerbic humour with quiet human tragedy made for a very sharp, very funny and very moving handling of potentially soap operatic subject matter.
Will win: Alexander Payne (The Descendants)

Should win: Peter Straughan & Bridget O'Connor (Tinker Tailor Soldier Spy)

Most lamentable omission: Lynne Ramsay & Rory Kinnear (We Need To Talk About Kevin)
Best Animated Film
by Veronica Lee
Nominated: A Cat in Paris, Chico & Rita, Kung Fu Panda 2, Puss in Boots, Rango

In a rare Pixar-less list and one that has ignored Steven Spielberg's half-human, half-avatar reworking of Tintin, the frontrunner is Gore Verbinski's witty and knowing CGI animation, Rango. Voiced by Johnny Depp, Rango is a chameleon, a family pet facing an identity crisis, as you would if your sole purpose in life is to fit in. As he accidentally winds up in the Wild West as a sheriff he is given a mission to clean up a town called Dirt, in what soon becomes a playful homage to the Western.
Puss in Boots boasts an even greater heartthrob in Antonio Banderas, voicing the eponymous hero in Chris Miller's prequel to the Shrek franchise. The swashbuckling Puss exchanges purrs with Salma Hayek's sneaky thief Kitty Softpaws in a family-friendly adventure. Jennifer Yuh's sequel, Kung Fu Panda 2, meanwhile, is aimed at a younger audience than the original, and perhaps loses something of that film's subtler qualities. Jack Black reprises his Po as he goes in search of his birth parents, ably abetted by Angelina Jolie and Gary Oldman in a very strong cast.
A Cat in Paris's (Une vie de chat) inclusion in the nominees surprised some critics, but it has probably benefited from the Academy's current love affair with all things French – The Artist, Hugo, Midnight in Paris. Jean-Loup Felicioli and Alain Gagnol's smart and sassy crime adventure is set in the alleyways and rooftops of Paris over one evening, and follows musician and loveable cat burglar Nico (Bruno Salomone).
Another European work in contention is the delightful Chico & Rita from Spain, but which travels from Cuba to New York, via Paris and Las Vegas. Javier Mariscal and Tono Errando give a nostalgic 1940s setting for the troubled love affair between Chico (Eman Xor Oña), a cocky but gifted jazz pianist, and Rita (Limara Meneses), a honey-voiced singer. Great soundtrack too.
Will win: Rango

Should win: Chico & Rita

Most lamentable omission: The Adventures of Tintin: The Secret of the Unicorn
See also: Best Film; Best Director; Best Actor; Best Actress; Best Supporting Actor and Actress; Best Original/Adapted Screenplay; Best Foreign Film
Best Foreign Language Film
by Tom Birchenough
Nominated: Bullhead (Belgium), Monsieur Lazhar (Canada), A Separation (Iran), Footnote (Israel), In Darkness (Poland)
Ah, the delights, and tribulations, of the Best Foreign Film nom - a labyrinthine selection process that whittles the usual 60-plus entries down to a final five. The joys: as distant members of the world's film community make their first tentative forays towards Hollywood recognition ("Welcome on board, Tajikistan!"). The fact checks: is there a cinema in Bhutan? Have the Russians stretched the rules? The slip-ins, like the UK's entry for Welsh-language Solomon and Gaenor in 1999; the slip-outs – Uruguay's 1992 A Place in the World, which even made the shortlist before its hometown was judged to be just not Montevideo. Not to mention the politics (Palestine. Is it? Isn't it?).
And the dilemmas of the national selection bodies as to what stands the best chance – the country's home-grown box-office runaway, or that lesser-known arthouser that's picked up festival kudos? Or simply - no names mentioned - the latest offering from the territory's biggest cinematic cheese? What's it all for? There's no promise for the winner of drastically different returns at box office. In fact, it can be something of a poisoned chalice, especially for small-country pics trying, without an international distributor in place, to find even 15 minutes of fame.
Poland's entry, Agnieszka Holland's In Darkness, looks the safer bet this year – its story of survival by Jewish residents of Lviv during World War Two has a Holocaust resonance, as well as originality, that should strike chords, and the director's reputation is well-established. The Iranian competitor, Asghar Farhadi's A Separation (pictured above), looks the outsider. It took top honours at the Berlin festival last year, as well as last month's Golden Globes, and this story of the complex human stories behind a marriage break-up looks both universal, and very particular to a society which we see little enough of on the big screen. It'd be a rare endorsement for Tehran from the US today, though.
Will win: In Darkness

Should win: A Separation
Most lamentable omission: Laos, come in please...
See also: Best Film; Best Director; Best Actor; Best Actress; Best Supporting Actor and Actress; Best Original/Adapted Screenplay; Best Animated Film
Explore topics
Share this article