The Next Three Days |

reviews, news & interviews
The Next Three Days
The Next Three Days
Russell Crowe plays a poker face in a prison-break movie with a difference
Wednesday, 05 January 2011
Big break: Elizabeth Banks and Russell Crowe in 'The Next Three Days'
For a while back there, Russell Crowe was incapable of a false move. LA Confidential, Gladiator and The Insider all flagged up a thrilling talent for pugnacious individualism. Here was an actor with a bit of dog in him, a street-smart upgrade on Mel Gibson. Then he went and inherited Gibson's gift for naff headlines. Maybe it's an Aussie He-Man thing. Either way, the pictures got a bit smaller as tales of the incredible expanding ego did the global rounds.
The films that could channel and contain Crowe's animal aggression stopped happening. Does
The Next Three Days
spell a redemptive return to proper narrative acting?
The premise has intriguing possibilities. John and Lara Brennan (Crowe and Elizabeth Banks) are delightfully, gloopily in love and lust even after several years of marriage and the draining business of childcare. Every breakfast she takes a picture of their happy family – they have a three-year-old boy. "You can't do this every morning," advises Crowe. "It's way too corny." Let us gloss over the fact that they probably only do this sort of thing in movies where the police are massing literally on the doorstep and about to pile in and arrest the happy snapper for murder. Which they do: thanks to a bloodstain on her coat and prints left on a fire hydrant, Lara is the only suspect in the death of a woman in a downtown parking lot. But the crime itself is a MacGuffin: this isn't a film about the creakings of the law.
Cut to three years later. Lara's in the county jail and still perkily expecting her husband to pull a rabbit out of the judicial hat soon. Then the final legal loophole is closed and she soon takes a knife to her wrists. There is nothing for it. The lightbulb moment happens around the time that Crowe, a lecturer in literature, is talking to his pupils about the deep inner meaning of Don Quixote. It slaps him on the forehead that if he is ever going to exhume his marriage and start taking those breakfast snaps again, he has to tilt at windmills and spring his wife.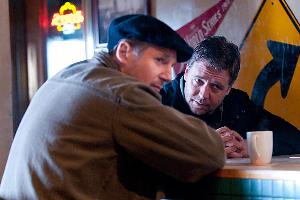 So a prison escape movie with a (slight) difference: the prisoner has no idea of the role apportioned to her. Naturally the first thing one does on these occasions is consult Liam Neeson (pictured right with Crowe), playing a legendary jailbreaker and author of a bestselling memoir who tells Crowe's character in very gnarled tones exactly how hard it's going to be. And how hard he is going to have to be. This being Crowe, we all know hardness isn't an issue. The big ask for the film is not about the obstacles. It's about whether Crowe has the chops to carry a film in which pretty much every public emotion is internalised and repressed. He opens his mouth barely more than Clint's Man with No Name. Instead there is much quiet communing with his withdrawn son Luke (Ty Simpkins, who nicely captures the boy's vacancy), and a finally satisfying joke that Crowe and his parents don't talk - although as his father is played by Brian Dennehy the absence of dialogue seems a bit of a waste.
For a thriller, The Next Three Days is not always thrilling. Out come the maps and plans and the various schemes for raising money, acquiring fake IDs and scoping the prison for weaknesses. The internet proves a useful resource for fashioning fake keys and breaking into vans, but for every step forward there are two steps back: Crowe has the humility to let the shit be kicked out of him, and in one well-wrought sequence is nearly caught tampering with prison property. You wonder where it's all going.
Then, when Lara's transfer to another prison is brought forward, he suddenly has those three titular days to bring his half-laid plans to fruition and the film finds the accelerator pedal. Even as it does, this remains one of those tasteful odysseys in which, however desperate his plight, the hero never loses sight of his moral compass. Newly tooled up, Crowe doesn't have the stomach to hold up a bank but he's more than up for a shootout in a drug den.
And so we cut to the chase, teasingly scripted and slyly shot by Paul Haggis, best known as the scriptwriter on Million Dollar Baby and Letters from Iwo Jima who made his directing debut on Crash. There's a nice turn by Lennie James as the cop leading the manhunt, and an odd little medical cameo from Trudie Styler. Pittsburgh more than plays its part as a city with too many bridges and tunnels. While Banks does what she can as a character defined by her absence (she bravely wears not even a smear of make-up), Crowe is as compelling as is humanly possible in a role which requires him to keep his cards close to his chest all the way to the end.
Watch the trailer for The Next Three Days