A Million Ways to Die in the West |

reviews, news & interviews
A Million Ways to Die in the West
A Million Ways to Die in the West
After Family Guy and Ted comes Seth MacFarlane's cowboy comedy
Sheepboy: Seth MacFarlane plays at cowboying in A Million Ways To Die In The West
Nodding to John Ford, Shane and almost every other western ever made, baby-faced writer/director/producer/lead Seth MacFarlane (Ted) replaces the shocking genius of Blazing Saddles with swearing and jokes about bodily functions in a fast, funny, get-it-or-get-out comedy that will divide friends, ruin families and make a lot of people laugh. Whether you're one of them, you'll have to watch and see.
MacFarlane is Albert Stark, a frontier nerd whose refusal in a gunfight loses his girlfriend (Amanda Seyfried). Distraught, he takes comfort in the friendship of unmarried Christian couple Edward and Ruth (Giovanni Ribisi and Sarah Silverman, pictured below). They've not consummated their relationship even though Ruth is the town's most popular all-around prostitute. Meanwhile, during a pub brawl (with some truly terrible injuries), Albert sees Anna (Charlize Theron) about to be clobbered and saves her – in a fateful moment. If only he knew that Anna's husband was the vicious killer and ace gunman Clinch Leatherwood (Liam Neeson), Albert's fate would have been difference – or may be he would have just sung "Do not forsake me, oh my darling" à la High Noon?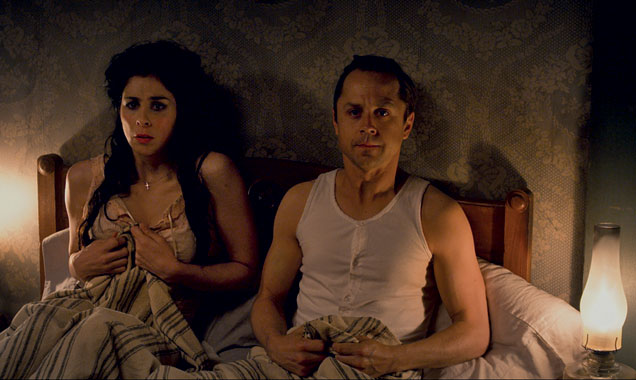 Although less heartwarming than MacFarlane's breakout comedy Ted, A Million Ways to Die in the West had to happen: think of it as a whiny, sweary Blazing Saddles. MacFarlane's Albert likes to point out how many ways people get killed in 1882. It happens all the time, especially at the county fair (keep an eye out for Ewan McGregor lurking there). No wonder: it's full of ignorance. There's even a sharpshooting booth called Runaway Slaves. Chock full of sheep jokes, sex puns, graphic running bowels scenarios and generous amounts of oversharing, A Million Ways to Die is that inevitable "what if" western: what if someone with modern sensibilities was born back in the days of the wild west? (To this end, there's also a huge moment of breaking the filmmaker's fourth wall, but the less you hear about this before you see it, the better.) Neil Patrick Harris is crisp and physical as the rich smug Foy and the wisecracks about fickle gf Louise (Seyfried) are sideswipes taken from her actual appearance. The wonderful Wes Studi (who once starred as Geronimo) appears briefly too as the Apache chief Cochise in a segment which, in an alternative universe, would be based on fact. It's a terrific, out-there addition that really works.
The music sets the scene pace Aaron Copland and Elmer Bernstein thanks to Joel McNeely. Michael Barrett's cinematography wouldn't hold up to Bert Glennon's in Rio Grande but he shows the beauty of Monument Valley without dwarfing the comedy. The thrilling cowboy chase scenes – everyone likes those – are perfect. Clearly, this is a production that did its research: production designer Stephen Lineweaver must have watched a hell of a lot of horse operas because this lavish western comedy is kitted out with just enough fringe, gingham and buckshot to make it work. I found A Million Ways to Die in the West incredibly funny, perhaps even lastingly so. This could be a comedy ahead of its time. It won't be to everyone's taste, however, because, like a lot of MacFarlane's work, it is often tasteless. And yet that's its strength and its charm. I laughed particularly at the local's discussion of money at the county fair: it's not God but the almighty dollar that they find truly sacred. If you don't laugh at that, you'll laugh at nothing.
Overleaf: watch the trailer to A Million Ways to Die in the West
It won't be to everyone's taste because, like a lot of MacFarlane's work, it is often tasteless
rating
Explore topics
Share this article