This Means War |

reviews, news & interviews
This Means War
This Means War
Reese Witherspoon chooses between blokes in awkward bromance
Who's it to be? Reese Witherspoon decides between Tom Hardy and Chris Pine in spy film-cum-romance
Forget the action movie trappings of the aggressively titled This Means War: the latest film from the enigmatically named McG has a plot that Noel Coward might well have loved. Whether Sir Noel would have approved of the witless dialogue and the decidedly coy sexual politics is another thing altogether, though he doubtless would have admired the three stars' physiques.
Audiences may well respond in kind provided they check in their brains at the door, though as an illustration of the ongoing Hollywoodification of England's own Tom Hardy, the film provides instructive viewing for that reason alone.
Hardy plays the hunky, tattooed Tuck, a CIA agent and errant dad who finds himself vying with best buddy FDR (Chris Pine) for the affections of frustrated singleton, Lauren (Reese Witherspoon). The sleek, shiny beginning promises some sort of Matrix-style journey into the unknown (or, at least, the impenetrable), when the film in fact occupies time-honored terrain. Which of the two lads will end up getting the girl? Or might they not in actuality be more interested in one another - except that this is Hollywood, don't forget, so same-sex prospects are addressed only in code. (Gun as phallic substitute: discuss, or at the very least see picture, below)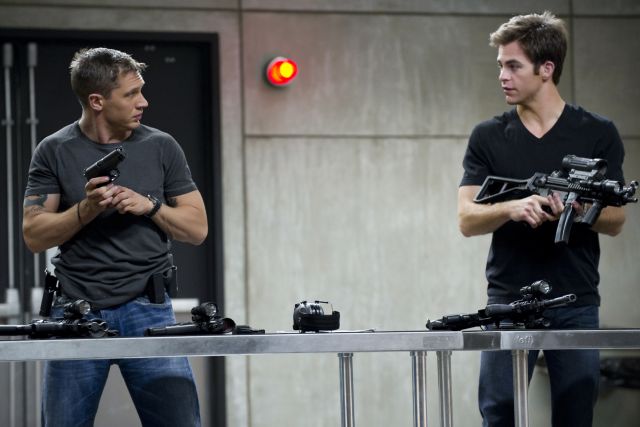 Coward would allow the three to form a self-enclosed society of their own, whereas This Means War demands that Lauren select a bloke. That, in turn, leads to an absurd wish-fulfillment scenario whereby our heroine gets up close and personal with both chaps via a narrative that pays intermittent homage to high culture (Gustav Klimt, if you please) while following an essentially formulaic route. There are car chases, guns, and a restaurant-trashing scene so OTT that one wonders why Lauren doesn't just let these heedless goons go off with one another.
The twist, if there is one, lies in both buddies' awareness that each is dead keen on bedding Lauren, which in turn allows for competitive stalking, not to mention upping the sexual ante, as well. Lauren thinks Tuck is sweet but overly earnest, even as FDR utters the sort of fortune-cookie bromides ("mistakes make us what we are") that would send most sensible women fleeing before the starter.
On the other hand, the latter is at least American in a film which is very nearly as afraid of foreigners as it is of gay men, and FDR - why that name, by the way? - has the advantage, too, of seeming to like the work of Alfred Hitchcock. An affinity for The Lady Vanishes does, I suppose, portend more easeful banter than being invited on a first date to watch the grim Holocaust-themed epic, Shoah, as actually happened some years back to a friend of mine. (Needless to say, there was no second date.) On the other hand, I'm not sure the guy with the presidential moniker represents much of a long-term option given his avowed belief that elderly people snogging is gross.
As it happens, Lauren's ultimate choice of fella seems as synthetic and engineered as Witherspoon's almost scarily pearly teeth, the actual meat of the story seeming to lie instead with Tuck's return - spoiler ahead! - to the familial fold. It's fun to see the muscle-bound Hardy (pictured above with Witherspoon) in non-Warrior mode playing a Sensitive Man blessed with the sort of lips that many an aspiring LA starlet would pay a small fortune to call her own (and doubtless has). This Means War may have next to nothing to say about relationships, but as an extended promo for good genes and expensive dentistry, its glossy vacuousness does score points.
Watch the trailer for This Means War