LUX-ICO Artists Cinema Commissions |

reviews, news & interviews
LUX-ICO Artists Cinema Commissions
LUX-ICO Artists Cinema Commissions
Films before films as contemporary art hits the cinema
In my parents' day, apparently, one just turned up at the cinema whenever one felt like it, even if that meant the first thing you heard on entering the auditorium was Bogart signalling the start of a beautiful friendship. That doesn't wash these days – the auteur put paid to that – and given the short films commissioned by ICO/LUX to run before the feature, we can only approve.


ICO
, which supports independent film in the UK, and
LUX
, an agency for artists who work with film, asked eight international artists to make five-minute films, the results of which are being premiered at Cannes on 15 May. There is a fitness in this conjunction, film being the most popular medium of the 20th century and a key medium of 21st-century visual art.
The results are, expectedly for contemporary art, a mixture of linear narratives and semi-abstract
mise en scènes
, touching personal stories and alienating political works, the harmonious and disjointed.
Tomorrow Everything Will Be Alright
by Akram Zaatari is the most obviously filmic: words magically appear on paper fed into a typewriter, and the person sitting at the typewriter engages with the ghost in the machine, who appears to be a former lover, taunting, teasing and tenderly enticing him.
It works as its own narrative, a taut romance played out in front of us, yet is almost suggestive of some sort of screenwriter's madness, where he becomes so caught up in his writing that the characters come alive and type themselves. This film succeeds because it talks to the audience in cinematic terms it will understand.
That can't be said for
This Quality
by Rosalind Nashashibi, which goes from a long take of a woman staring at the camera to sequential shots of unmoving cars. Unmoving is the word, although you might more kindly say "meditative".
The Last Days of British Honduras
by Catherine Sullivan with Farhad Shamini requires far too much hinterland to be appreciated by the incidental filmgoer: if you (like I) have never seen Ronald Tavel's play of the same name (and perhaps even if you have), you will instantly be lost in this maze of mysticism.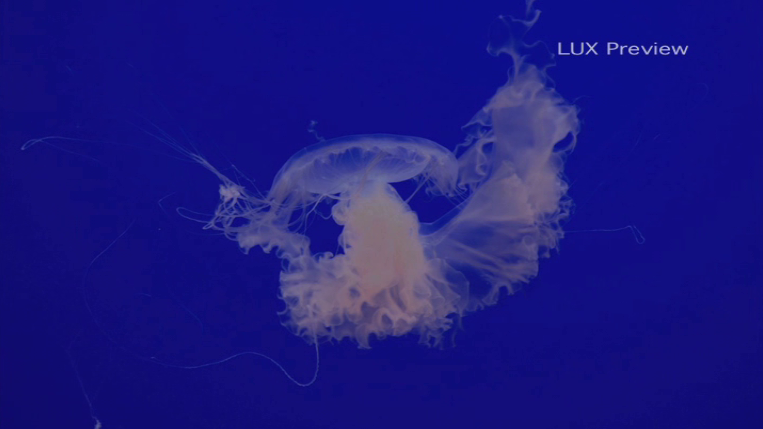 Pulmo Marina
by Aurélien Froment
(pictured right)
is the most visually abstract: a white jellyfish glows against an electric blue background, arresting like an Yves Klein, as a voiceover talks about the jellyfish's nature and biology and the construction of the marina. Whereas most films tell a story in pictures, this film separates the two and makes you question the artifice of the whole medium, a little like those
Downfall
videos where Hitler fulminates against vegetarians or
copyright theft
, or
John Baldessari's early word-paintings
.
There is no good reason why these films have to be "accessible", since they are art, after all, but it is clear that some will work much better before films – engaging the audience, making them reflect on where they are and what they are about to see – than the obscurity of others. Nevertheless, the project is daring and thought-inspiring, and may well stir cinema-goers out of the torpor the darkened auditorium and the shining screen can easily induce.
Explore topics
Share this article