It Follows |

reviews, news & interviews
It Follows
It Follows
Smart, striking horror starring Maika Monroe and directed by David Robert Mitchell
Wednesday, 25 February 2015
David Robert Mitchell's second ode to innocence lost is a rather more twisted take on the subject than his first film, The Myth of the American Sleepover. That was a beautifully judged ensemble coming-of-ager which merely teased us with horror tropes. Alongside the titular teen tradition it featured an abandoned warehouse, a Ouija board, a trip down to the basement and a midnight swim.
With his chilling follow-up Mitchell goes full horror, presenting us with a STH: a sexually transmitted haunting.
It Follows updates Halloween's suburban horror story – where the adults disappear, leaving teens to fend off terror themselves in a nightmarish right-of-passage – and nods to Ringu, A Nightmare on Elm Street, Jaws, Picnic at Hanging Rock, Final Destination, Night of the Living Dead, and even Scooby-Doo along the way. Although it's located in the same environs as his Detroit-set debut, Mitchell avoids drawing from his talented original ensemble. Instead, a cameo from one of the stars of the first film confirms it could indeed be the same universe – he's just assuming a different focus.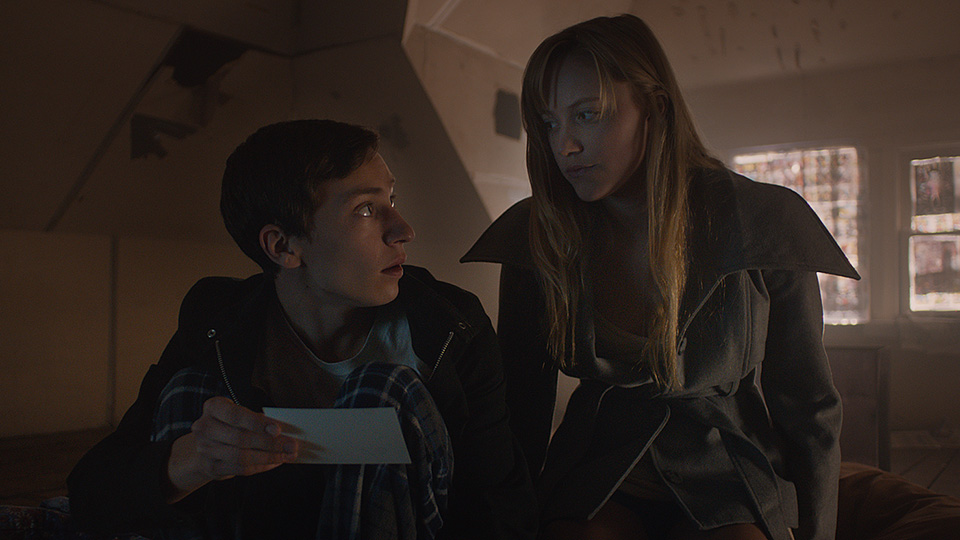 The "it" of the title is pursuing Jay (rising star Maika Monroe from The Guest) after she becomes infected during a sexual encounter with the duplicitous Hugh (Jake Weary). Contracting the virus makes you the new focus of a shape-shifting supernatural force that can only be seen by current or past targets. "It" appears as a procession of sense-stripped, clothes-stripped, leisurely-paced lurchers, who represent a Michael Myers/zombie-style unstoppable threat.
After her initial ordeal – which plays disturbingly like a date rape – in her investigations and attempt to outrun this very particular evil, Jay is flanked by a credulous, charmingly protective gang of peers: her sister Kelly (Lili Sepe) and their friends Paul (Keir Gilchrist, pictured above right with Monroe), Greg (Say When's Daniel Zovatto) and Yara (Olivia Luccardi).
Horror has long thrived on punishing the promiscuous and on foregrounding virginal "final" girls or, as in the case of The Cabin in the Woods, in the absence of a virgin "we work with what we have". In It Follows sex itself is a more-explicit-than-ever trigger and also a rather selfish solution; casual sex is a way to save your own skin by endangering another, though here it frequently proves a temporary fix.
Although it's peppered with references and infused with 80s cool, not least in Rich Vreeland's bold score (which hums, rattles, throbs and pops with a life of its own), Mitchell's sophomore effort takes a considered, refreshing tack. Rather than being judgemental it has an overarching sweetness, and great affection for its smart, supportive young characters. In his presentation of sex as both the problem and the remedy, Mitchell shows the difficulty of negotiating those teenage years, of figuring out who you can trust and who's just trying to use you, and the danger of getting it wrong.
Like the best horror films It Follows will stay with you, making you look afresh at those trailing behind. It'll take you back to your own teenage years, reminding you what a terrifying world it can be when the adults step back.
Overleaf: watch the trailer for It Follows