Filth |

reviews, news & interviews
Filth
Filth
James McAvoy rides out in tale of sex and loathing in Edinburgh
Thursday, 03 October 2013
Not long ago James McAvoy finished a brutal run as Macbeth, and he's back in Filth as another manic Scotsman hurtling towards self-destruction. The setting is Nineties Edinburgh, and his character, dodgy policeman Bruce Robertson, has a Machiavellian genius for getting one over on his copper colleagues, until his addiction-fuelled luck runs out, and he comes crashing down.
He's the first-person narrator for most of the story, and though repulsively believable, his grip on the narrative starts separating from reality.
It's a compelling performance that pulls out all the stops, and then some, and without McAvoy Jon S Baird's screen adaptation of Irvine Welsh's novel wouldn't have anywhere near so much going for it. It's fast and furious, best when characters are almost literally in your face (main picture above). The humour's coal-black, the main colour coming in the scary tones of a psychedelic trip gone wrong: there's little to be found in the greys of the city itself. We know it's a decade or two back, because Robertson is a many-packet Marlboro man, though that's probably the last threat to his health given that one of his other appetites will certainly get him first, whether it's the drugs and booze, or the sex addiction complete with penchant for asphyxiation (a fetish that's back on the screen these days).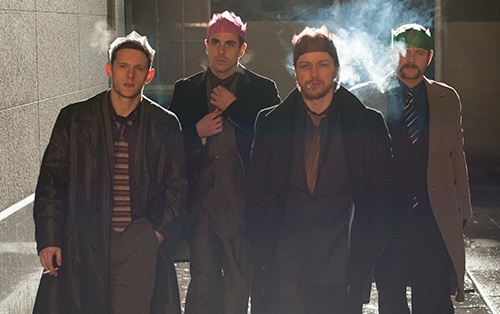 It opens with a murder – a Japanese student in an underpass, actually, though such details are more or less redundant – but that's only the pretext to introduce us to Bruce's humdrum life down the station, and the shortcomings of his police colleagues, with whom he's vying for promotion to DI. That last element is important, given it offers a hope that the Roberston family may return to its former ideal footing (some illusions there), and may not be impossible. Bruce's boss seems to be on his side, not least because of their shared freemasonry, another establishment bastion into which Welsh's story kicks, and where Bruce swings his wrecking ball.
Rival candidates for the job don't look that hot, and Bruce thinks he's found an Achilles heel for each of them. There's greenhorn Ray (Jamie Bell), his companion on the coke: Bell's reunited with his Billy Elliot dad Gary Lewis, who plays the more lugubrious oldster Gus. Peter (Emun Elliott) may not be the ladies-man the rest are, which makes for one very funny scene, and then an even funnier one where Bruce, who's the local Union rep no less, pretends to stand up for him. Imogen Poots is Amanda, the token female competition, with both fierceness and a later empathy which tramples Bruce's world as devastatingly as any aggression could. It's not a woman's world at this police station, as goings-on at the Christmas party reveal in cringing detail (Edinburgh's finest out on the razzle, complete with party hats, pictured above right).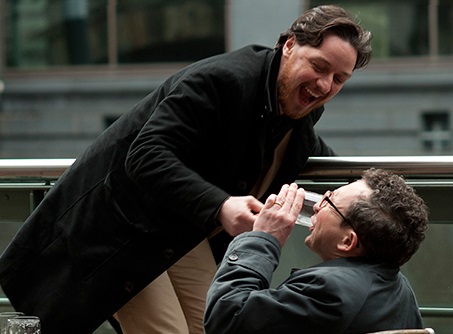 Filth isn't going to be much of a woman's film, either. Bruce's libido pushes him at his friends' wives, prime among them Bunty (Shirley Henderson), who's attached to his supposed best pal Clifford (Eddie Marsan, last seen with Henderson in Channel 4's Southcliffe), a luckless accountant type with a severe torture-me complex given that he's buddied up with Bruce, as their men-only weekend in Hamburg shows in more dire detail (sample humiliations, pictured left). Oh, and Bruce is taunting Bunty as a dirty-caller, too, which may bring an element of excitement to her home life: if outside we're in the Nineties, inside there it's the Seventies, with nerdland décor that Marsan would recognise from his Mike Leigh days. That only leaves the redoubtable Jim Broadbent to out-parody even Bunty; he's well set to do so as a whacko Aussie doctor with huge hair medicating Bruce's complexes, though he's really the stand-in for the novel's tape-worm narrator.
It's a frenetic rush to Bruce's sad, screwed-up denouement, but if the only redemption out there for him comes in the form it does (sentimentality is the bank holiday of cynicism, Oscar Wilde was right), then he'd probably be better off kicking that final chair away. Filth comes in a little short of 100 minutes, but its ride has flagged perceptibly before the retribution of the last reel kicks in. Clean-up time comes none too soon.
Filth is in cinemas from Friday
Overleaf: watch the trailer for Filth