DVD: Deep End |

reviews, news & interviews
DVD: Deep End
DVD: Deep End
Fascinating and slightly seedy late-Sixties take on obsession and the politics of sex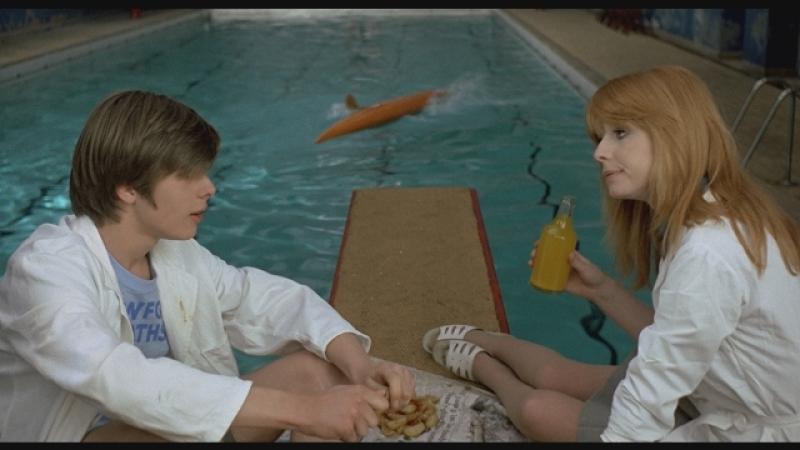 'Deep End': Mike (John Moulder-Brown) and Susan (Jane Asher) enjoy some chips and orangeade by the pool
Filmed in 1969 by Polish director Jerzy Skolimowski, the London-set Deep End captures the late-Sixties comedown mood. The lack of swinging trappings, a perverse attitude to sexuality and the dowdy mundanity of its setting make the film compelling viewing. Jane Asher may have once been the girlfriend of a Beatle, but this is no Sixties romp.
The presence of the then-unknown Krautrock band Can (The Can, as they were then) on the soundtrack immediately indicates that this isn't a normal Sixties yarn. Skolimowski had collaborated with Roman Polanski on Knife in the Water and, post-Repulsion, followed his path to London. Antonioni's similarly equally censor-attracting Blow-Up is an easy parallel, but there's no glamour or fashion with Deep End. The swimming pool central to the story is meant to be in Fulham, but was actually in east London's Leyton and many interior scenes were filmed in Munich. The balance of the actors are English-dubbed Germans. Such disconnects are central to Deep End.
Fifteen-year-old Mike (John Moulder-Brown: a double of The Tremoloes' Chip Hawkes) is new in the job as a swimming pool and baths attendant, in an era when the bath was a once-a-week ritual. His co-worker is the brittle Susan (Jane Asher). She comes on, teases and taunts him. He's fascinated, even following her and her boyfriend to a cinema showing a grubby sex film of the instructional type. Mike sits behind them and kisses her. She doesn't resist, yet allows the police to be called. She and her boyfriend also go to a member's-only sex club. In one scene, Mike ends up in the room of a prostitute. His encounter with an amazing and ripe Diana Dors at the baths is charged, intense and astonishing. In Deep End, commerce and power are indivisible from sex. Mike coasts along, with an air of not knowing what's real. Barriers between the actual and the imagined are blurred, even at the film's shocking ending.
This dark-hearted film looks sparkling, and the two-disc DVD/three-disc Blu-ray sets are crammed with extras including Asher and Moulder-Brown speaking at the BFI Southbank, a doc on the film's making, a discussion of deleted scenes and a disturbing 1976 short featuring Asher. One of 1969's nails in the coffin of the Sixties, Deep End demands to be seen.
Watch the trailer for Deep End