Devil's Knot |

reviews, news & interviews
Devil's Knot
Devil's Knot
Reese Witherspoon and Colin Firth in a tangled true tale of crime and injustice
Two knotted horrors stained West Memphis, Arkansas in 1993. Three 8-year-old boys, Stevie Branch, Christopher Byers and Michael Moore, went cycling on a sunny spring afternoon. Their torn, bruised and in Byers' case castrated bodies were dragged from a stream the next day. Three local teenage boys, black-garbed outsiders Damien Echols, Jason Baldwin and Jessie Misskelley, Jr., were then tried for the crimes with a carelessness, incompetence and prejudice which seemed actively malicious. This "West Memphis Three" sacrificed 18 years in jail, as authorities who had in some cases risen to power on the back of the verdicts ensured they stood, despite an overwhelming weight of evidence against them. A rare and nonsensical Alford plea allowed the three's release, unpardoned but maintaining their innocence, in 2011.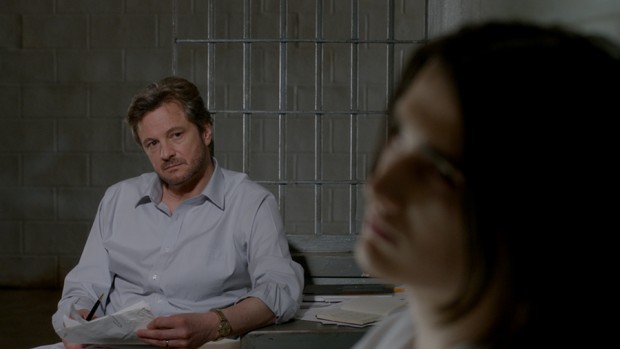 The Peter Jackson-produced West of Memphis (2012) has the highest UK profile of several documentaries which made the case a cause celebre. It was a campaigning film, highlighting how little innocence can count in US justice's venal byways. This first dramatic account treads a quieter, more circumspect path. Director Atom Egoyan is fascinated with buried, often traumatic secrets. A hunt for a missing, murdered child is the horror behind the sexual sadness and pain of Exotica (1994), and the yellow school bus glimpsed early in Devil's Knot recalls the town who lose a bus full of children beneath the ice in The Sweet Hereafter (1997). There was a fairy tale elegance and heartbreaking profundity to the latter film. Egoyan's response to West Memphis's loss is intentionally less certain and satisfying.
Reese Witherspoon is Pam Hobbs, mother of murdered Stevie, and Colin Firth is private investigator Ron Lax, pictured above right, who helped destroy the case against the West Memphis Three. Both give diligent, unstarry turns. Witherspoon's Hobbs is a Southern Christian who tears locks of her hair out in grief, but comes to doubt the Satanic conspiracy the accused are believed to be part of in a conservative town bent on retribution. Firth slips under the skin of the quietly decent and angry Lax, a prosperous private eye helpless to directly effect West Memphis's kangaroo court. They blend in with a strong cast including Alessandro Nivola as Terry Hobbs, pictured above left with Witherspoon, Pam's watchful, faintly dangerous husband, and Egoyan regular Bruce Greenwood as Judge David Burnett, almost drumming his fingers with impatience to get to the guilty verdict.
The grisly comedy of the flagrantly biased courtroom makes the injustice clear. Egoyan, though, also humanises the staggeringly inept police by showing them wading through the stream, discovering and holding the boys' corpses: the spark for a 21st century trial compared here to Arthur Miller's Salem.
Egoyan wants to leave us off-balance, turned around by contrasting perspectives, engaged by the mystery of the murdered boys' fate, not the documentarians' solution to the accused boys' innocence. He isn't helped by a script where characters explain themselves in Hollywood-style speeches, even as Hollywood's satisfying resolutions are spurned. It's a film I want to see again, in case the deeper mystery Egoyan aimed for is lurking in its murderous woods and human masks. But it feels as if he's missed his subtle mark, veering between convention and understatement to underwhelming effect.
Overleaf: Watch the trailer for Devil's Knot
rating
Explore topics
Share this article