The Conspirator |

reviews, news & interviews
The Conspirator
The Conspirator
The death of Abe Lincoln gets liberal intervention from Robert Redford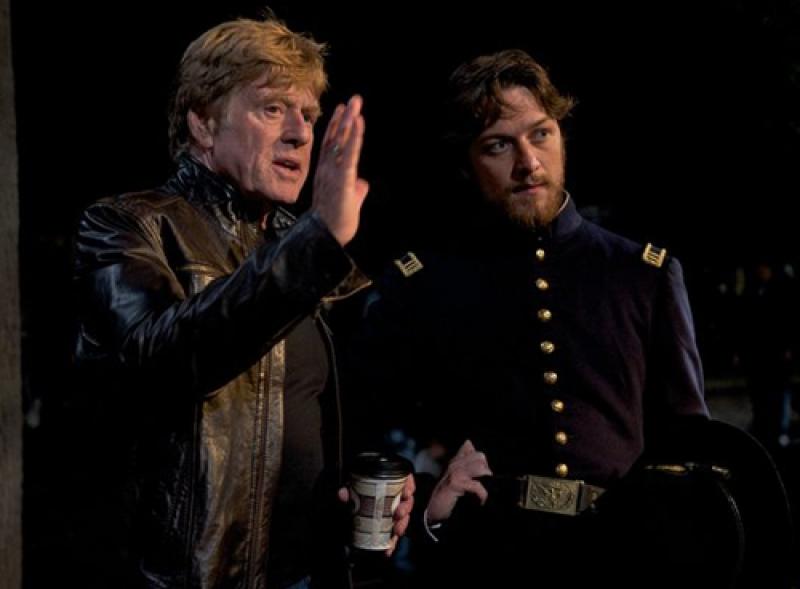 Director Robert Redford (left) with James McAvoy as Frederick Aiken
Some directors are just grateful that their movies get funded and released, but Robert Redford has loftier aspirations. Scornful of the routine popcorn-spattered multiplex-filler, he thinks we should be prodded to improve our lot by learning the lessons of history, and says he wants to tell stories about "ordinary people that are affected by larger forces out of their control". This lofty blueprint has brought us Bob's latest behind-the-camera odyssey, The Conspirator.
It's the story of the aftermath of the assassination of President Abraham Lincoln in 1865, when the American Civil War was reaching its conclusion, and how his killers were steered inexorably towards the death sentence by a military court heavily leaned upon by the US government. John Wilkes Booth, the actor who shot Lincoln in the back of the head while he was watching a play at Ford's Theatre in Washington, was killed by Union soldiers during the ensuing hue and cry, but his partners in the plot were captured alive.
Redford has shaped his narrative around Mary Surratt (Robin Wright), whose son John was one of the instigators of the conspiracy, and at whose boarding house in Washington the assassins regularly met. She was a Southerner who made no secret of her Confederate sympathies, but there was scant evidence that she either knew about or took part in the plan to kill the President. The government, in particular the Secretary of War Edwin Stanton - played here by a cold-eyed and pitiless Kevin Kline - wanted what would now be termed "closure", in the form of a batch of exemplary executions. John Surratt had slipped the net and gone into hiding, but in his absence, the logic apparently ran, his mother Mary would do to make up the numbers on the scaffold (Robin Wright with McAvoy, pictured below).
Parallels with the post-9/11 United States are too obvious to miss, but just in case you did, Stanton is depicted as whipping up panic and popular bloodlust by issuing warnings about the onslaught of murder and insurrection that could follow if the full judicial weight of the United States was not used to crush Lincoln's murderers. The country is pushed into a kind of martial law, with habeas corpus suspended and civilians tried in military courts. Lincoln's successor, Andrew Johnson, is an unseen presence in the movie, but in his absence Stanton is like Dubya Bush, Donald Rumsfeld and Dick Cheney all rolled into one big whiskery nightmare.
This literal-minded didacticism isn't the most promising ingredient for vivid, stirring drama, and Redford has also backed himself into a cul-de-sac because he daren't tinker with this sacred slice of American history merely for dramatic effect. Besides, Stanton's argument that a country still bitterly divided and bleeding from the Civil War could ill afford a protracted and contentious trial of the President's killers surely had some merit (Toby Kebbell as John Wilkes Booth, pictured below).
Nonetheless, the story itself is fascinating, and the director is well served by both Newton Thomas Sigel's opulent cinematography and some strong casting. The best news is that yes, James McAvoy really is a fine actor despite what X-Men: First Class may have led you to believe. As Mary Surratt's defence counsel and former Union war hero Frederick Aiken, he successfully makes the journey from disgust and disbelief at the prospect of defending the most loathed woman in the country to outrage at the way a possibly innocent defendant is being lynched by a kangaroo court, with official sanction from the White House (Kevin Kline as Edwin Stanton, pictured below).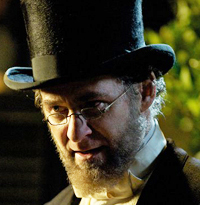 Also excellent, though utterly detestable, is Danny Huston as state prosecutor Joseph Holt, backed up by Colm Meaney as General Hunter, who runs the military court with unsentimental brutality. But Robin Wright's Mary leans too much towards the stoical martyr, and the question of how much she really knew goes begging. It leaves a partial vacuum where a central pillar of the story ought to be. It's a mistake a director with a little less liberal rectitude and a bit more visceral energy wouldn't have made.
Watch the trailer for The Conspirator