Chappie
Chappie
Neill Blomkamp's latest sci-fi actioner is a well-intentioned misadventure
An innocent is corrupted in South African director Neill's Blomkamp's third feature (co-written with his wife Terri Tatchell), but the kid in question is far from what you'd expect. Set in the near future, it focuses on a reprogrammed police robot with the consciousness, sensitivity and suggestibility of a child - a lovably tatty piece of tech who has been literally labelled a reject, and who sports bunny ears, graffiti and gangster bling.
Based on Blomkamp's 2004 short Tetra Vaal and located in his home-town of Johannesburg, Chappie focuses on Deon Wilson (Dev Patel) the lead developer at a weapons corporation headed-up by steely CEO Michelle Bradley (Sigourney Weaver). Much to the displeasure of rival developer Vincent (Hugh Jackman pictured below right, rocking a mesmerising mullet), Deon is the golden boy behind the city's artificial intelligence police droids, whose roll-out has led to falling crime rates. Despite his success, Deon is shot down when he suggests an experimental upgrade - he's determined to create a thinking, feeling, even creative AI.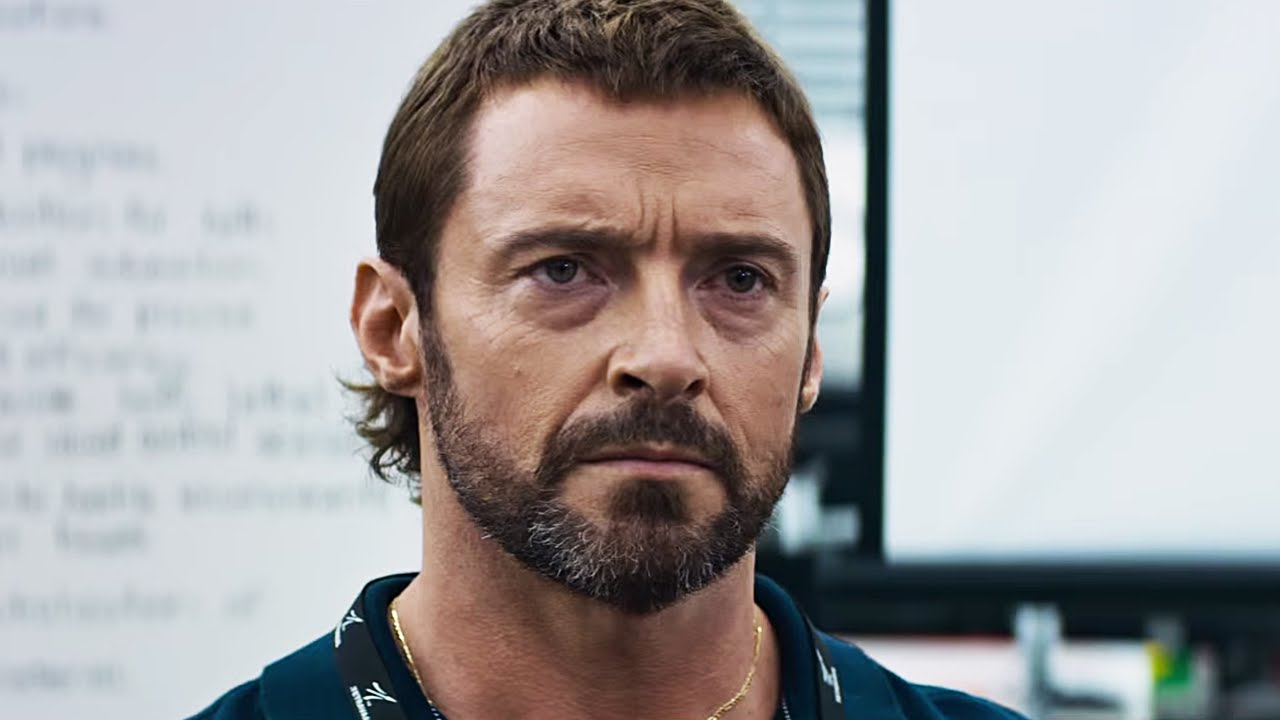 Undeterred, he steals a robot who's destined for the scrapheap, but just as he's making away with it he's kidnapped by a trio of punky criminals, Ninja and Yolandi (from hip-hop group Die Antwoord) and Yankie (Jose Pablo Cantillo), who are looking for a way to switch off the droids so that they can steal enough money to pay off their debt to even-bigger-bad-guy Hippo (Brandon Auret). The trio ultimately become a dysfunctional family to Deon's creation Chappie (performed and voiced by Sharlto Copley) who, once switched on, soaks up new experiences and learns like a child; he's insatiably curious, emotionally vulnerable and perilously surrounded by anti-social behaviour.
It's a film that knows and loves science-fiction cinema: its grimy dystopian milieu and social conscience marries it, perhaps too closely, to the director's previous films District 9 and Elysium; Weaver is of course the grand dame of the genre; Hans Zimmer's thunderous synth-infused score gives it an 80s sci-fi vibe (he did similar for the recent Interstellar); Jackman's own robot enforcer ominously resembles RoboCop's rogue ED-209; and the quirky, free-willed droid protagonist recalls Short Circuit. Perhaps in a nod to that film's notorious blacking-up of Fisher Stevens as an Indian inventor, an actor of authentic Indian origin features in the creator role here.
Chappie himself is an astonishingly tangible, pleasingly beat-up creation, but he's both the film's main selling point and its biggest problem. Using a style of motion capture (described by Copley as the 'poor man's version') Copley performed alongside the actors, with VFX artists later painting the robot over him, carefully aping his movements. Disregarding the undeniable technological achievement, the character swings between irritating and vaguely endearing; the infantilised speech patterns are likely to raise a few titters, his slow-mo gangster swagger also proves comical, and a sequence where Chappie learns to paint elicits an appropriate, 'What the fuck?' look from Ninja. Though, in the end, it's hard not to root for the little guy unceremoniously introduced into the big bad world.
Jackman is no more than a cartoon villain powered by the urge to destroy
The message about the brutalisation of minors, and of humanity more generally, is earnest enough and although its heart is transparently in the right place, the story desperately lacks substance and sophistication. The contrast between Chappie's gentle-flower soul and the ultra-violence might be intentionally stark but it's often plain weird, with the come-down from the ear-splitting excitement frequently a baby-voiced (and baby-brained) lesson in morality. Jackman is no more than a cartoon villain powered by the urge to destroy, yet his character could have proved a mouthpiece for an alternative viewpoint, given his own human-controlled robot creations. Compared to something as smart and considered as Ex Machina - which hashes out its thoughts on what it is to be human through intense philosophical discussion - Chappie's exploration of ideas is hopelessly crass (this is not a kids' film after all, although it often feels like one), with the slim musings on the abstract nature of consciousness eventually confused by a plot development.
If it routinely neglects to emotionally engage and intellectually stimulate then the action is at least urgent and impactful, while Chappie's sincerity and visual character is such that it's frequently possible to forget, and to an extent forgive, its shortcomings. Let's chalk this one up as a fascinating failure.
rating
Explore topics
Share this article