Björk: Biophilia Live |

reviews, news & interviews
Björk: Biophilia Live
Björk: Biophilia Live
Visually sumptuous record of Björk's landmark tour
Wednesday, 15 October 2014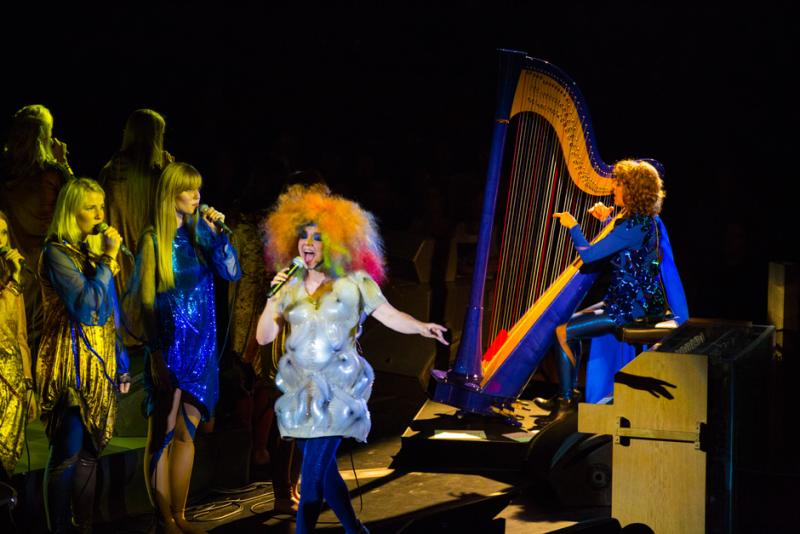 Björk: brilliant or just strange?
From David Attenborough's spoken introduction to the blonde, robed backing singers, Biophilia Live sees Björk in full experimental flow. Sometimes the film seems almost as if documenting the ceremonial workings of a science-based cult rather than covering an avant-garde pop show. Musically it is reverent, the atmosphere is cerebral, and, above all, Björk's persona is shamanistic.
Biophilia (literally love of nature) was released in 2011 as a conceptual, multiplatform project. In addition to the CD the diminutive singer oversaw a series of interactive educational IPad apps. In Iceland the applications also formed the basis of a school project designed to bring music and science together.
Directors Peter Strickland and Nick Fenton have focussed on capturing this ambition. Before the concert begins we are shown various CGI sequences of planets and time-lapse scenes of organisms growing. Attenborough explains what "Biophilia" means in his inimitable whisper. The word, however, when repeated becomes faintly, unintentionally, ridiculous. Still, any fears the show may disappear down a hole of pretentiousness are largely dispelled when Björk appears in an orange wig and bubble suit that looks like it was modelled on one of Peter Gabriel's old Genesis costumes.
The actual concert footage comes from Alexandra Palace in 2013; the last gig of the tour. Yet, until emotion takes over at the end, it feels like it could be anywhere. A series of superimposed graphics – such as crystals, planets and dividing cells - lift the gig out of its context, lending an otherworldly feel. This cinematic approach also helps restore some of the live impact. But still, for the most part, the concert requires close focus and concentration. The music, a kind of contemporary classical meets electronica, is often difficult: the band "play" bespoke "instruments" such as tesla coils, the time-signatures are often odd and new-age vibes clash with full-on discord. Many might find it hard to tell whether it's brilliant or just strange. What's undeniable though is that for Björk fans Biophilia is a defining piece of work; and as a record of the live aspect, this is pretty darn good.
Overleaf: watch the trailer for Biophilia Live
Sometimes the film seems almost as if documenting the ceremonial workings of a science-based cult rather than covering an avant-garde pop show
rating
Share this article