American Hustle |

reviews, news & interviews
American Hustle
American Hustle
70s-tastic hair and wonderful women colour David O. Russell's rich, indecently entertaining caper
Thursday, 19 December 2013
The exquisitely eclectic David O. Russell is fast becoming the go-to director for Oscar hungry actors. His last two films, 2010's The Fighter and 2012's Silver Linings Playbook, garnered their respective casts an astonishing seven Academy Awards nominations between them, including three wins. His latest, American Hustle, combines key cast members from those two films, creating an awards monolith (the New York Film Critics Circle would agree - they named it Best Picture earlier this month). But if the cast might make it seem impossibly worthy, the best thing about American Hustle is that it's pure, unadulterated fun.
Set in 1978 and vaguely based on a true-life story (known as the Abscam scandal), American Hustle starts as it means to go on by mischievously drawing attention to one of its male character's terrible hair. In this case it's (to use the film's own words) a "rather elaborate" comb-over, and we watch as Christian Bale's Irving Rosenfeld carefully and with endearing futility maintains the illusion. Irving and his girlfriend Sydney Prosser (Amy Adams) are woozily-in-love con artists. With their art knock-offs and loans scam they blissfully put the romance into grifting (and, in a memorable sequence, dry cleaning) and, although Irving is married to another (Rosalyn - Jennifer Lawrence, pictured below), the lovers are making it work.
When Sydney, in the guise of the English Lady Edith, brings in new mark Richie DiMaso (Bradley Cooper - sporting a tight perm, achieved with teeny tiny rollers, as pictured below) he turns out to be an undercover FBI agent and, in exchange for immunity, he recruits both Sydney and Irving to bring in four bigger fish. Richie's ambition leads him to exploit the good intentions of the mayor of Camden, New Jersey - Carmine Polito (Jeremy Renner, wearing his hair in a kind of bouffant wave) - who's looking to kick-start the Atlantic City economy. The bait is that old classic, a "fake sheikh" scheme. Richie's increasingly reckless machinations cause major ball-ache for his cautious boss Stoddard Thorsen (the marvellous Louis C.K.) along with an increasingly nervous Irving, and they watch helplessly as more politicians and eventually Mafiosi are drawn into the sting.
Eric Warren Singer's original script appeared on 2010's "Black List" of the best unproduced screenplays, under the considerably more provocative title of "American Bullshit" before being picked up by David O. Russell and reworked into a broader, more comedic style. When teamed with The Fighter and Silver Linings Playbook it's intended as part of a three-film evolution following characters who are attempting to reinvent themselves and reverse their fortunes.
While the men in American Hustle are busy wearing spectacularly naff hair, the women steal the show. Lawrence is a riot as Irving's crass, unstable wife whose indiscretion threatens to bring the whole enterprise crashing down ("I thought you were mysterious", Irving moans, "But mysterious just meant depressed"). She's got a personality as precarious as her swirling ice-cream sundae up-do and snags many of the film's funniest and most fabulous moments, including a vengeful sing-along and a run-in with a brilliantly described "science oven".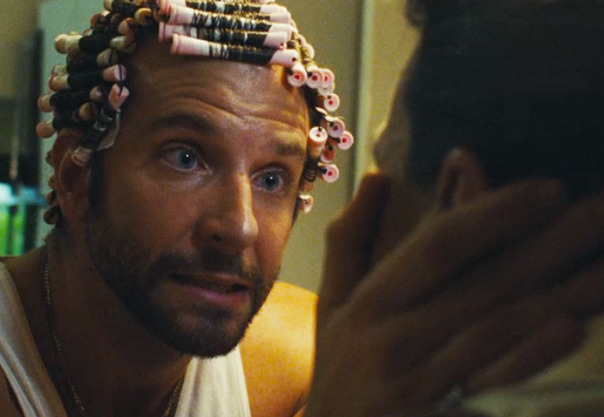 Lawrence is a doll and, for my money, she can have any supporting actress award she wants - but Adams is my pick here. Her Sydney is a complex creature: smart, vampy and, with her perma-plunging necklines, proudly sexual. Yet we also see that she's tortured by doubt and this vulnerability means that she's the most thinking, feeling thing about a film that deliberately and provocatively teeters on the brink of parody. And when you get them in a room together, wow. As Sydney emerges for a pivotal business meeting on the arm of Richie (from smoke no less!) she's met by the lipsticked snarl of Rosalyn - "I know who you are" she hisses. The atmosphere between these two extraordinary women crackles and spits like incendiary electrics.
It could be argued that American Hustle is almost too colourful, that it takes too many risks for perfection to be possible, and though it's certainly a thrill when he turns up, Robert De Niro's cameo doesn't quite pop the way it should. Likewise, both Lawrence and Renner - while doing great jobs - seem a little young for their respective parts. Oh, and the plot: well, the plot is as torturously tangled as Christmas lights. But ultimately it says phooey to such trifles, for this is a ballsy beast which, as the grand patriotic title suggests, elevates the caper movie and provides both meat and mania for its glittering cast. American Hustle combines old-fashioned entertainment and glamour with visual invention and a modern eye for absurdity (yep, those hairstyles again). Right at the last, we've found the most enjoyable film of the year.
Overleaf: watch the trailer for American Hustle