Acts of Godfrey
Acts of Godfrey
Simon Callow plays God in a modern morality tale scripted in rhyming couplets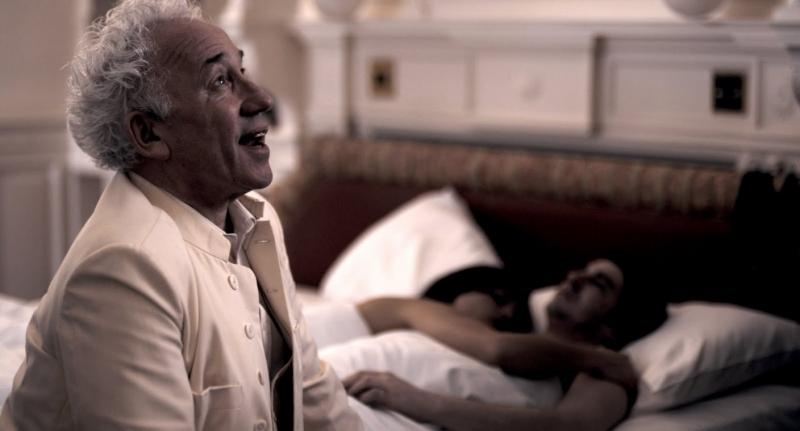 Godrey moves in mysterious ways: Simon Callow in 'Acts of Godfrey'
It must have been gruelling to pitch. A cynical modern satire set in a motivational conference for salesmen would have been a hard enough sell on its own. So too the choric figure who comments on the action directly to camera. But the bold USP of Acts of Godrey is the script: it's entirely in rhyming couplets.
There is a place for rhyme in dramatic storytelling, and for most punters that place is Molière (Racine and Corneille not being box office these days). Only the other year Keira Knightley made her stage debut in an updating of The Misanthrope to contemporary media London. In recent times there's been Tony Harrison's blunt northern verse at Shakespeare's Globe and Christopher Reid's delicious The Song of Lunch on BBC Two starring Alan Rickman as a sottish old-school publisher. The rhymed couplet has always been a beautiful tool for sabre-toothed social comment: the pungent Augustan verse of Dryden and Pope fashioned the form to a decasyllabic gleam, deploying rhyme to inflate and undercut, to slash and burn.
It's rainy and windy and sunny in parts/Should lottery money be spent on the arts?Acts of Godfrey contains some of the trace elements of the wit that can make verse narrative so satisfying. Even Swift might put a tick against "Tennant's" rhyming with "penance". "The weakness of the criminal classes,/Like baboons they need to show their arses/To everyone," advises Godfrey (Simon Callow), the deus ex machina who is our guide to the action. (For once there is actual gratification to be had from a voiceover.) And the couplets can have a pleasing gnomic directness. A television in a corner chirrups at the top of the hour: "It's rainy and windy and sunny in parts/Should lottery money be spent on the arts?"
Although it rum-ti-tums along with a kind of missionary-position reliability, the novelty of Johnny Daukes's chiming script never quite wears off. The difficulty with Acts of Godfrey is not the verse. Nor is it the message that modern UK plc is a ponging cesspit in which the immoral and the gullible are locked in mutual dependency. This is the stuff of yellowing cuttings, but there's no harm in saying it all again. No, the problem is the plot and its undercooked disquisition on the nature of fate.
Such as it is, almost everyone on the motivational course has an ulterior reason for attending, all focusing on Harry Enfield's unscruplous widow-seducing fortune-hunter (pictured right). The only innocents are Victor, a Glaswegian salesman (Iain Robertson) who is featureless even in the naked state in which we first meet him, and Mary (Myfanwy Waring), who has almost as little character behind her gobby facade. Having limply concluded its main business, as an afterthought Acts of Godfrey's final act turns disjointedly to romance. It's odd that a script which is so knowing about the cliches of screen sex can't catch a glimpse of its own gaucheness in the mirror.
The actors, including Doon MacKichan and Celia Imrie, are blameless. Enfield delivers his couplets with creepy relish. There is enough here to hope that Daukes (who also directs) will be given another go, maybe in the theatre or on BBC Four where audiences are more open to formal experiment. Featuring elements of documentary and pop video, Acts of Godfrey elbows as much stylistic room for itself as it can on no budget at all, but it doesn't belong on a big screen.
Watch the trailer to Acts of Godfrey